By Idah Z. Pswarayi-Riddihough

http://blogs.worldbank.org: This year, yet again, flooding caused by heavy monsoon rains came and receded. Meanwhile, this year alone, more than one million people have been hard hit by the worst drought in 40 years.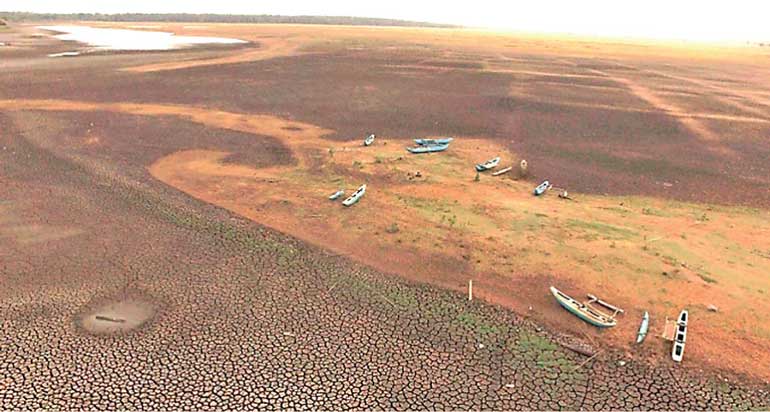 Abandoned fishing boats lay on the banks of the dried Siyambalankkatuwa reservoir in Puttalam District, 10 August – Thomson Reuters Foundation/Amantha Perera


The media, with few exceptions, have moved on to other topics and a sense of calm pervades.

We are in the eye of the storm – that misleading lull before Mother Nature unleashes her fury once again.

In Sri Lanka alone, costs from natural disasters, losses from damage to housing, infrastructure, agriculture, and from relief are estimated at Rs. 50 billion (approx. $ 327 million). The highest annual expected losses are from floods (Rs. 32 billion), cyclones or high winds (Rs. 11 billion), droughts (Rs. 5.2 billion) and landslides (Rs. 1.8 billion). This is equivalent to 0.4% of GDP or 2.1% of Government expenditure. Floods and landslides in May 2016 caused damages amounting to $572 million.

These numbers do not paint the full picture of impact for those most affected, who lost loved ones, irreplaceable belongings, or livestock and more so for those who are back to square one on the socio-economic ladder.

Even more alarming, these numbers are likely to rise as droughts and floods triggered by climate change will become more frequent and severe. And the brief respite in between will only get shorter, leaving less time to prepare for the hard days to come.

Therefore, better planning is even more necessary. Sri Lanka, like many other countries has started to invest in data that highlights areas at risk, and early warning systems to ensure that people move to safer locations with speed and effect.

Experience demonstrates that the eye of the storm is the time to look to the future, ready up citizens and institutions in case of extreme weather.

Now is the time to double down on preparing national plans to respond to disasters and build resilience.

It's the time to test our systems and get all citizens familiar with emergency drills. But, more importantly, we need to build back better and stronger. In drought-affected areas, we can't wait for the rains and revert to the same old farming practices. It's time to innovate and stock up on critical supplies and be prepared when a disaster hits.

It's the time to plan for better shelters that are safe and where people can store their hard-earned possessions.

Mobilising and empowering communities is essential. But to do this, we must know who is vulnerable – and whether they should stay or move. Saving lives is first priority, no doubt. Second, we should also have the necessary systems and equipment to respond with speed and effect in times of disasters. Third, a plan must be in place to help affected families without much delay.

Fortunately, many ongoing initiatives aim to do just that.

Modelling of river basins under the Climate Resilience Improvement Project (CRIP), which is supported by the Global Facility for Disaster Reduction and Recovery (GFDRR), will help us better understand water flows; improved information access and analysis by the Department of Meteorology aim to provide two to three days' warning before a weather-related disaster strikes; NGOs, Government and development partners are beefing up their outreach efforts to help alert and prepare communities; and building back better after a disaster is leading to sturdier and more resilient infrastructure.

But more is needed. Investments required over the next five to 10 years for risk mitigation will amount to several billions of dollars. The country needs to keep a close watch on the impact of disasters on its finances and budget. It needs to strike a fair balance between budget support needed for disaster management programs and budget reserves which can be accessed with speed and effect in times of disasters. It also needs to build in insurance mechanisms. A long-term approach is needed while being prepared for short term impacts.

So, when you are in the eye of the storm, it's time to prepare!