A new global survey conducted by ChildFund Alliance of nearly 5,500 children from 15 countries reveals children feel poorly protected and believe the adults in their lives do not listen to them.

Small Voices Big Dreams 2019, released this month, shares findings from surveys and group interviews conducted with children aged 10 to 12 across five continents. The results provide significant and surprising insights into the perceptions of children and adolescents about violence against children, and the efforts of adults, or lack thereof, to protect them from it.

More than 40% of child respondents said they are not adequately protected from violence, with girls expressing a higher perception of insecurity, and one in two respondents believing adults do not listen to their opinions on important matters.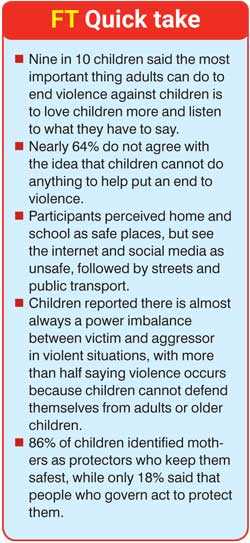 Children highlighted three main causes of violence: their own defencelessness, the cycle of violence, and adults' loss of self-control due to substance abuse. They also shared that they believe boys and girls are susceptible to different forms of danger.

During group interviews, participants said boys are at greater risk of being kidnapped, robbed, or involved in organised crime or child labour, and girls are more likely to be victims of sexual abuse, rape, forced marriage, and domestic work.

"Every year more than one in three children around the world experience violence and exploitation," said ChildFund Alliance Secretary General Meg Gardinier. "This is a global crisis that recognises no borders. Decision makers rarely take into account the opinions and experiences of young people, yet the success of policies or actions aimed at children depends on our ability to actively engage them and respond to their voices."

Sharing her thoughts on the publication, ChildFund Sri Lanka Country Director Katherine Manik said: "It provides deep insight into how children see the world and what troubles them. Violence against children causes long term damage that can affect them throughout their lives impacting their ability to achieve their full potential."

With the 30th anniversary of the Convention on the Rights of the Child just weeks away, the report calls for far greater involvement of children in decision-making on issues affecting them, particularly the prevention of violence and it urges world leaders to listen to children and take action based on their recommendations.

Ainhoa, a child participant from Spain said, "What adults need to do most of all is try to understand what happens to children and try and understand how we are feeling."

Noemi, a child participant from Honduras shared that, "We need to be listened to. Our voice is important." In Sri Lanka, 10-year-old Pahan shared his view: "If it happens to one child, it could happen to so many others. That's why violence against children must stop."

ChildFund is already seeing strong success incorporating children's perspectives into its violence prevention efforts. In Sri Lanka for example, the Alliance of Youth to End Violence Against Children (AYEVAC) are advocating to the public to take a stronger stand against violence against children and for policy makers to establish stronger mechanisms and measures to protect children from violence. In addition, the Child-friendly Accountability program now underway in six countries, is teaching children vital advocacy and leadership skills.

To download a copy of Small Voices Big Dreams 2019 and learn more about the survey and our findings, visit www.smallvoicesbigdreams.org.

Small Voices Big Dreams is an initiative involving all the members of ChildFund Alliance. Our aim is to elevate the voices of children on issues that directly affect them. The 2019 edition compiles the opinions of nearly 5,500 children on violence against children and reflects the opinions of young people from diverse geographical origins, living conditions, and cultural traditions. Children in Brazil, Burkina Faso, Canada, Ecuador, Ghana, Honduras, India, Mexico, Nicaragua, South Korea, Spain, Sweden, New Zealand, Thailand and Vietnam participated in the initiative.

Founded in 2002, ChildFund Alliance is a global network of 11 child-focused development organisations that helps nearly 13 million children and their families in more than 60 countries. ChildFund works to end violence and exploitation against children and to overcome poverty and the underlying conditions that prevent children from achieving their full potential. ChildFund Alliance works in partnership with children and their communities to create lasting change and to facilitate the meaningful participation of children in decisions that affect them.