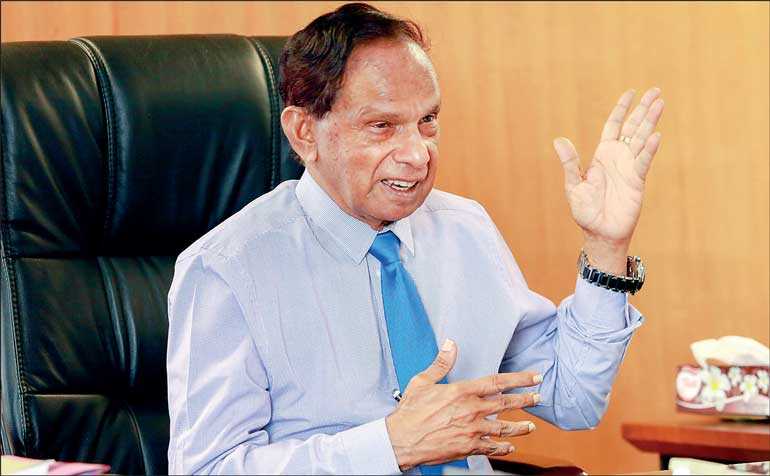 Ministry of Urban Development and Housing Secretary Sirinimal Perera
---
30,000 low cost housing units envisaged by 2024 to house shanty/slum dwellers in Colombo
Several housing projects for middle-income groups launched
Buildings of archaeological value to be renovated and given for commercial use
Otters and 80 Club taken over to make optimum use of commercially viable land
All 31 Government rest house across country to be brought under management of Waters Edge
New township development programs planned for all major cities
---
Since taking office, the Government has embarked on several ambitious projects in the fields of urban development and housing. These include major mixed development projects in Colombo as well as low as middle income housing projects. The Ministry of Urban Development and Housing headed by Prime Minister Mahinda Rajapaksa oversees the work on these projects. The Secretary to the Ministry Sirinimal Perera spoke to the Daily FT on plans to provide affordable housing for around 30,000 low-income groups in Colombo by 2024, provide affordable housing to middle income groups and make optimum use of commercially viable State land in Colombo and the suburbs for the benefit of the public. Here are excerpts from the interview:
---
By Chandani Kirinde
---
Q: The Housing and Urban Development Ministry has initiated many projects for low-income families, particularly in Colombo. Is this a continuation of the plans that were laid out before 2015?
In President Gotabaya Rajapaksa's election manifesto 'Vistas of Prosperity and Splendour,' he pledged to solve the housing problem in the country. When he was previously the Secretary to the Ministry of Defence and Urban Development, he had the same concept in mind, and we began several low-cost housing projects. It was in keeping with the United Nations principles which identify shelter as a fundamental right.

Between 2011 and 2015, we began to build low-cost housing in Colombo to move people out from shanties and slums and into proper housing. Prior to these politicians such as Pieter Keuneman and the late President Ranasinghe Premadasa also initiated such projects, but they were not armed with the adequate details on this issue in Colombo.

There are slums in all areas from Colombo 1 to 15. We hired about 400 university students and they did a survey of the shanties and we found there were 68,894 slums and shanties. They also gathered all the information relating to the families living in these places including the number of family members, children of school going age, sources of income, etc. It was based on the report submitted by them when we began the low-income housing projects between 2011 and 2015. During this period, we allocated houses for 4,688 families in Colombo.
Q: What is the idea behind moving people out of shanties/slums?
All the shanties/slums in Colombo are identified as estates (watta). Even though these people have been living for several generations, they do not have an address, they only give the name of the 'watta' they live in as a place of residence. This was a notable issue that caught the attention of the President when he was Urban Development Ministry Secretary.

We started work in several places but most of these projects were in different stages of completion by 2015 when the government changed. While the 'Yahapalanaya' Government completed these projects, they failed to clear the estates and instead gave the houses to other people.

Another reason to clear the shanties is because of the land. All these slums dwellers occupy State land which belongs to the UDA, Railway Department Land Reclamation Department, etc. More than 500 acres from Colombo 1-15 are taken up by unauthorised occupiers. We want to put the projects we started prior to 2015 back on track and we are systematically building houses for people who live in slums and shanties. Such projects are coming up in other parts of the country as well.

Those who live in shanties and slums in Colombo will be settled in Colombo itself. Last year we constructed 7,500 low-cost houses. Each housing unit costs Rs. 1 million and this amount can be paid by the owner over a 30-year period with no down payment.
Q: The number of slum dwellers of over 68,000 must have reduced by now given that many have moved into permanent houses?
We have relocated about 20,000 of these people by now. The President has instructed that their housing needs be met during his first tenure in office. We plan to complete 30,000 housing units by 2024.
Q: Moving people out of these areas is also controversial given that they have lived in such places for many years and some are reluctant to move. Are they any plans to deal with the socio-psychological impact moving them to a completely new environment would have on them?
Those who don't like to move have different agendas and these are well known. There are many anti-social activities in such places, and this is one reason we want them to move out and have a good life.

When the project began initially between 2011 and 2015, we started programs to help them adjust to the new lives. We began English classes, trained women so that they could be self-employed and provided sports and recreational facilities as well as places of religious worship. We had to train them how to use gas cookers, use toilets, etc. We will continue with these.
Q: Where is the investment for these projects coming from?
When we clear land, if it is in a commercial area, we can sell that land and use the money to build houses for the low-income groups. For example, we cleared the land at Castle Street which was full of shanties. It is a highly commercially viable land of around five acres. If we have about one acre, we can build fairly good housing for them and sell the rest.

We also get some money from the Treasury for the housing project. In addition to this we have a model like the one at Slave Island where the Tata Company is doing a housing project. In that case, the company built the houses for the shanty dwellers and we gave them the land in exchange to put up their commercial project. Till the houses were completed, the people were given money to rent houses till their permanent houses were completed.
Q: You have also launched several middle-income housing projects?
This is a new concept to help middle class professionals find affordable housing in close proximity to their places of work in Colombo and suburbs. At the moment 5,000 houses are being constructed at 10 sites. These will be sold on easy payment terms and we are arranging the loans at the rate of 6.23% interest rate with a repayment period of 30 years. We went for a Rs. 25 billion debentures. These houses will be affordable to the middle-income earning professionals.
Q: There are many buildings in Colombo that are of archaeological importance? Will the rapid modernisation that is taking place lead to their demolition?
The old buildings will be preserved as they are and given for commercial purposes. The Ghafoor building in Fort is one such place which is being given a major overhaul, but no damage has been done to the original features of the building. The Grand Oriental Hotel (GOH) too is being refurbished. These are heritage buildings and they will be preserved.
Q: The Urban Development Authority (UDA) is also taking over several clubs that date back to colonial times. What are the plans for these?
We have taken over the Otters Club which was in a very dilapidated state. We will have a mixed development project there inclusive of a car park, apartments as well an international sports arena.

We have also taken over 80 Club at Independence Square, Colombo 7. We are planning to transform it into an international class business club and expand it into a boutique hotel. The land is about 1.6 acres. We are doing this in the interest of the public because only few people are using this public land at present. These are underutilised assets. We are going to make sure we make optimum use of these very valuable properties.
Q: Parking is a major problem in the city. How are you addressing this problem?
We are building eight vertical car parks in the Colombo area as a measure to curb the traffic problem. Work on two of them has started. One is at Narahenpita on land belonging to the UDA and the other is being built on the SLT land at Fort. Each of these can hold 250 vehicles.
Q: Are they plans to overhaul the Government rest houses?
There are 31 rest houses located in some of the most prime and scenic locations across the country, from Ella, Belihul Oya and Jaffna to Kitulgala and Tissamaharama. The present status of the rest houses is horrible. We are planning to remodel and upgrade them. They will be managed by Waters Edge, the hotel that comes under the UDA.
Q: What are your projects outside Colombo?
There are new township development programs in several sites including Kandy, Badulla, Nuwara Eliya, Kegalle, etc. In Kotagala in Nuwara Eliya we are doing a wetland forest. We are also developing several sites along the route to the upcountry so that travellers will be able to stop at scenic locations along the way and enjoy a meal and use restrooms while enjoying the natural beauty of these areas. Some of these places include Pussellawa, Tawalantenna and Ramboda, which are beautiful viewing sites.

We are also developing an area of around 15 acres of land opposite Gregory's Lake which will include villas built in the style of a Scottish village. The Oakley Estate where the land is situated was started by a Scottish national named Dunn and it will be tribute to him. A museum to honour him is also planned.
Q: How is the work on the Port City progressing?
Port City is run under a tripartite agreement which includes this Ministry, the UDA, and China Harbour Corporation. The first phase of the Port City is nearing completion and some of the areas are available for immediate investment. Four properties will be released to the Government by 2023. They are the International Convention Centre, International School, International Hotel and the International Hospital.

Of the 269 hectares that make up Port City, the total marketable area is 178 hectares. Port City consists of four districts including Central Park District, International Island District, Living District, and the Financial District. An artificial beach of 1.6 kilometres is also part of this project.
Q: The Government has set up a dedicated property development and investment arm under your Ministry. Is it operational now?
Selendiva Investments Ltd., the property development and investment arm of the Government, was set up to take over the underperforming and underutilised institutions, develop them on a Public Private Partnership (PP) basis and list them in the stock market. The purpose of this is to develop them on a PPP basis, to restructure these institutions to improve their share value and list them.

We have already taken over the Grand Hyatt, Grand Oriental Hotel and Hilton Hotel in Colombo as well as the Cey-nor Restaurant. Before listing them, we will refurbish and give these places a good facelift. We will divest 49% of the shares and keep 51% for the Government. The aim is to turn these around to profit-making organisations.

We will also continue to evaluate other underperforming and underutilised institutions and take them over in the future and Cabinet approval has already been given for this move. Any real estate properties for which the Government is calling for investments will be done through this company.