To strengthen action on eliminating violence and harassment in the world of work
By Sharanya Sekaram

Just over a month ago, Sri Lanka trade unions led by the National Union of Seafarers Sri Lanka (NUSS) launched a gap analysis that looked at the Sri Lankan law in comparison with the International Labour Organization's (ILO) Convention 190 – 'Violence and Harassment Convention'.

On 21 November 2019 in June, the International Labour Conference voted overwhelmingly to adopt a new Convention and Recommendation to end violence and harassment in the world of work. The new Convention No. 190 represents an extraordinary opportunity for unions to move their fight against gender-based violence forward and sets out 12 clauses that relate to the protection and well-being of workers.

The launch of the Sri Lankan Gap Analysis was held on the 13th of December at the Hotel Janaki and comes alongside several other efforts globally spearheaded by trade unions to urge member states to ratify the historic C190. Unions are lobbying governments worldwide to ratify this landmark convention and are pushing to make the elimination of workplace violence and harassment a reality.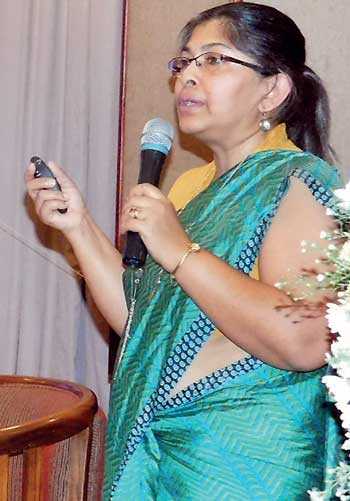 Speakers at the launch included Bro. Anton Marcus (FTZ Union) and a presentation of the key findings of gap analysis by Attorney-at-Law Shyamali Ranaraja. The event also featured an engaging panel discussion with panellists including

Ministry of Labour and Trade Union Relations Commissioner General of Labour R. P. A Wimalaweera, Employers' Federation of Ceylon Director General Kanishka Weerasinghe,

International Labour Organization (ILO) Senior Program Officer B. Skanthakumar,

Gender and Development Consultant Prema Gamage and K. Marimuttu representing the Ceylon Workers Congress.

Speaking at the launch event NUSS President Palitha Atukorala stated that it was of vital importance that existing labour laws were amended to ensure they came in line with the Convention's provisions but that this would not be an easy task. He highlighted possible resistance from the part of employers and that a continual multi-stakeholder dialogue would need to happen between the Government, workers representatives and employees.

Atukorala also said that this was the primary motivation behind highlighting the gap analysis as a tool that would help facilitate this process; adding that trade unions had also organised several awareness programs on the Convention and on workers' rights to this end.

It has been noted by advocates that women and girls in the workplace are often disproportionately affected by violence and harassment as well as other people who hold marginalised identities. Reference has also been made to ILO Recommendation 260 which aims to complement the convention. It further includes domestic violence as an element of workplace violence as it not only affects the well-being of workers, but also has an impact on workplace conditions and productivity.

Violence and harassment in the world of work can happen everywhere - online, in the physical workplace, during the commute, where workers rest, eat or attend to their health and sanitation need, as well as at social gatherings. Studies and analysis have long shown that harassment in the workplace has detrimental effects on employees' ability to focus, as well as their emotional and mental wellbeing.

A recent study by the University of Copenhagen showed some alarming links to workplace harassment and physical health. Among other findings in showed that you can be 1.59 times more likely to develop cardiac related illnesses (stroke or heart disease) than those not being bullied, the incidence of heart-related problems was increased by 59% in the bullied compared with the non-bullied and facing extensive harassment at work was associated with a 1.46 times increased risk of developing type 2 diabetes over the ensuing decade Other health issues included chronically rising levels of stress hormones, and bullying victims adopting harmful coping behaviours, such as eating to excess or drinking too much alcohol.

Why is C190 important? This is the first international standard that aims to put an end to violence and harassment in the world of work, it recognises that everyone has the right to a world of work free from violence and harassment. Importantly if ratified the convention will also cover existing gaps in national legislation. C190 has provided a momentum for trade unions and other stakeholders to fight violence and harassment in the world of work and ensure it becomes a part of national laws.

"This ground-breaking convention can change lives," said UNI Equal Opportunities (one of the largest global unions lobbying for this action) Head Verónica Fernández Méndez. "This is the first time in history that an international legal instrument protects workers from all forms of harassment and violence on the job.

"While we push for the convention to be ratified, unions don't have to wait to use it. Trade unions can implement C190's in collective agreements and global agreements to push for better protections. It's a first step to seeing violence and harassment as more than a health and safety issue in the workplace, but as a global epidemic that needs to be eradicated. Trade unions are part of the solution, and we want this convention to become the globally accepted tool in the fight against violence and harassment in the world of work."

According to UN statistics, 818 million women globally have experienced sexual or physical violence at home, in their communities or in the workplace. More than one in three countries have no laws against sexual harassment in the workplace and an estimated 235 million women are left unprotected.

Among other lobbying efforts, NUSS has also launched a Facebook page 'Violence Free Workplace' which regularly disseminates information on efforts being driven by local trade unions to have C190 ratified by the State.