IPS study highlights need for community-based behavioural interventions to encourage 'Last Mile Smokers' to quit
Targeted interventions will be more fruitful, cost-effective and sustainable
---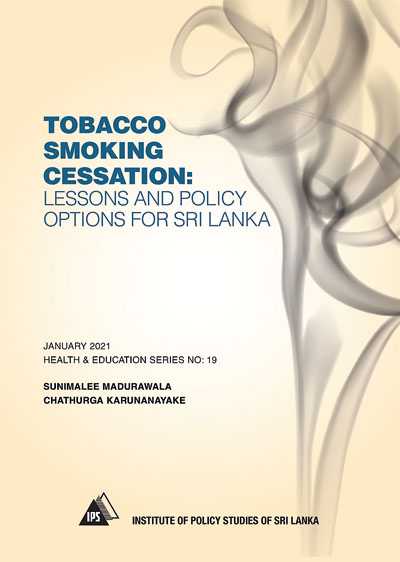 Sri Lanka has made important strides in reducing the overall smoking prevalence rate over time. However, if smoking prevalence is to decrease further, targeted measures are needed to reduce the prevalence rate among the 'Last Mile Smokers', according to the latest IPS Publication 'Tobacco Smoking Cessation: Lessons and Policy Options for Sri Lanka'.
The Last Mile Smokers refers to the groups in which the smoking prevalence rates are higher than the overall smoking prevalence rate in the country. Last Mile Smokers are, in general, less responsive to system-wide measures such as smoking and advertising bans as well as health awareness campaigns. Penetrating these hard-to-reach groups is important and should be considered as a priority area to slash smoking prevalence in Sri Lanka.
Targeted smoking cessation policies and programs play a vital role in supporting Last Mile Smokers to quit smoking effectively. Further, using evidence-based cessation programs significantly increase the likelihood of successfully quitting the smoking habit.
As the World Health Organization (WHO) notes, in Sri Lanka, 51.8% of the current smokers have attempted to quit smoking, while 35% of users have been advised to quit tobacco usage by healthcare providers. [World Health Organization, (2018), Fact Sheet 2018 Sri Lanka. Retrieved 20 August 2018, from World Health Organization Office for South East Asia: https://apps.who.int/iris/bitstream/handle/ 10665/ 272596/9789241565585-eng.pdf]
Smoking cessation interventions take different approaches and their effectiveness also vary. Different approaches in cessation should be used in different settings – and in combination with one another to improve effectiveness. Some cessation approaches are suitable only for specified contexts.
Behavioural approaches have a significant influence on smoking cessation interventions and policies because tobacco smoking is an acquired behaviour. These behavioural approaches in cessation, boost or support motivation to resist the urge to smoke and develop smokers' capacity to stick to their resolutions. Furthermore, behavioural methods can work primarily with individuals, or with groups or communities.
The IPS study also confirms that more attention needs to be given to protect the rural, low-income and estate sector smokers who are more vulnerable and susceptible to tobacco industry campaigns.
The study makes the following recommendations:
Give priority to the Last Mile Smokers and their socio-demographic backgrounds when preparing the national framework for cessation support so that, cessation programmes can be tailor-made to best suit the Last Mile Smokers.

Focus more on introducing and implementing targeted behavioural cessation interventions, and community-based interventions in particular.

Widen/expand prevailing community-based cessation interventions such as 'Tobacco-free Zones' which are identified to be beneficial in reaching a wider audience at a relatively lower cost and a shorter period of time.

Implement continuous follow-ups on smokers even after they quit to ensure there is no relapse.

Combine tobacco smoking cessation interventions with other tobacco controlling policy interventions such as increasing tobacco taxes, and banning the sale of single stick cigarettes.
---
(The report is authored by Sunimalee Madurawala and Chathurga Karunanayake.)
---
(Access the full report here: https://www.ips.lk/tobacco-smoking-cessation-lessons-and-policy-options-for-sri-lanka/)
---