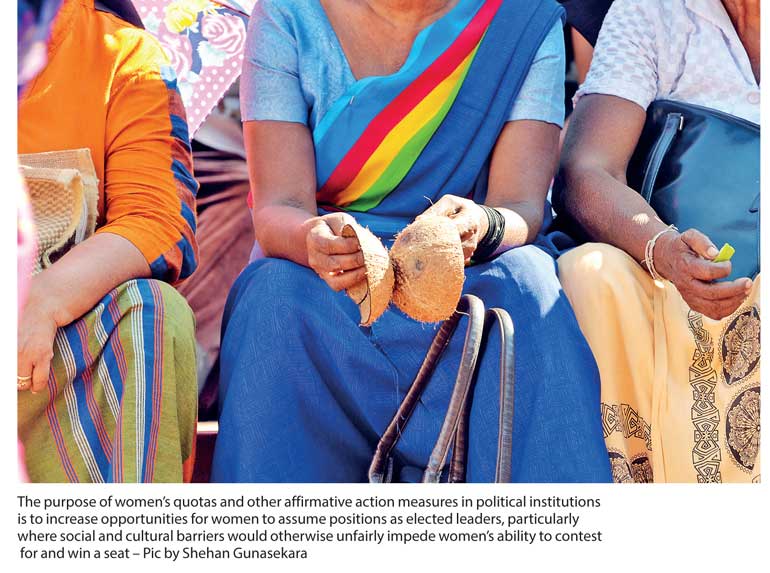 By Nadeesha Paulis

From media reportage following the 10 February Local Government elections, it is understood that certain political parties feel that they have to bear an 'unfair' burden in fulfilling the women's quota, which has already been clearly established by law. It is also understood that political parties in consultation with the Elections Commission and the Attorney General's Department also considered revisions to the law.

As such, a group of civil society organisations, including women's groups, and women's rights advocates, as groups that welcomed the law as a significant victory to redress historic discrimination against women have written to call on the Chairman and members of the Election Commission to implement fully the 25% quota for women in accordance with the Local Authorities Elections (Amendment) Act No. 16 of 2017. The statement is a strong appeal to political parties and the Election Commission to respect the spirit of the 25% quota and to refrain from any reductions to the agreed level of women's representation.

Women consist of more than half, i.e. 52% of the population in Sri Lanka. And yet, when it comes to decision-making on public affairs from the Local Government and Provincial Councils to National Parliament, women's representation is abysmally low.

Currently 4.3% of women are represented in the Cabinet (two out of 47) and only 5.3% of Members of Parliament are women (12 out of 225). This is significantly lower than other countries in the region such as Nepal (33.2%), Bangladesh (19.7%) and India (10.9%). Furthermore, the representation of women in Local Government in Sri Lanka has never exceeded 2%.

Compulsory 25% quota

for women in LG bodies

The recent Local Government election was carried out under the new amendment that introduced a mandatory 25% quota which must be ensured by the Elections Commission. With this, women receive a greater space to engage in politics. The move is also expected to change parochial views which are largely shaped by the patriarchal values which dictate what men and women should and shouldn't do.

The recent election took place under a Mixed Member Representative System which is a hybrid of the First Past the Post (FPP) system or the Ward system and the Proportional Representation system (PR). 60% of candidates are elected from the wards and 40% through proportional representation. As such, there were two nomination lists.

One nomination paper consisted of a list of names of candidates to be elected through the Ward level, at least 10% of whom were women. The second nomination paper is for candidates who are elected under Proportional Representation. Those candidates defeated at the wards could also enter through this list. This is known as the 'additional list'. At least 50% of all those entering local councils through this list must be women.

There are exceptions to the 25% quota stated in the law itself. According to the law, if the number of members elected from a political party results in an 'overhang' and thereby exceeds the number ascertained to be elected as members and such number of members do not include any women members, then the political party is not bound to fulfill the quota. Similarly, if a political party or independent group has received less than 20% of votes in a local authority area and is entitled to less than three members, they are also exempt from appointing the requisite 25% women.

This was the formulation that was discussed, debated and agreed on by all political parties in Parliament and adopted as law. The section 25 of the Local Authorities Elections (Amendment) Act, No. 16 of 2017 notes that when the number of women members elected for all wards for any political party or independent group is less than the 25% quota, then the "shortfall in the number of members shall be returned from among the women candidates in the first nomination paper or the additional nomination paper…"

The civil society statement underlines that, "to now reduce the quota following a free and fair election conducted under the new amendments is not only blatantly unfair, unlawful and undemocratic, but also misogynistic. The whole point of affirmative action for women in political institutions is that it seeks to increase the numbers of women and in doing so it may exact a penalty from men who have dominated these seats for years by enabling a more democratic redistribution of seats between men and women and forcing men to accept that they cannot enjoy the primary privilege of representation at the expense of women. This is the fundamental principle underlying quota."

Purpose of women's quotas and other affirmative

action measures

The purpose of women's quotas and other affirmative action measures in political institutions is to increase opportunities for women to assume positions as elected leaders, particularly where social and cultural barriers would otherwise unfairly impede women's ability to contest for and win a seat. There is a misperception among some political parties and independent groups that meeting the quota forces male leaders to give up their seats. In reality, the number of Local Government members was drastically increased from past elections, inter alia, to allow for the 25% quota and women candidates are entitled to these seats.

It is however, important to bear in mind that, while a quota is a great short-term solution to fill the huge void that exists, in the long run the State should also take steps to address the numerous barriers that women face when they enter politics. The violent political culture marred by thuggery and patriarchal systems of decision-making within political parties that do not grant women nominations are some of the key factors that discourage women from pursuing politics.

Much like any other professions, such as being a teacher, doctor or a lawyer, engaging in politics, has its own set of commitments and responsibilities. Time and time again, women have proven themselves as successful leaders in the private sector, the academia, the civil service and so on. While disparities in power relations and gaps in representation in positions of decision-making exist in all spheres of society, it's possibly the lowest in politics, where women's voices are needed the most.

The question that remains is – they are ready, are you?