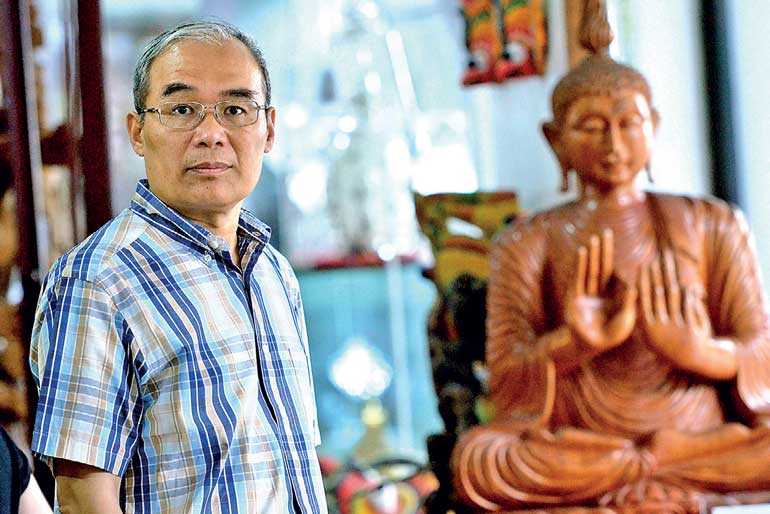 Whether we like it or not, this pandemic will put global trade and tourism growth on a permanently lower trajectory. The global shutdown has merely served to reinforce trends which were already favouring localisation over globalisation – Pic by Shehan Gunasekara
By Simon Bell

Right now, our attention is quite rightly focused on how best to manage the health crisis and short-term economic shock caused by COVID-19. The medium-term impact also looks likely to be negative – with reduced worldwide spending-power, companies going bankrupt or permanently reducing capacity, millions unemployed, and governments with limited room for additional fiscal stimuli.

As a business leader or investor, what are the implications for future strategy, and where might there be opportunities for growth or at least survival during these hard times? Here are some initial thoughts for business leaders and policymakers in Sri Lanka.


Shift focus to local market opportunities



Whether we like it or not, this pandemic will put global trade and tourism growth on a permanently lower trajectory. The global shutdown has merely served to reinforce trends which were already favouring localisation over globalisation: populist leaders putting up trade barriers and tearing down multilateral institutions, and environmental concerns driving consumers to seek out locally-made products, reduce air travel, cut unnecessary consumption, etc.

With the pandemic reducing incomes and increasing concerns about international interaction, long after the pandemic has passed, it seems likely that global consumers will travel less, buy less apparel, purchase fewer cars (and hence rubber tyres), etc. As a result, global demand for most of Sri Lanka's export products and services will probably stagnate and at best grow more slowly. And in turn, this will depress prices for many commodities.

While continuing to push exports as hard as they can, it would be wise for Sri Lanka's exporters and tourism companies to seek all ways to maximise local revenues, at least to offset the likely decline in their international revenues. The good news is that concerns about foreign travel and shortages of imported goods will likely drive more local consumers to seek local alternatives.

Tourism providers need to focus on attracting local tourists; agricultural exporters can redeploy part of their workforce and resources to focus on supplying fruit, vegetables, dairy, seafood and other food and beverages to local consumers; apparel exporters can retool parts of their production lines (as many have already done) to supply Personal Protection Equipment (PPE), uniforms and other local clothing needs; engineering firms should be looking at all the basic equipment and appliances which Sri Lanka is importing from China or Europe, and working out how to assemble the same here.

This also means that Government regulations in many sectors need to be adjusted: in apparel, tea and other sectors, the Government limits how much producers can sell in the local market; and even in other sectors, many incentives encourage companies to export, rather than supply local needs.


In export sectors, redouble efforts to escape the commodity trap

In the medium-term, economic contraction in major markets and intensified competition from lower-cost producers will depress prices in most of Sri Lanka's key export categories: apparel, tea, spices, rubber, coconut, seafood, gems, etc. To avoid a race to the bottom, Sri Lanka's exporters need to focus all the more on differentiation, value-addition, brand-building, and quality rather than quantity.

Sri Lanka's leading firms in most sectors have already done a good job of getting out of pure commodities and into value-added products (in apparel, tea, rubber, coconut/coir, seafood, gems, etc.), but players in these sectors need to strive all the harder to escape the commodity trap. Far too much of Sri Lanka's tea and spices are still exported in bulk to international blenders and wholesalers.

With consumers increasingly concerned about the environmental and social impact of their choices, Sri Lankan exporters need to differentiate their products from pure commodities, by highlighting their positive social and environmental impact.

Again, the Government has a role to play – regulations and support mechanisms in tea and other sectors are oriented to encouraging maximum export-quantity, not quality. Government agencies need to evaluate to what extent their policies are supporting innovation by small players who are creating more differentiated, higher-value exports.


Target companies seeking to lessen dependence on China

The global shutdown has made many companies recognise their over-reliance on supplies from China. Global companies will be actively seeking new suppliers and manufacturing locations to diversify their supply-chains – from electronics and appliances, to auto-parts and precision components, to textiles and fibres.

Sri Lankan firms with capabilities in these sectors (and the Government of Sri Lanka) need to do everything in their power to pitch Sri Lanka as the logical choice for companies seeking alternate manufacturing or sourcing locations. Developments like Colombo Port City and the new EPZ near Hambantota provide further opportunities to pitch Sri Lanka as an ideal location for relocation of major manufacturing and services facilities.

Sri Lanka missed this opportunity 20 years ago, when Japanese and Korean firms first began to look for alternatives to China. Countries like Vietnam focused on the opportunity, and over the last 20 years total inward FDI stock in Vietnam has grown to over $ 150 billion, while total FDI stock in Sri Lanka has barely exceeded $10 billion.1 Today, almost half the world's smartphones are manufactured in Vietnam.2 And the value of inputs that foreign investors are sourcing from other firms within Vietnam exceeds the total value of Sri Lanka's exports.3

Going after these opportunities will require a radical shift in how the Sri Lankan Government promotes and pursues FDI. Like many countries, too much of Sri Lanka's FDI promotion is either reactive or broad-based marketing without sufficient focus on targeted sectors and companies. Effective investment generation requires deep research (for example, to identify the top 100 companies most reliant on China supply-chains) and strong analytical skills to craft customised business cases to convince those firms to source from Sri Lanka. Individual Sri Lankan suppliers should be able to do this research and make these pitches, but it will be more effective if the private sector and government do so jointly.


Double down on Sri Lanka's knowledge services sector

Social distancing and remote working have dramatically increased demand for everything "online" – accelerating a fundamental trend that we have known for a long time: every knowledge-based skill that can be digitised (from accounting to medicine to engineering) can now be delivered remotely from anywhere in the world.

Sri Lanka is already home to many of the world's most successful knowledge-services companies, supplying software which runs the world's top stock exchanges, airlines and retailers, and accounting expertise which runs the back office of leading banks and insurance companies. The pandemic has made more people around the world comfortable with sourcing online their medical advice, architectural drawings, etc.

Since Sri Lanka has long been known as a supplier of top-quality doctors, lawyers, engineers and accountants, there is a massive opportunity for Sri Lankan professionals to start offering these skills to the world, as well as continuing to attract the world's best firms to set up their software and knowledge-processing centres in Sri Lanka.

Sri Lanka's knowledge services industry has already put together a clear vision and roadmap for the growth of the sector, and the industry with support from government and international agencies has already launched the 'Island of Ingenuity' branding campaign to make more global companies aware of Sri Lanka's capabilities.

However, the Sri Lankan Government can still do more to support the growth of the sector – not through more tax breaks, but by continuing to remove unnecessary red-tape and regulations which hinder online transactions, by implementing educational and immigration reforms which ensure that firms can source sufficient talent, and particularly through digitisation of Government processes and departments.

The fact that many Government agencies still require hardcopy documents, rubber stamps and personal visits, does not help Sri Lanka's image as a centre of digital innovation in the region. The shutdown has finally forced many processes to go online, from the tea auctions to customs clearances; the government needs to maintain the pressure to digitise every possible process, when the shutdown ends.


Dive into renewable energies

With oil prices at an all-time low in real terms, a focus on renewable energies may seem counterintuitive. However, the shutdown has revealed how vulnerable global supply-chains can be. Sri Lanka's greatest supply-chain vulnerability (and the biggest drain on its foreign exchange reserves) is its dependence on imported oil and coal. It is sad that a tropical island with intense solar radiation, plentiful rain, non-stop ocean winds, and bountiful biomass, relies on imported hydrocarbons for more than 50% of its electricity generation.4

Government incentives exist, and dozens of companies are promoting solar, mini-hydro, wind and biomass solutions, but clearly more needs to be done. Sri Lanka's public and private sector need to urgently review best practices in other countries, and agree on a joint plan to accelerate adoption of renewable energy solutions by households and industries.


Conclusion

In the short-term and medium-term, the impacts of COVID-19 look likely to be negative for virtually all sectors of the Sri Lankan economy (and for every other country around the world) – with reduced demand, lower prices and increased supply-chain complexities.

However, the crisis also presents an opportunity – if it provokes Sri Lankan companies and Government agencies to stop pursuing "business as usual", with their focus on maintaining outmoded processes, regulations and models, geared towards high-volume, low-value products and services.

The crisis offers Government agencies the perfect opportunity to strip-away unnecessary red-tape, digitise every activity, and aggressively promote Sri Lanka's human-capital and geographic advantages as the natural centre for high-end knowledge services and high-tech manufacturing in the region.

And, with local and global consumers all the more concerned about the provenance and the sustainability of their purchases, the crisis offers Sri Lankan corporates and SMEs the opportunity to question every assumption, localise their supply chains (and their energy supplies) wherever possible, and reposition their products and services as responsible and relevant to consumers' needs.
Notes

1UNCTADSTAT: Inward FDI Stock in current US$, 2000-2019.

2International Finance Corporation: Viet Nam Next-Generation FDI Strategy and Roadmap 2018-2030 (2017).

3Ibid.

4Sri Lanka Sustainable Energy Authority (2019).
(This was written for the Lakshman Kadirgamar Institute of International Relations and Strategic Studies.)

(Simon Bell is the Managing Director of AMBA Estate. He is also the former Director at A. T. Kearney's Global Business Policy Council and an international investor and consultant. The opinions expressed in this piece are the author's own and not the institutional views of LKI, and do not necessarily reflect the position of any other institution or individual with which the author is affiliated.)