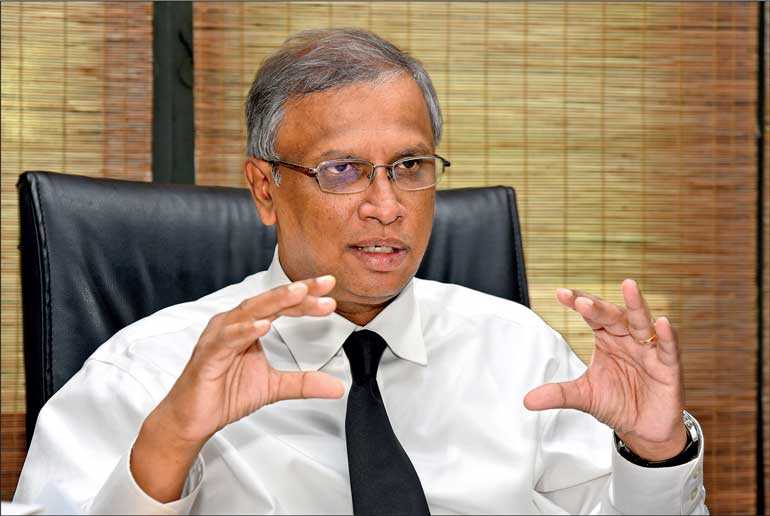 Lawyer and TNA MP M.A. Sumanthiran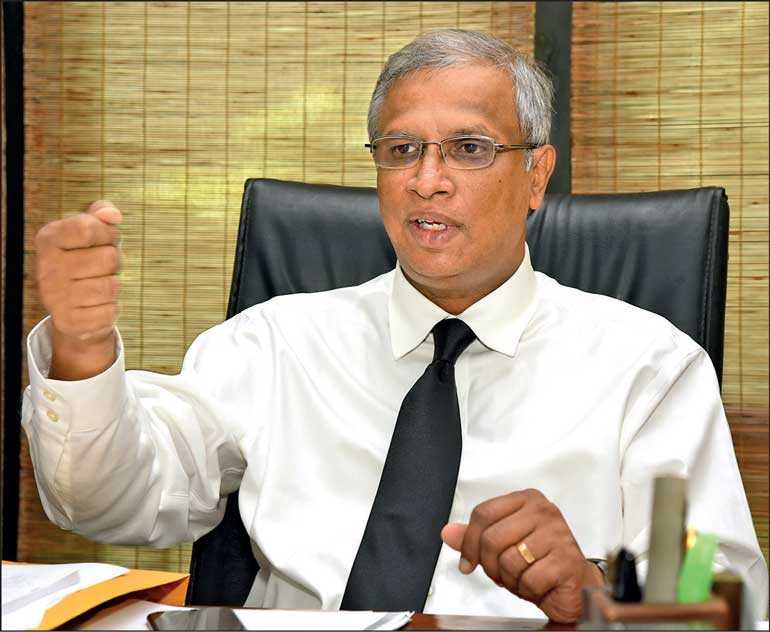 Sumanthiran outlines alliance's decisive role during constitutional crisis and how it has been able to bring about political change and progress in reconciliation and rebuilding efforts


The Tamil National Alliance (TNA) played a decisive role during the constitutional crisis in October last year acting as a mediator between President Maithripala Sirisena and Prime Minister Ranil Wickremesinghe. Both in and out of the Supreme Court, lawyer and TNA National List MP, M.A. Sumanthiran built a case for democracy, ultimately winning a landmark Supreme Court case. While some argue the role the TNA played backfired on it, Sumanthiran thinks otherwise, noting that its supporters understood the significance of the party's contribution during the time of crisis.

In an interview with the Daily FT, Sumanthiran discussed how the TNA has been able to bring about political change and progress in reconciliation and rebuilding efforts, albeit at a slow pace. Following are excerpts of the interview:


By Chathuri Dissanayake


Q: The Tamil National Alliance played a significant role during the constitutional crisis. It has also been seen as supporting the current Government. Do you think this has backfired on the TNA?
No it hasn't backfired on the TNA. To give you an example, four of the ladies from the community who are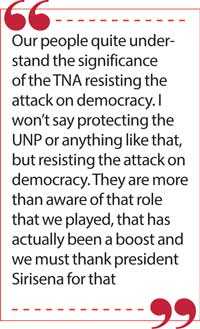 protesting for their land in Keppapulam came to meet me after the attempted coup, they came and told us, 'You protected the Government, you went to court and did all this, why couldn't you do that for us?' so I asked them, 'What if we did not go to court, and the change had happened?' They replied, 'Oh there won't be a struggle today, we would have had all just gone away and we won't be sitting there.' So I said, 'Wasn't it important for you to continue for your struggle that we had to go to courts?'

That is just an illustration, we haven't lost out. Our people understand the significance of having resisted the attack on democracy, I won't say having protected the UNP or anything like that but resisting the attack on democracy. They are more than aware of that role that we played, that has actually been a boost and we must thank President Sirisena for that.
Q: This Government promised a lot for the community in the north and east when it came into power, but delivery has been slow. How do you see this situation?
It's always a case of glass half full. So there were 217 political prisoners, 107 were released; nobody talks about the number that has been released, they only talk about the number of people who are still there.
Q: What about the Constitution?
Well, we have a draft of a draft, which is significant progress. Of course it must result in something but nevertheless it's a draft; they don't call it a draft, it's a draft but not a draft. That has been achieved through consensus, all the parties participated in that. They may say something else outside, but we have achieved that – a kind of a middle road, so now everybody knows that it is possible. It is neither unitary, nor is it federal, but that is irrelevant, here it is. But that's also half full.

We haven't taken anything over the line yet. That is the problem. But that we are engaged in a process. We have met the President and the Prime Minister and some members of both their parties to decide what to do with this constitutional process. The TNA, Sampanthan met the President last week to ask him what he plans to do with the promises he gave the Tamil people before he got elected. As a result of that conversation the President, Prime Minister and Samapanthan met in Parliament and they have fixed this meeting to decide on what they want to do with the Constitution beyond this.
Q: What was the response from the President regarding the promises to the Tamil people?
With regard to the political prisoners, he keeps promising to pardon the political prisoners, 55 or so prisoners whose cases are over and are serving sentences. He hasn't done that yet, but he keeps promising he will do it. With regard to land release, huge amounts of land have been released. They said over 90% but they have now corrected and said 85%, that itself is big; 85% of private land being released over the last four years is a big progress.

In terms of people who have disappeared, well there is an office set up, empowered by law, yes slow progress. But even those who are now shouting 'we don't want OMP' are quite well satisfied with the interim report given by the OMP. So they had not lost confidence in that mechanism, it is in the Government that they have lost confidence.

So some things have happened, most things haven't happened and that is the reason why we want an extension of the international supervision of the International Human Rights Council. Because if that supervision is not there, all this will fall flat if there is nothing to report on, because the period ends this March. Unless there is another resolution, the Government will go to sleep. Unfortunately they don't feel the pressure from their own people, they only feel pressure when it comes from the outside.
Q: Sri Lanka has not achieved much of the commitments undertaken in the United National Human Rights Council resolutions co-sponsored by the country. However there has been proposal regarding giving amnesty to both LTTE and the Sri Lanka Army by a current Minister. What is your view on this?
Right from the word go, when the LLRC published its findings, we made a response to that, in fact we published a book response; from then on we have been saying that there must be a mechanism to ascertain the truth. That is the most fundamental thing in reconciliation. Any measure of reconciliation must be founded on the truth. So an independent and open process for the ascertainment of the truth is absolutely essential.

The other day the Prime Minister in Kilinochchi made just one reference to that. He said, 'We will tell the truth, ask for forgiveness and move forward'. In the whole of his speech, there was this one line, but I thought at least one person has said it once. Because our position is, once the truth comes out in the open, what you do with that truth will be easier to handle because we are now debating based on various assumptions, some might be true, some might be partially true and some might be blatantly false. But each community has assumed that this is what happened.

The Tamil community has assumed that severe war crimes were committed; now that may be true, there may be more truth in it than lies, but that war crimes were also committed by the LTTE also is not an assumption they have made, so there is a gap there. In the south, there is a blocking out of the mind any possibility that the forces might have committed any war crimes at all without looking at hard facts. So you cannot proceed towards reconciliation. But if you have a process in which people actually have confidence, and out of that the truth emerges, then it's much easier to handle.

So the proposal for amnesty has put the cart before the horse. You have to first set the mechanism to ascertain the truth set up, then you have to go through that; only after that can a decision be made on what to do with the findings. My firm belief is that when the truth is ascertained both communities will converge to one point on how to deal with that.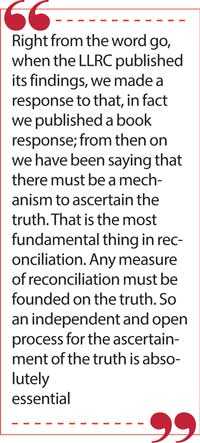 That won't be just blanket amnesty, I think there will be horrendous crimes disclosed perhaps from both sides, and some of which people will want prosecuted and punished but other things they will be willing to forgive and move forward. But where you strike that balance will be done only after the actual truth emerges.
Q: The Government has taken an undertaking to deliver this, but so far little has happened. How do you see this?
The Truth and Justice Commission Bill is apparently ready, we have not seen it. So when the Prime Minister mentioned this in Kilinochchi I said we hadn't seen it. So he said, 'Why haven't you seen it? I will ask them to give it,' but I haven't still got it. We must have a look at the mechanism and we must set up that mechanism.

So as far as I know from hearsay, it's just a mechanism to bring out the truth. That's all. It doesn't say what you do with it. It's like the OMP [Office of Missing Persons], it is just to investigate into what happened to the person, that doesn't confer any civil or criminal liability. But there can be other mechanisms thereafter, based on the findings here, so this must be done early.
Q: Are you confident of this happening? Considering this is an election year, there are politicians saying that the UNHRC resolutions on Sri Lanka should not have been co-sponsored by us, and we haven't met the conditions in it either. So in such a situation, where do you think it will go from here?
If we did not cosponsor that resolution, the consequences for the country would have been severe. We would never have got the GSP + back and a whole host of other things. So although those are not binding resolutions, non-cooperation with them will have severe adverse consequences for the country. I think the Government knows that, for the public they may say we shouldn't have done that, the President may say we shouldn't have done that, but were fully in the know, on both resolutions 31 as well as 34-1. So whatever the rhetoric for the purpose of elections, I think the Government knows that this is something that you have to comply with. So may be in the election year as you say there may be a small pullback, but after that it has to be done.
Q: Isn't there a risk there as well, as it depends on who comes into power?
Well, even if the Mahinda Rajapaksa faction comes to office, they will also be compelled to do certain things, otherwise there will be adverse effects for the country. These things don't go away; you can wish them away but they don't go away and we will certainly ensure that they don't go away.
Q: This an election year, whichever the way you look at it. What is your position on the Provincial Council elections?
We want the elections held immediately. Already two years or more have passed with the Eastern Provincial Council, another year has passed with regard to the Northern Provincial Council. Our position has been, if there is a dispute as to the electoral system, it is secondary to elections being held on time.

Elections being held on time under whatever system is paramount, thereafter you look at the system. So because there is dispute with the system, we suggested that we revert to the old system. We have said this for a long time. It was the SLFP [Sri Lanka Freedom Party] that refused to do that – 'after going forward we can't go back,' they said, so that is why this got dragged. But now the SLFP also says 'we have to go back to the old system'. Now the Government has to enact a very simple law to go back to the old system and hold the elections.

I have drafted the amendment and given it to the Government some time ago. Dinesh Gunawardana at the last Party Leaders' meeting countered my point and said that we don't need an amendment, that they have advice that under the Interpretation Ordinance if there has been a change in legislation and that legislation has not become operative, you can still function under the old regime. So that the elections can be held under the old system as the new system has not become operative yet. That's the theory.

My response was that, 'You can't agree with that, you can't say it hasn't become operative; it became operative, that's how the delimitation was set up, that's why the report came, that why an appeal committee was set up'. So it has come into operation. You have to do the amendment. So they said, 'There is a difference of opinion so ask the Attorney General to tell us whether we can do it without an amendment or if we need an amendment'. Of course it's a delaying tactic.
Q: Some parties have asked for a General election and there is a Presidential election due in a few months. What is the TNA's position?
The TNA's position is that there is no necessity for Parliamentary elections, Local Council elections are for Local Councils, not for Parliament. So you don't look at Local Council election results and say the Government has lost its mandate. That is stupid. In every part of the world midterm elections generally go against the sitting government. This has to be viewed from that perspective. This Parliament term is until 2020, and it must go on till 2020, unless the Parliament itself decides, as the Constitution provides. There is no point asking for Parliamentary elections. The Presidential election has to happen and in October this year nominations must be called for and that must be held.
Q: In the last election you backed Maithripala Sirisena as the Presidential candidate. It hasn't worked out very well since then. How will you approach the Presidential election this year?
Well it worked for three years and then the President did a somersault. We will have to wait and see. Our position is that the executive presidency must be abolished; that is the first promise this President gave to the people and that was the primary promise on which he was elected. So that must be done. Even within the next six months it can be done. Not just before the election, but during Sobhitha Hamuduruwo's funeral and thereafter he kept on making that promise, so he must do it.
Q: Can it be done during this short timeframe?
A: Yes, the 20th Amendment has already been gazetted. You can take it up and pass it in Parliament and then hold a referendum. In a referendum people will vote with both hands to abolish the executive presidency, after what happened in October last year.
Q: The TNA has been having differences of opinion among its members; how will things be worked out in the future?
Our party is one with only a few differences of opinion, not like the other parties! It's a democratic party and there must be differences of opinion. The TNA is not just one party, it's an amalgam of several parties, so even within one party there will be differences of opinion and when you have two or three in a coalition, there definitely will be. But with regard to our primary purpose as to why we are together, there is no difference of opinion.
Q: You also head the Parliament Committee on Public Finance which recently produced a report on the Government's performance in comparison to Budget 2018. What are your findings when comparing Government policy with actual performance?
We have come up with startling revelations that there are huge variances and it has taken three years to crack this.

The officials didn't cooperate with us; they gave us different figures at different times and at one point when we confronted them and said 'None of this can be true but you must be having the true figures somewhere,' the reply we got was, 'Yes, only we know those figures.' Then we had to force them to give us those figures. That itself was a startling revelation, because they did not match with any of the disclosed figures.

So you have four sets of figures. One is the estimates that are shown – printed and given; then you have the budget speech, the figures in the budget speech are very different to the figures of the estimates that are given; then the fourth is the actual set of figures, how they actually spend or don't spend; in between there are the real figures of the estimates of revenue and expenditure, which are not disclosed to anybody.

Now we have analysed all this and we find huge variances. The estimate of revenue is always overstated, so you show a small budget deficit. Because, in the proposal of expenditure they say they will do a whole host of things that require money. So to show that money is available to achieve that, they show a huge income which is never realisable. Then, actual spending also doesn't happen [as projected]. So when the actual revenue is much lower, the gap for 2018 was Rs. 200 billion as at August, 2018. We don't know how much was realised after.

With regard to the main matter in this report, one other thing that they understate is the interest payment. Now that is not something that you can say is unforeseen, because the loan has been taken, you have the schedule for repayment, so to the exact cent you should know how much is due. But it is always understated. The foreign loan interest payment component is heavily understated, so when we inquired from them, their reply is that, the loans are in dollars and these figures are in rupees, so there is a fluctuation. That fluctuation is very small, but we have found a 52.8% deviation in the five year repayment. So if you overstate the revenue, and understate the actual expenses which you anyway have to incur, then what you really have in between is far less than what you have trumpeted in your budget speech.

There is another Department called National Budget, I call it a 'slush fund'. This is just a department in the Treasury with a few officers, which doesn't require billions of rupees. That money is kept for discretionary budgeting, so when the Ministers say, 'I want money for this,' which is never estimated, never forecast, they pull it out of that and spend it. They say it is for contingencies, but there is a contingency budget separately. But this is far beyond that.

We have been at the officials about this, and their defence is 'What are we to do? When the Minister or Cabinet of Ministers tell us they want money for this, we must find the money from somewhere so this is what we do.' So they have been reluctant to do away with this 'slush fund' but they have given us assurance to limit it to 2% of the Budget. At the last meeting we examined it and it seems like it is 2% of the budget. But our aim is to totally eradicate this.
Q: What is the reason for the officials to be so secretive?
It gives them a measure of comfort, as uncomfortable questions are asked. I think it is also because they don't like to say 'well the Minister told me to do this,' it is not that they are – or so we hope – engaged in large-scale fraud or anything like that. It is just that with accountability generally changing with politicians' whims and fancies, they like to keep that buffer to be able to oblige the political masters and not have to answer that in public.
Q: Out of what you have analysed what were the most startling deviations?
Estate housing – in 2016 the Government said that by 2020 they will give 157,000 housing units, and they keep crowing about it. But with the allocations that have been made, if you calculate they can build 9,230 houses properly by 2020, which is less than 10% of the stated Government policy. So you have a policy declaration but they don't put the money where the mouth is. Agriculture, same thing, we have highlighted some examples; transportation, the same.

Post-conflict development and reconciliation also there is a huge reduction, 33.8% in the allocation for 2018. When we asked them, their comment was that over the years they have moved it to other ministries that are doing development work in the north and the east. But we got all those figures and added them up and still we find that in 2016 the allocation was Rs. 40 billion, but in 2017 it dropped to Rs. 28 billion and in 2018 Rs. 27 billion, so there is a 30% drop on that. So their explanation doesn't match up. In terms of agriculture, their policy was to spend on agriculture, but the figures show a picture quite opposite to that. So these are some of the issues that we have highlighted.
Q: When it comes to spending allocated funds, what is the actual picture?
Over the years we have invited different ministries and checked as to why this money has been spent. One of the big problems is that by the time this Budget goes through, and work starts and they call for tenders, half the year is gone. Never before April. So half yearly when we check, sometimes only 2% is spent after half the year in several sectors. By September about 30% is sometimes spent. Overall it has never exceeded 50%. The reason for that is what I said earlier, anyway you have estimated your income, actual expenses that must be met you have underestimated, so you have much less, for only about 30% of what you said you would do. Whatever is said in the Budget speech, money is not there, that is just like a wish list, that is it. There is no actual allocation.
Q: So the Finance Minister is presenting a false picture?
Yes it is a false picture. All these years that is what has been happening and evidence is in the report.
Q: How can this be addressed?
One is through these type of reports in public and the other is to have these committee meetings open to the public. We have had meetings in Kandy and Jaffna and we hope to have about four meetings this year as well. But that doesn't go into these aspects that is to actually have public hearings. But for committee meetings and inquiries to be open to the public we need to amend the Parliamentary Privileges Act, so that is another thing we have to do. Although Standing Orders permit it, the Privileges Act needs an amendment, plus another big thing that needs to be done is establishing a Parliamentary Budget Office. This has not yet been done; the bill has been ready for some time, but the Government has not still moved in that respect. By law establish it and staff it adequately so that it is an entirely independent parliamentary institution under Parliament that it will give information to Parliamentarians and others on all of these matters independent of the Treasury. Treasury will be by law required to give the information to the Parliamentary Budget Office.