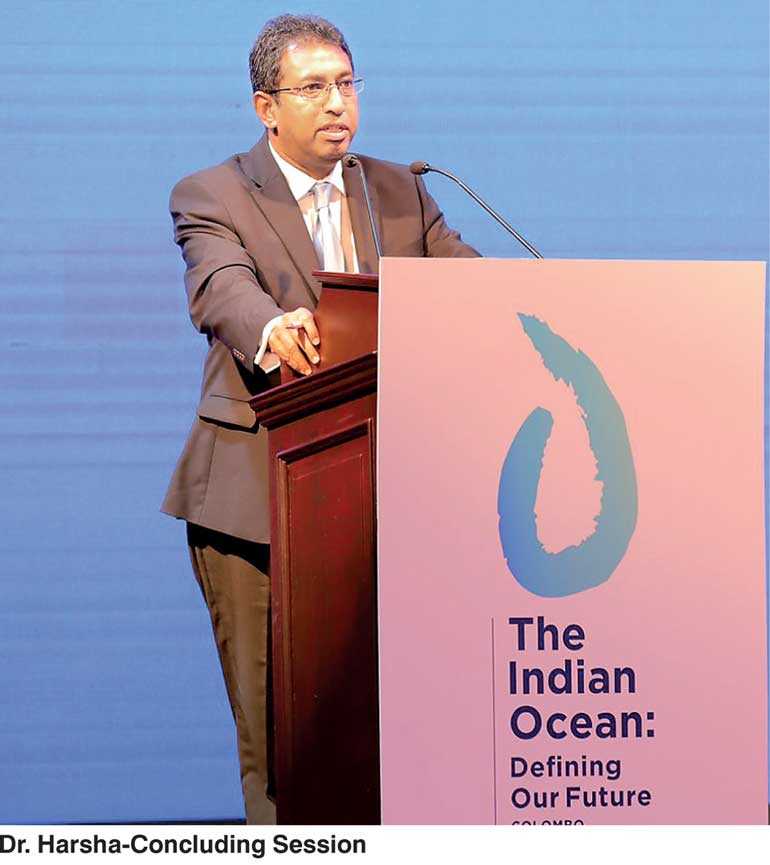 Representatives of 40 countries were in Sri Lanka on 11 and 12 October to discuss the future of the Indian Ocean.

'The Indian Ocean: Defining our future' Track 1.5 dialogue brought together senior representatives from Indian Ocean littoral states and major maritime users to Colombo on an initiative by Prime Minister Ranil Wickremesinghe, to increase focus on an ocean that has the potential to become a growth pole in the world economy in the future.

Representatives included, among others, key senior officials from India, South Africa, the US, China, Germany, Netherlands, Singapore, Indonesia and Japan together with key think tank representatives from the region and beyond. The UN Secretary-General's Special Envoy for the Ocean Ambassador Peter Thomson was also in Colombo for the conference. President Maithripala Sirisena graced the occasion.

Prime Minister Ranil Wickremesinghe, delivering the keynote address of the conference, highlighted the need to maintain freedom of navigation and freedom of digital connectivity for the region to grow and prosper and the need for a shared understanding in order to maintain peace and security.

This conference provided an inclusive space for discussion and consensus building for littorals and users of the Indian Ocean. It explored four particular areas including the Indian Ocean's future as the new global growth pole, safety and security at sea, sustainable and low-pollution development and stability of the Indian Ocean within a rules-based approach.

At the conclusion of this Track 1.5 dialogue, National Policies and Economic Affairs State Minister Dr. Harsha de Silva, Chairman of the Task Force that organised this conference, summarised the general view that emerged from the Conference: The Indian Ocean economy is rapidly becoming a global growth pole in an uncertain world beset by economic risks; The region's economic expansion needs to be inclusive, broad-based and environmentally sustainable so that we leave a meaningful legacy for future generations; Strategic mistrust and non-traditional security threats (such as maritime crime, over-fishing, pollution and protection of undersea cables for the digital economy) are significant challenges to achieving regional peace and prosperity; and the rules-based international maritime order centred on UNCLOS needs strengthening and reinforcing for the benefit of the Indian Ocean littoral states and maritime users.

It was indicated that there would be a report of the conference that contains elements forming the building blocks for a possible statement, which could be agreed to by Indian Ocean littoral states and major maritime users at a ministerial conference in Sri Lanka next year on the future of the Indian Ocean.

'The Indian Ocean: Defining Our Future' Conference was organised by the Office of the Prime Minister, Ministry of Foreign Affairs, Global Maritime Crime Programme of the UNODC and the Lakshman Kadirgamar Institute of International Relations and Strategic Studies (LKI).