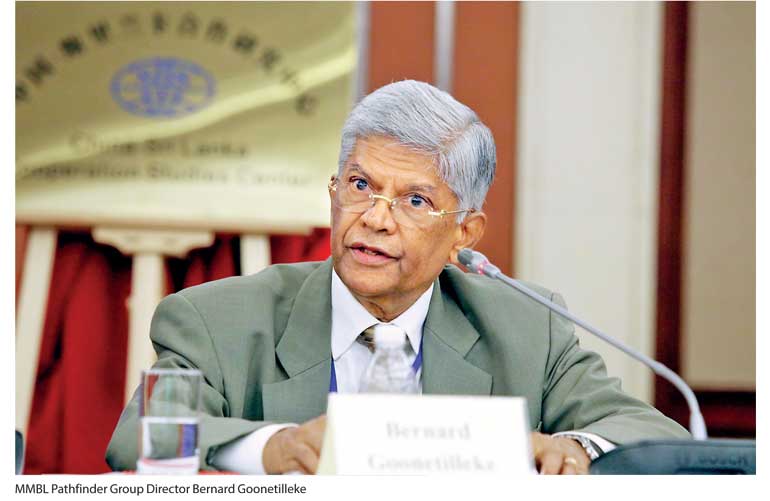 The International Conference on China in South Asia/South Asia in China: OBOR and the Sri Lankan Experience was held Colombo on 30 August, conducted by the Regional Centre for Strategic Studies. Following is the Keynote Speech by MMBL Pathfinder Group Director Bernard Goonetilleke:
The OBOR (One Belt and One Road), also known as the BRI (Belt & the Road Initiative) launched by Chinese President Xi Jinping in September 2013 has become a popular subject of discussion involving China's intentions, participating countries' expectations, as well as concerns of regional and extra-regional powers at strategic level.

Within the short time allotted to me, my job today is to focus on Sri Lanka's experience in relation to the BRI, which would require me to focus not only on relations between China and Sri Lanka, but also certain other countries. You must excuse me, if I were to meander a little, focusing on history, both ancient and modern, to get a proper perspective on the subject.
The land route
'Silk Road Economic Belt' is the new name given to the ancient land route traversed by caravans since the Han Dynasty (206 BC -22AD). The Belt will consist of one railway corridor from central China, and the other from northern China to Europe via Russia; a non-rail corridor from western China, through Central Asia to Iran, the Levant and Turkey, with one spur named 'China Pakistan Economic Corridor' (C-PAC) proceeding southward to the Port of Gwadar in Pakistan through the Pakistan administered Kashmir, and the other named 'China-Myanmar Economic Corridor' from the Yunnan Province to the Port of Kyauk Phyu in Myanmar, involving railways, motorways oil and gas pipelines.
The maritime route
A maritime route had also been in existence for many centuries connecting China with South East Asia, south Asia, Middle East and eventually Europe, through the Persian Gulf and the Arabian Peninsula. Historical records indicate that over the centuries, Greeks, Romans, Arabs, Persians, Indians, and even Sri Lankans had engaged in lucrative trade with the Chinese, spanning the South China Sea and the Indian Ocean, connecting Rome and Athens.

As for navigators from Sri Lanka in Chinese ports, a Chinese mandarin Li Chao reports that among the many foreign ships arrived at An-nan and Kuang-chou, "the ships from the Lion Kingdom were the largest with stairways for loading and unloading, which are several tens of feet in height". Regular presence of Chinese in the Indian Ocean for trade is borne out by historical accounts left by many, including the Chinese monk Fa Xian (5th C), Marco Polo, (13 C) Ibn Battuta (14th C), ending with the adventures of Admiral Zhang He, in the early 15th century.

With the Ottoman supremacy in Constantinople in the middle of the 15th century, the once popular land route fell in to disuse, prompting European powers to seek new trade routes to the east, in which quest they succeeded in 1488 AD with the rounding of the Cape of Good Hope. With that development, strategically located island of Sri Lanka, with ports in Colombo, Galle and Trincomalee became an asset for the European powers interested in controlling the maritime trade.
Present day land route
If one were to fast forward the scenario to the 21st century, due to the bold initiative of China, hitherto defunct land route has once again become operational, replacing camels and caravans with diesel locomotives. In April, this year, a train loaded with goods left the eastern Chinese city of Yiwu in the Zhejiang Province, passed eight countries, covered 12,000 km and reached London 18 days later. In fact, London is the 15th destination of China's land bridge in Europe! Today, there are goods trains plying between Chongqing and Duisburg, Beijing and Hamburg, and to many other destinations in Europe.

Unlike the land route that went to disuse, the sea route, now termed the '21st-Century Maritime Silk Road', connecting China's east coast with South Asia, Africa and Europe, continued to function over the centuries. Under the Chinese initiative, what is expected to happen under the 'Maritime Silk Road' is, development of infrastructure along the sea route to the West stimulating Chinese and local economies. Given our location, Sri Lanka is expected to play a pivotal role in the development of the Maritime Silk Road.
Impact of BRI on South Asia and Sri Lanka
BRI is a project that would connect and impact 65 countries, representing more than 60% of the world population and one third of the global GDP. It is a much larger version than the US Marshal Plan following the WW II.
Response of South Asia
To understand Sri Lanka's position vis-à-vis the BRI, we need to understand how BRI would impact on South Asia including Sri Lanka. In South Asia, China shares borders with Afghanistan, Bhutan, India, Nepal and Pakistan. The 1962 border war between India and China sealed the fate of friendly political relations between the two Asian giants. However, economic relations between the two countries are quite robust with bilateral trade exceeding 70 billion dollars in 2016!

The China-India relationship is further strained by Beijing's close relationship with Pakistan, with whom India fought three wars over Kashmir. Seriousness of the situation could be gleaned from the confession made last month (July 2017), by the former Pakistani president Musharraf that he had contemplated a nuclear strike against India during the 2001 confrontation!

The Karakoram Highway built in 1978 by China connecting the two countries across the Pakistan administered Kashmir claimed by India, is yet another bone of contention. To make the matters worse from the Indian perspective, BRI project has an important adjunct i.e. the C-PEC – estimated at 46 billion dollars, involving rail, road, port and power generation projects connecting Chinese Kashgar in the Xinjian Uygur Autonomous Region with the Pakistani Port of Gwadar in Baluchistan, providing China with direct rail and road access to the Indian Ocean.

C-PEC is vitally important to China, as it will also provide for crude oil and gas pipelines to the western regions of China, direct from the Gulf, thereby assisting development of economically backward and politically restive Xingjian and several other nearby provinces. The project would bring considerable development to Pakistan, but economically under-developed and politically unstable Baluchistan will be a security nightmare for both China and Pakistan.

These developments prompted India to express its strong objections to the BRI. Hence the Indian decision against taking part in the BRI summit held in China last May.

However, despite India's serious concerns, six of the eight South Asian countries viz. Afghanistan, Bangladesh, Maldives, Nepal, Pakistan, and Sri Lanka took part in the summit attended by 29 heads of state or government. Nepal, Pakistan and Sri Lanka were represented at prime ministerial level, indicating their strong support for the China's initiative.

These South Asian countries had good reason for their support for BRI. For example, in addition to 46 billion dollars' worth of projects in Pakistan, Nepal and Bangladesh have projects valued at 8.3 billion and 34.45 billion dollars, respectively. While the proposed Bangladesh, China, India Myanmar (BCIM) Economic Corridor spanning 2,400 km from Kunming in China to Bangladesh and eventually reaching Kolkata via Myanmar, would initially connect the three out of four countries, Nepal has a railway project that would connect Lhasa in Tibet with Kathmandu and eventually Lumbini, the birth place of Buddha, located next door to the Indian state of Bihar!

I have given a snapshot of the response of the south Asian countries bordering India to the grand Chinese economic project of the 21st century, which would eclipse any other development project launched by the global community in the past. I thought it was important to focus on the response of these south Asian countries, to set the stage for discussing Sri Lanka's response to and its experience with BRI.
Rationale for BRI
Let us now briefly look at the underlying reasons behind President Xi's proposal. In October 2013, Beijing convened an important conference termed as the 'Peripheral Diplomacy Work Conference', billed as the major foreign policy gathering aimed at developing policy towards neighbouring countries. At that meeting, he emphasised the need to "build the Silk Road Economic Belt and 21st Century Maritime Silk Road, creating a new regional economic order" and follow the principles of helping, stabilising and enriching neighbours.

That new 'regional economic order' would cover 65 countries representing one-third of the countries in the world, 65% of the world population and 40% of the global trade.

Looking at the sheer scale and the reach of the BRI and the grand global design of China, it appears that 2013 was the year of coming of age for China – politically, economically as well as militarily.

With the abandoning of President Obama's 'Pivot to Asia', withdrawing from President Trump's 'Trans-Pacific Partnership' – which was the largest regional trade accord in history - as well as walking out of the 2015 Paris Climate Agreement, it appears that the US is on retreat, and China is reaching out to claim mantle of global leadership. One-step in that direction would be achieved by overtaking the US economy by 2030.

There are several other compulsions for China to embark on the BRI. China faces several challenges to achieve its quest for global economic leadership, when its double-digit economic growth has reduced to 6.5 per cent in 2017. A source of acute concern has been continuing inequality between the inland western regions described as barren, remote and poor, such as Xingjian, Tibet, Qinghai etc., and the prosperous and extravagant regions along the eastern seaboard, such as Jiangsu, Zhejiang and Shanghai.

To address this wide disparity, China adopted 'Western Development Strategy' in 1999, which failed to produce the desired results. President Xi believes that BRI would boost economic development within the country, including China's western regions, which would positively impact on the neighbouring countries.

The second challenge is the increasing cost of production and wages, and the chronic excess industrial capacity, whether it is cement, steel and similar industrial productions. Consequently, China has reached a stage, where it must relocate production capacities by arranging for migration of surplus factories. The persistent demand for 15,000 acres of land in Hambantota for a Chinese industrial park should be understood in this context. The 10 s. q. km 2500-acre industrial free zone at Gwadar Port in Pakistan with planned 300 factories, and the 4,000-acre Special Economic Zone in Kypuk Phyu deep sea port developed by a consortium of five Chinese and a Thai company will be another destination for surplus Chinese industries.

The third challenge is to find new markets for its technological products, so that the country could move on to the next stage of technology driven economy. One example of Chinese drive for new technology is the development of the Chinese version of Japanese bullet trains that currently cruise at 300 km per hour, and China's ability to outbid Japan to develop tracks, and provide rolling stock for the Jakarta-Bandung connection by providing a 4.5-billion-dollar loan covering app. 75% of project's total cost.

Other clients targeted by China include Malaysia, Thailand and surprisingly India! China's largest high-speed train manufacturer has already signed an agreement with India to establish a 63.4-million-dollar joint venture plant to manufacture and repair railway locomotive engines. Agreements to undertake two feasibility studies for Delhi-Nagpur and Delhi-Chennai high-speed railway connections were also signed last October.

Sri Lanka's experience

This brings me to Sri Lanka's experience with the BRI, which is rather a complicated story.

Former President Mahinda Rajapaksa announced Sri Lanka's support for the BRI during his visit to Shanghai in May 2014 and the Asian Infrastructure Investment Bank (AIIB) during the historic visit of President Xi to Sri Lanka in September that year. Sri Lanka continued its support for the Chinese Belt & Road initiative even after the change of government in 2015, and this policy continues to date, as demonstrated by the participation in the BRI Summit by Prime Minister Wickremesinghe last May.

Both SLFP and UNP had good reasons to support the opportunity for infrastructure development presented by the Silk Road initiative. President Rajapaksa recognised China as an unwavering friend as demonstrated during the armed conflict. Chinese economic, political and military support helped Sri Lanka to meet security challenges during the conflict years. Following the end of the conflict, President Rajapaksa had no access to funds for urgently needed reconstruction work. To make the situation worse, Sri Lanka had to face a hostile group of western countries that accused the country of violating human rights, and dragged Sri Lanka to the Human Rights Council within weeks of successfully ending hostilities. Thus, relying on China for development needs was the only choice Sri Lanka had, immediately after the conflict period.

The change of government in 2015 came as a heavy blow for China-Sri Lanka relations, as the new administration, due to narrow political expediency and external pressure, decided to suspend implementation of 1.4 billion dollar Colombo Port City project and several other Chinese funded projects. Repudiation of an international agreement signed by two heads of state, sent shockwaves among not only the potential Chinese investors, but also others as well. Much to the embarrassment of the new administration, other than laudatory statements and unsolicited advice, no investments came from the Western countries, and Sri Lanka had no choice but to 'kowtow' to the Chinese one year later.

Unlike the land route that went in to disuse in the 15th century, the maritime route continued to function up to the modern era. Consequently, what is expected to happen under the 'Maritime Silk Road' initiative is, building of new infrastructure along the route in South East and South Asia, East Africa, the Red Sea and the Persian Gulf. Such projects would include ports, airports, highways, railroads, power plants, oil storage facilities etc., which would stimulate economies of the target countries.

As far as Sri Lanka is concerned, Chinese investment started to flow in to the country long before launching of the Belt & Road Initiative in 2013. Such projects include, phase 1 of the Hambantota Port completed in August 2010 at a cost of 470 million dollars, phase 1 of the 1.3 billion dollars' worth, 900 MW Lakvijaya (Norochcholai) coal power plant completed in March 2011, and the 741-million-dollar Southern Expressway to Galle, inaugurated in November 2011. However, one could fold these in to the Maritime Silk Road, as the remaining phases of those projects came in to operation in the post-2013 period. Although there is no clear list of projects under the Silk Road in Sri Lanka, the 27 agreements and MOUs signed during President Xi's visit provide an insight, as they cover the Colombo Port City project, Hambantota Port Development project, extension of the Southern Expressway, operation and maintenance of Lakvjaya power station, etc.

There are two types of projects that come under the Silk Road Initiative. One is government, and the other, private sector projects. In the case of Sri Lanka, major projects such as ports, airports and expressways were government projects on long-term credit. Such projects were initiated without going through an international bidding process, thereby leaving room for allegation of corrupt practices. Examples of such projects are too numerous to list, but we have considerable knowledge of the antecedents relating to the Hambantota Port and the Mattala International Airport, the latter termed as the loneliest international airport in the world!

There are also private sector projects such as the Colombo International Container Terminals Ltd., (CICT) a 500 million dollar joint venture, involving the Hong Kong Stock Exchange listed China Merchants Port Holdings Company Limited (CMPH), a Sri Lanka blue chip company, which later divested its 15% shares to the Chinese company, and the Sri Lanka Ports Authority (SLPA), under a 35-year Build Operate and Transfer agreement. A comparison of performance between the barely operational 1.322-billion-dollar loan Hambantota Port and the almost non-operational 209 million dollar Mattala International Airport with the CICT, would be sufficient to understand the difference between poorly planned and inefficient government projects as against successful private sector projects. By the way, how reliable are these figures is something one cannot vouch, as from time to time we end up with different sets of figures depending on the source.



The result of such grandiose projects that failed to bring Return on Investment, was accumulation of a massive external debt that would require app. 4.99 billion dollars for debt servicing alone in 2019! Of the 46.5 billion dollar external debt, Chinese loans said to represent more than eight billion dollars, with many more billions on offer said to be in the range of 24 billion dollars. Consequently, sale of national assets – in fact, most of those should be termed as national liabilities – seems to be the only way out of the dilemma.

Referring to unsolicited Chinese projects opening room for corruption, an editorial of a Sunday newspaper recently commented, "The secrecy, the swiftness and the economy with facts and figures in its financial dealings with the Rajapaksa government, fuel conspiracy theories and genuine fears alike, that to put it mildly, Sri Lanka is in China›s pocket.» These shenanigans make taxpaying public wonder, who should take the blame. Some express the view that local politicians and bureaucrats should be investigated and others argue lenders, who lent without proper project evaluation, should also share the blame. Some others point out that lenders have devious plans and one of them is turning debt in to equity! I will leave it for you to decide on whose doorstep the blame should be placed.

Strapped for cash to meet heavy loan repayment obligation, swapping debt for equity seems to be the only solution available for the debt servicing problem, as demonstrated by the renegotiated lease agreement for the Hambantota Port signed on 29 July, after suffering an accumulated loss of Rs. 46.7 billion! However, China takes the position that the arrangement was not a swap, but two different deals and that the Chinese party agreed to pay 1.12 billion dollars for a 70% stake for 99 years, and Sri Lanka should decide how it should manage its debt servicing responsibility. In addition to the port, 1,115 hectare i.e. 2,780 acres of land, the tank farm and the 100-acre artificial island and associated buildings, China wishes to add another 15,000 acres of land for a Chinese industrial zone, insisting that the port on its own is of no use without industrial production for export.

The next item on the block will be the loss making Mattala International Airport built at a cost of 209 million dollars covering a vast area of 2,000 ha (5,000 acres). There are reports that among several offers are a proposal for a PPP from India. I will leave it for you to guess, who would eventually claim the airport? Suffice it to say that it will be a catch 66 situation for Sri Lanka.

Despite the heavy loan burden and the debt-servicing problem, it is reported that Sri Lanka is still seeking funding for new projects such as highways, railways etc. and China is reportedly willing to provide new loans under BRI. Whether such loans would be invested on revenue generating enterprises or they would be electoral extravaganzas without considering Return on Investment, is something to be seen. My hope is that one such project would be an expressway and a high-speed railway connecting Colombo with Trincomalee.

Experience of Chinese investors!

With periodic elections, change of ruling parties and heads of State and Government, China did not have an easy ride in Sri Lanka. With political changes in our country, to which the Chinese political system is not accustomed, came a group of new political leaders, who wished to re-negotiate agreements that were already signed and sealed. The saga of the Colombo Port City project is one good example of sheer greed, machinations and Machiavellian designs by individuals and enterprises with no qualms about exploiting a foreign investor in trouble, characterised by endless groups representing interests of fishermen, environment, religious denominations etc. and demanding either gratification or compensation!

Sad to say Sri Lanka once again cut a sorry figure, how it handled its policy and conducted negotiations with China over the Hambantota Port as demonstrated by many events ending with the strident position against the deal by the former minister of ports and shipping and another former minister threatening to reveal the sordid details. What Sri Lanka should remember is that with all its resources and being heirs of a civilisation going back to several millennia, China could patiently wait until the right time, a luxury the debt-ridden Sri Lanka could ill afford.

Finally, a few words about the strategic component of the BRI. Sri Lanka may have succeeded in winning back Chinese confidence following completion of the deals relating to the Colombo Port City and the Hambantota harbour. However, in the process of our wavering, we succeeded in creating doubt in China's mind about our reliability and the investment friendly environment of the country. Ironically our credibility also took a beating in the eyes of India by first agreeing to stop the Colombo Port City project as a pre-January 2015 election pledge and later changing our position. Former National Security Advisor of India Shivshankar Mennon in his memoirs explained how India sees Sri Lanka in relation to India's security interests. We are also aware that the West, particularly the US, is quite wary of China becoming a global power and would be eager to trip that country whenever possible.

Forbes magazine recently observed: "Hambantota has interests to China that extend far beyond the economic capacity of the port itself, as it is a key building block of the country's long-term foreign policy vision." Hambantota is a done deal now and Colombo Port City project is moving once again. This means regional and extra-regional powers will be wary of Sri Lanka's direction vis-à-vis their national interests. I do not say that we should sacrifice our national interests to satisfy theirs. However, Sri Lanka should be watchful, so that our economic development program under the Maritime Silk Road will not be overshadowed by strategic concerns of others, thereby adversely affecting Sri Lanka's sovereignty.

I am going to leave it for the participants to decide whether Sri Lanka did well in its dealings with China in the wake of BRI. However, in conclusion what I have to say is that the political leadership of the country has to work hard to demonstrate that they could be counted as a reliable party.
[MMBL Pathfinder Group Director Bernard Goonetilleke is a graduate in History and post graduate in International Relations. Goonetilleke spent nearly four decades promoting Sri Lanka's tourism, trade and investment abroad as an officer of the Sri Lanka Foreign Service. He took over the post of Chairmanship of Sri Lanka Institute of Tourism and Hotel Management in August 2008 and was later appointed as Chairman of Sri Lanka Tourism Development Authority and Sri Lanka Tourism Promotion Bureau with effect from November and December 2008, respectively until February 2010. His career as a Foreign Service officer began in 1970 and has included postings to Sri Lanka diplomatic missions in Kuala Lumpur, New York, Bangkok, Washington D.C., Geneva and Beijing. He has held several positions in the Ministry of Foreign Affairs ending as Director General (Multilateral Affairs) (1997-2000), and Secretary Ministry of Foreign Affairs (2003-2004).]