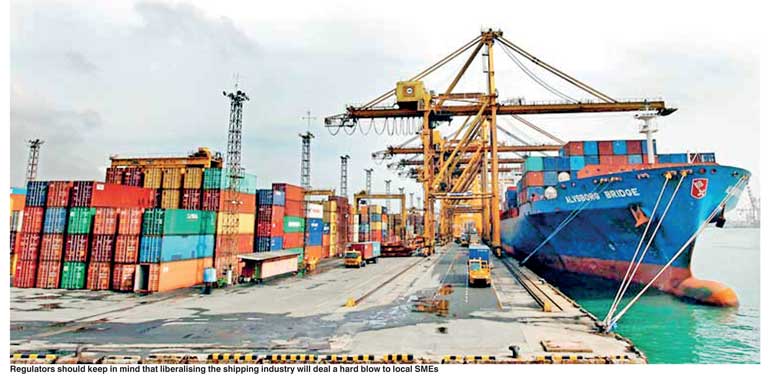 By Jeevan Hettiarachchi

SMEs play an important role in the economic development of a country. Their role in terms of production, employment generation, contribution to foreign exchange earnings and facilitating equitable distribution of income is extremely critical.

Small and Medium-sized Enterprises (SMEs), which form the backbone of our economy, are expected to play a greater role in the development of our economy in the coming years as the market expands and becomes more competitive and Sri Lanka shifts towards a manufacturing and service-driven economy.

Therefore, growing a diverse and competitive SME sector would be one of the critical factors towards achieving sustainable economic growth. Some advanced economies have succeeded in this regard because SMEs form a fundamental part of their economies. In such economies, SMEs comprise more than 98% of the total establishments and contribute more than 65% of employment.

Globally, SMEs contribute more than 50% to Gross Domestic Product (GDP) in developed countries. Further, SMEs also constitute 95% of registered firms in the world. Specifically in the European Union, SMEs constitute 99.8% of all firms and employ around 76 million people representing around 67.4% of total employment in 2015.

Based on the above statistics, it is therefore very apparent that SME have been largely recognised as the backbone of an economy and play a significant role in generating employment, nurturing a culture of entrepreneurship, supporting large-scale industries and opening new business opportunities. Therefore, it is clear that promoting the SME sector is essential in the nation's stride towards broadening the sources of growth and sustaining the growth momentum.

SMEs in the

shipping industry

In the Sri Lankan shipping industry the role played by SMEs cannot be forgotten. Out of close to 11,500 vessels that call in at Sri Lankan ports, about 8,000 are casual caller vessels (non container vessels) which are canvassed by the SME sector.

These agency companies have been at the forefront of driving new businesses such as off-shore services, servicing of maritime security companies, attracting the non-containerised business as well as promoting Sri Lanka as a hub for all maritime-related activities in all the ports in Sri Lanka. These SMEs started as agents for shipping lines and thereafter diversified their businesses into other areas. This created a sustainable ecosystem where the profits made by these SMEs were reinvested back in the Sri Lankan economy, which created a domino effect.

Any industry has big players as well as small players. If we look at the apparel industry in Sri Lanka, like any other industry there are a few large and many small manufacturers who are equally contributing for the betterment of the industry. At times SMEs in these sectors assist key players by creating a related and supporting industry base which will further enhance the competitiveness of the main industry.

This was also discussed by Michael Porter in his Diamond Theory of National Advantage. For a country to have a national advantage, Porter argued that there has to be a related and supporting industry base which mostly consists of SMEs. The Government should protect these industries through strict regulations as they can be badly affected by sudden changes in the global economy.

Shipping liberalisation

A recent advertisement published by the Ministry of Finance and Mass Media stated that the Sri Lankan shipping industry was dominated by a handful of established businesses and that profits were enjoyed by a few large companies.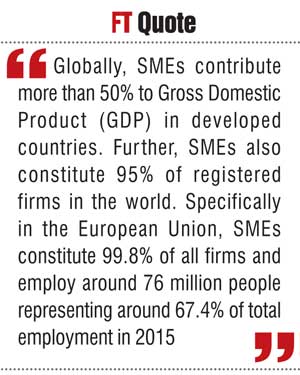 This goes to show that the real reason behind liberalisation is to kill a few big Sri Lankan players in the industry for various personal reasons. This argument is brought in the disguise of creating competitiveness which is actually a myth. What's the rationale in breaking the backbone of the industry and opening it out to foreigners? Why does anyone want to kill the local entrepreneur just because they are doing well and open it to foreigners? The regulators should keep in mind that by doing so it's the local SMEs that will get affected first. These foreign companies will not be reinvesting profits in Sri Lanka and will repatriate profits to their countries. This will destroy the entire industry and hand over control of shipping and ports entirely to parties with foreign interests on a platter. So we have come to a juncture of selecting between national interest and foreign interest.

It's high time that we develop our own model for economic development rather than blindly following concepts without gauging their impact on our economy. Liberalisation for the wrong reasons will wipe out an entire industry and affect the livelihoods of many. Countries around the world are now turning back to their own economies to see how best they can leverage growth within the economy by strengthening SMEs and fuelling local consumption whereas we are planning on handing over local infrastructure built by local entrepreneurs to foreigners so that they can milk the country dry without any further investments necessary for them to operate. The stage is set for them to operate and repatriate 100% of their profits which will leave no funds for further development, expansion or diversification of business.


(The writer is a senior visiting lecturer in shipping and logistics and also serves as an independent maritime consultant for SMEs in Sri Lanka. He can be reached on [email protected])