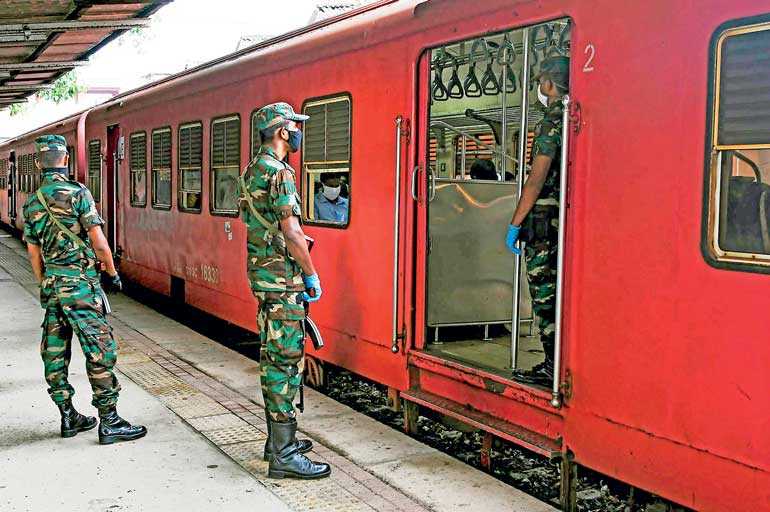 When we are looking at an almost universal emergency, utilising the armed forces to assist in combating the pandemic could be necessary – Pic by Shehan Gunasekara
---
By S. Silva
---
To begin with, the COVID-19 pandemic situation is primarily a public health crisis, even though more and more governments are calling on their armed forces for support. Surprisingly governments around the world are enlisting their armed forces to help combat the pandemic.

In Sri Lanka, we have a good National Health Service, but in a situation which we, or the world for that matter, has not seen a crisis of this nature, would a civilian authority have handled it better up to now?

With various medical associations propounding various opinions, could the present cri sis have been handled any better? With the lack of immediate resources to combat an unprecedented situation such as lack of infectious disease hospitals with no ventilators and other mandatory apparatus, the President and the Task Forces involved have done a commendable job in curtailing the fatalities.

In Sri Lanka, the management of the first COVID-19 was commendable, but, as time progressed and with the advent of COVID 2, our people demonstrated a considerable amount of carelessness and, had it not been for the military involvement the fatalities would have been much higher.

Sadly, our public administration system is noted for its lethargy and has regretfully been easily corruptible. Militarisation is not the answer and a national military service could have its dark side, but a civilian post school course to inculcate values of service is necessary. When we are looking at an almost universal emergency, utilising the armed forces to assist in combating the pandemic could be necessary.

From a national point of view, it has been evident before that from all sensitive explosive situations in the past that, the people of Sri Lanka have always displayed highly undisciplined, careless reactions and mentalities and it has only been the introduction of the armed forces that has restored discipline. Strange but true, the uniform spells discipline and discipline prompts fear thereby minimising fatalities. Therefore, the advent of the armed forces has, to a great extent minimised spread of the virus where otherwise it could have been worse.

The armed forces can help, particularly in the villages and even in towns, to convincingly explain the gravity of the virus in simple terms coupled with the health requirements necessary to protect themselves at all times. Such a measure would, in no way, encroach on their daily lives. Discipline in our society is almost NIL and, under these circumstances, the military can perform a positive role.