Former Secretary to the Ministry of Education Dr. Tara de Mel who is now a good governance activist shares her insights into the role of the Education Ministry in ending violence in schools and corporal punishment which has begun to be rampant
Q: As a former Secretary to the Ministry of Education do you think the Ministry can play an important role in the elimination of corporal punishment in schools?

A: I certainly do. The Education Ministry is perhaps the most vital Ministry in this endeavour. Not only is it responsible for the quality of education imparted to 4.3 million students, equally important is its big responsibility in ensuring that physical and emotional well-being of students are looked after. Moreover, it's the Education Ministry that is responsible for sending Circulars to schools outlining Ministry Policy and Directives on all aspects – and in this case in prohibiting corporal punishment and all forms of violence against children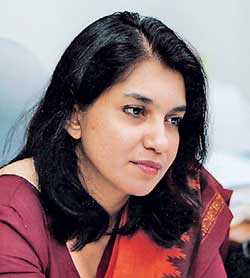 Q: Why is this such an important issue for the Government and the Ministry of Education to pay heed to?

A: Physical violence and emotional trauma inflicted on children in their formative years, have major detrimental sequences in their adult life. In addition to visible physical wounds, the 'invisible' mental/emotional 'scars' are carried by the victim for very long. Credible research has shown how child victims of corporal punishment and those who have been abused as children, end up as violent adults, perpetrating violence on peers or their spouses, or colleagues at work. So the abused becomes the abuser!

This type of experience saps out energy from children and they don't realise their full academic or social potential. They become poor performers, introverts and often become timid and reserved with a negative outlook on society.

Q: What steps can the Ministry take in this regard?

A: The Ministry of Education can issue a fresh Circular referring to the two previous Circulars (sent during 2005, 2016) and reiterate the Ministry policy on eliminating Corporal Punishment. It can appoint Child Protection Officers in each school, ensure confidentiality on reporting and protect the anonymity of the victims. It can create hotlines in the central line Ministry as well as in every Zonal Education office (92). The hotlines can be answered by Ministry Directors, in confidence, and they can decide on launching thorough investigations once the complaints have been documented. The Ministry can advise every school to address the parents on the Ministry directives and advise parents that the Ministry has a Zero Tolerance Policy on violence against children

Q: How would teachers ensure discipline in class?

A: The Ministry could advise all teachers and Zonal/Directors on internationally accepted, alternate forms of instilling discipline. There are recommended systems for classroom discipline available as published documents, and all 132 countries that have abolished Corporal Punishment have used these recommended forms of discipline.

Q: Is there an ongoing national campaign on ending corporal punishment in schools?

A: Yes there is. And there is a lot of support from all quarters of society. Most importantly the President and several Ministers including the Education Minister, the Higher Education Minister and the Media Minister are totally in support. I am confident that this time round we will be able to successfully eliminate this scourge from our schools system.