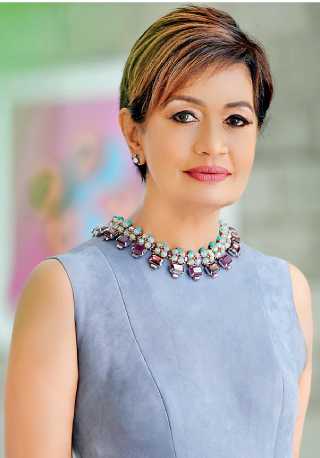 Ramani Fernando
---
Many industries undergo setbacks time to time due to various issues that can affect both the local and global economy. However, there is one industry that experienced a standstill probably for the very first time, due to the COVID-19 break out recently. Pioneer in the hair, beauty and fashion industry, and fondly known as the 'Godmother' of the industry, Ramani Fernando shares her experience on how the industry faired and how it will go forward. 

Ramani Fernando is an iconic figure in the hair and beauty industry in Sri Lanka, spanning a career of over four decades. She's a fashionable personality, having a passion for elegance and style, and that has made her the foremost brand in the country for hair and beauty. She won the Zonta Woman of Achievement in the late '90s and the Woman Entrepreneur of the Year awarded by the Federation of Chambers of Commerce and Industry of Sri Lanka in 2005. At present she has over a dozen salons, as well as three training academies. She was also the first Sri Lankan to be invited to sit as a judge at the Asian Hair styling and make up competition, a role that she continued with for many years. She's now the Vice President of the Asian Hairstyling and Makeup Association. She is a true inspiration to many stylists who worked under her and went on to create their own corporate identity. 

Following are excerpts:
---
Q: How was the industry affected by the COVID-19 pandemic?
I have been in this field for over 40 years and I've been through many calamities, from the insurgency to the recession, the tsunami, the 30-year long war and the terrorist bombing last year. So I've gone through a lot, but this is the worst. We had a lull with all the previous calamities, but we bounced back, of course with a lot of security. But this was the scariest and the worst.


Q:  As a result, the industry came together, and formed the Sri Lanka Association of Hair Dressers and Beauticians. How did this help the industry?
 The pandemic affected the industry terribly. By April it was at a very scary situation, and lots of small hairdressers began to call me and the President of the association Nayana Karunaratne. It was looking so gloomy and businesses were suffering; the bigger salons as well as the single operated ones. I used to get calls from Galle, Matara, Hambanthota, Jaffna. As I have the academy, some of them had been students of mine. I also have a connection with the Jaffna University and those students are sent to our salons as part of a training program. They had just left us after six months training. Most of the seniors received similar inquiries and requests for help. So I thought I'll take the initiative and approach the ministry. I was very successful in that, so I invited the association, with Nayana, and seniors of the industry like Johanne, Ramzi, and Kamal, and we went to meet the officials of WHO. The meeting gave us a lot of knowledge about the entire situation and how we should perform if we are to re-open the salons.

Our obstacle was because a community spread occurred due to a barber. Therefore, the authorities were nervous to give the green light to the salons. Therefore, we had to explain that the industry, and especially the smaller salons were taking a huge hit. It sounds frivolous to say that people want to do their hair colour or eye brows at a time of calamity. But it is also part of well-being. We had to explain that no one wants to look bad; for example all the TV presenters, doctors, and officials, who were continuously working – all of them have to be groomed. And at a time like that, if you let yourself go, people go into depression. Grooming and well-being is also very important at this stage for both men and women.  The doctors were very nervous about at first. A few days later we had the opportunity to meet the Minister herself, along with Dr. Anil Jasinghe, Dr. Gamlath and other officials. They drew up the guidelines, out of which most of were very relevant to the hair and beauty industry. The NVQ 4 level of the Hair and Beauty already includes many of these guidelines. Taking such precautions is nothing new to the industry. 

We had to explain about how the industry operates; how a hair colour, manicure or pedicure is done, about the minimum distance we can maintain, because we work within the personal space when servicing a client. As a result, we were given permission to re-open salons, with limited services such as haircuts, manicure, pedicure and hair dye. 


Q:  What were the safety precautions that were given in this guideline?
 We had to follow instructions about keeping distance, placement of chairs, employing only 50% of the staff, maintaining distance between customers, etc. We had to get the certification from the PHIs and MOH. This process was carried out for all the salons, from the single operated ones to the big salons. They were quite rigorous in the checks and regularly conducted spot checks as well. On the other hand, I also saw that everyone was adhering to these guidelines, even the smallest business, because it was essential for everyone's safety.


Q:  There are a lot of safety precautions you have to take, salons have to be disinfected daily, maintain distance – therefore the services you can provide have been limited. But the cost as a business remains, in terms of overheads, rent and salaries. How is this affecting you?
 If you look at the hygiene side of it, it crucial that we follow all these steps. It's not just the customer's safety but of our staff as well. Yes, there was a cost for all this when we restarted; to purchase sanitisers, thermometers, masks, clothing, visors. When we started, during the first week, it was very stressful. I had a big responsibility because there are about 200 working under me, in 13 salons. But once everything was in place, each person knew the protocol. Customers also knew the importance of this and cooperated with us.

As for costs, the main issue was rent. Salons were closed for two months. These were in private buildings where the landlords also survived from the rent we pay. Personally locations such as hotels and the WTC where I have my salons, did not charge the rent, and later charged 50% when business started slowly. They were very understanding. But many who had small private places faced many issues. But the Hair and Beauty Association is lobbying for incentives and support from the Government in forms of loans, etc. because some of them were threatened to be thrown out from the building. I assume there were discussions to enable loans but I don't know if the small businesses have the collateral you need to obtain these loans. The moratorium was also a big help. The Government is doing its best to support the industry.
Q:  There were high profile clients who had curfew passes. In the big salons in Colombo, even during the curfew, we heard that they did house calls. So popular stylists had work, even if the salons were closed. Is this correct?
 I too sent out some of my team a couple of times to service high profile clients, such as those who were appearing on TV. Then a law was brought prohibiting house calls as well, because that definitely was a risk. So we stopped it. I do not take any risks. In my position I cannot do it. It's better to do the right thing even if you earn money or not.


Q:  Every industry faced an issue, where because of competition, and because everybody wants to survive, there is a lot of undercutting and a lot of jealousy. But in situations like this, a lot of industries are coming together, some for the first time. Do you think the hair and beauty industry will get there? 
 As it is, I can see that unity. We communicate with everyone when we are given an opportunity to represent the industry. There is unity for sure. 


Q:  How has the fashion industry been affected and how can it move forward?
The curfew was imposed on 18 March. Fashion Week was to start on 20 March for three days, followed by a huge Pakistani show the weekend after that. Some of the Pakistanis were here already. That was a very disappointing time for the fashion industry. However, we have now held Colombo Fashion Week successfully. 

Where weddings are concerned, nobody is cancelling weddings. Most of my personal appointments are being scheduled for next year. So we might be inundated by weddings next year, which gives us hope. People are making new appointments, meeting designers, etc. The models and choreographers too will hopefully see a restart of their businesses very soon.


Q:  The industry looks positive. People will always want to look beautiful and feel good, since getting back their mental health is number one in restarting everything else. Do you think it's smart to completely relax and go back to how things were, at a risk of a second wave?
in my opinion, we can't think that this is the end. We can't see the light at the end of the tunnel still and we have to be on our guard. This is a silent enemy. The world is still suffering from it. If you really think of what the other countries are going through, it's terrifying. I think, till a vaccine is detected, tried and tested and approved, we have to be on guard.

No matter what anybody says, it's your personal responsibility to always be on guard because we've seen what can happen, and the second time around, we will be better prepared.