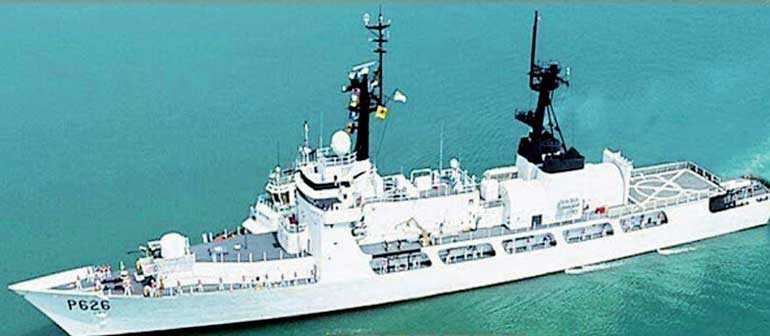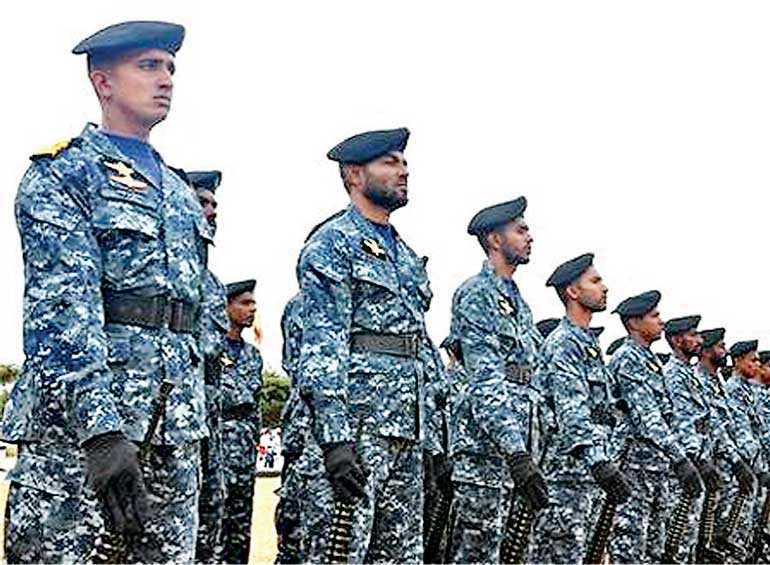 By Dr. Anuradha Iddagoda and Captain Rohitha Abeysinghe

A ship in harbour is safe, but that is not what ships are built for. The above saying holds a metaphorical, yet influencing, premise that encourages individuals to take risks in life. It is this type of individual that the corporate sector desires on board in their journey towards organisational vision.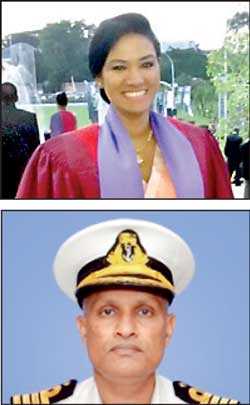 Today, on certain occasions, both military forces and corporations struggle to solve similar issues; some of them include, but are not limited to, cyber security, new cutting-edge technology, up skilling a workforce and dealing with budget constraints. How the military deals with such issues and their experience, judging by their outstanding success, leads to valuable and practically applicable lessons.

Hence, this article identifies the military contribution to managerial employees: the "pentagram from the military context". Pentagram, an ancient Babylonian symbol, represents a charm that protects persons from evil spirits and energies, which this article uses as a five pointed star of which each point represents a baseline characteristic.

In the Navy, every officer has to possess all five of the following baseline characteristics; they make future officers a group of strong persons fit for their branches. As far as the corporate sector is concerned, this is a valuable lesson.

Loyalty as a military virtue: In the voyage towards accomplishing their mission, sailors are trained to enhance and develop virtues. According to Peter Olsthoorn, a researcher attached to the Netherlands Defence Academy (NLDA), these virtues include loyalty, respect and courage; this discussion elaborates on the virtue of loyalty.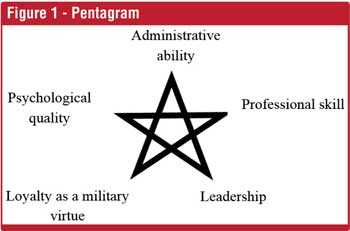 Opatha (2010), a Sri Lankan researcher, states that loyalty involves being firm and not changing in one's relationship with someone, some organisation or one's country. In a similar definition, Healy (2013) and Keller (2007) emphasise that what is particular about loyalty is the belief that a person holds on to or reflects on the his/her special connection to the object of the loyalty and it has an effect, in turn, on his/her actions. Keller (2007) states that the loyalty of a particular person is demonstrated by following orders, promoting the interests of the object and prioritising it in a certain way over other potential choices.

Loyalty, when it comes to the military context, binds one's actions and obligations to each other as well as to units, troops, community and country; it is a reciprocal obligation of both leaders and subordinates.

Very often sailors display their loyalty to their superiors placed over them in the military for they are left with no alternative. However, as this is a profession on which the success on the battle field in ensuring the territorial integrity of the country depends on a loyalty that is not a mere "Yes, sir"/"Aye aye sir". Loyalty at this point needs a proper balance between the act and its ultimate purpose; for instance, a sailor's loyalty to his superior should not contradict with his loyalty to the Constitution. This is why sailors are expected and allowed to disobey any unlawful order that is prejudicial to the Constitution.

When it comes to loyalty, members of the military are also expected to serve both seniors as well as juniors faithfully and wholeheartedly; S. Mahinda Thero elaborates on this fact eloquently.

Usa than deka hakilenne

Miti than deka puppanne

Niwatun bawa sitha minne

Mage putha loku wenne

The poem states that a person has to grow up knowing that it is the coward that shouts at the innocent and hesitates in front of the privileged.

Members of the military forces of Sri Lanka have always lived up to the standards suggested in this poem. A good military officer must exhibit two different types of loyalty; loyalty to the superiors and to the organisation and loyalty to one's subordinates or juniors. Although, on certain occasions, maintaining the optimal balance between these two types of loyalties is difficult, nevertheless, it is essential to maintain a considerable balance.

Professional skill: This should exceed the general knowledge of routine matters. Military members as well as managerial position holders in the corporate sector must possess substantial professional knowledge and skills. "Initiative" is an aspect of similar importance in the corporate world. A military member who "heavily relies on the orders and guidelines of others" is expected to possess a strong sense of responsibility together with the ability of initiating tasks.

Administrative ability: Creating a positive environment by handling many details and challenging situations is one of the fundamental abilities expected of a member of the military. Tasks of this nature require planning skills and the ability to visualise the outcome of a situation. Unlike in the past, the current world is uncertain, unpredictable and very fast moving; things move at a rapid pace.

One of the main causes of this change is technology, which, if adopted appropriately, has the ability to develop administrative skills. Communication skills share an equal importance in the corporate sector, particularly in the frequent exchange of information. In the military context "power of expression" is a skill everybody should possess; the ability to communicate the essential details of any complicated matter or situation clearly.

Psychological quality: Several aspects are considered under 'psychological quality". As mentioned earlier, technology has become an enabler of change. Everything in today's world is changing at a rapid pace. In order to face a rapidly changing world exceptional alertness and speed in responding to any unforeseen event with good judgement is very important.

Another aspect is "adjustability", which is vital for the corporate world and the general public. Adapting and adjusting to a changing world, versatility in handling the problems in a dynamic world, and willingness to learn new things are highly recognised, highly commended and promoted in the military context. These aspects also receive higher ratings in performance evaluations.

A post on Facebook that went viral during the last few rainy weeks stated that "when we were students we tended to cut school even when there was drizzle. Now we have to go to office even in heavy rain." It is a frequent practice among Sri Lankans to postpone work blaming it on bad weather. Thus, their adjustability is at a quite low level. On the contrary, in the military context, the weather neither an excuse nor a barrier when it comes to accomplishing a mission; this is an important lesson for the corporate sector.
Leadership: Accountability matters greatly in the military context in the matter of leadership. The leader is and should be accountable for his/her decisions and their results or consequences. Putting the blame on juniors or subordinates, when and if things go wrong, is not the usual practice of military members; it is not an attribute of an accountable leader.
Former Army Commander (Lt.) General. Mahesh Senanayake (Rtd) stated: "I have deployed so many soldiers in this land. If one of them shoots and does something, it falls on my command. I can't say he just shot. After two or 10 years a corporal will not have to go to jail. I am the one who will be going to jail."

This is a fine example of accountability. Another interesting aspect observed in the military context is that the leader always creates a 'personal link' with members of the team. Usually a military leader is aware of the members of the team inside out; not only their names but also their potential, psychological behaviour and their ambitions. Knowing the team is helpful both in mentoring and motivating team.

The message to the business world is that leaders should have the courage to make decisions on their own. Support from the organisation is crucial to success. The corporate leader should be accountable for his/her decisions, and build an environment in which subordinates feel confident that they are an essential part of the team. Commitment to the team and the dedication to a common goal, setting aside personal aspirations and achieving excellence, should be promoted.

Some of the characteristics discussed are already present in the corporate world, but in different degrees. Application and implementation of these five characteristics that form the structure and framework of the business world opens the door to unstoppable opportunities.
[Dr. Anuradha Iddagoda is a researcher and a lecturer. She holds a PhD from the University of Sri Jayewardenepura Sri Lanka, an MBA in Human Resource Management from the Postgraduate Institute of Management, University of Sri Jayewardenepura, a Master of Information Technology (MIT) post graduate degree, Bachelor of Information Technology (BIT) both from Charles Sturt University, Australia. Dr. Anuradha Iddagoda does research in Human Resources. Her current project is 'Employee Engagement'. She has been a guest researcher at the Department of Sociology and Work Science in the University of Gothenburg Sweden.]
[Captain Rohitha Abeysinghe is the Commanding Officer of SLNS Gajabahu, (SLNS Gajabahu - A ship belongs to Sri Lanka Navy, provides maritime security and search and rescue operations). He holds a post graduate degree (M.Sc.) from General Sir John Kotelawala Defence University, Fellowship of Counter Terrorism Studies from DKI Asia Pacific Centre for Security Studies, Honalulu, Hawaii, BSc Mechanical Engineering from General Sir John Kotelawala Defence University and a successful 29+ year track record of service in the country as a Navy officer.]