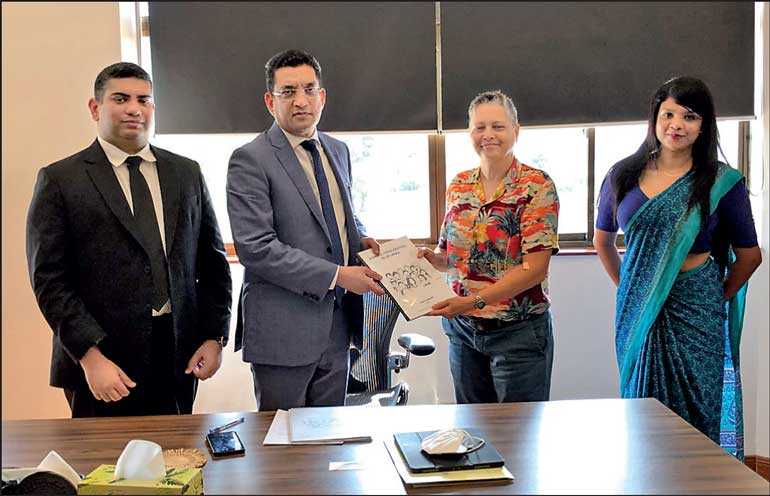 Equal Ground's Executive Director Rosanna Flamer-Caldera over a copy of the report to Justice Minister Ali Sabry. Equal Ground's Project Officer Lasanthika Hettiarachchi and Parliamentary Secretary to the Minister of Justice Nuwan D'Alwis are also present
---
Equal Ground launches its flagship report 'Mapping LGBTIQ Identities in Sri Lanka'
---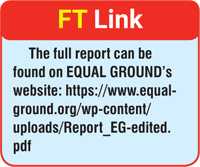 Equal Ground's latest report shows that one in eight adults (between the ages of 18-65 years) in Sri Lanka identify as Lesbian, Gay, Bisexual, Transgender, Intersex, and Queer/Questioning (LGBTIQ).

Equal Ground's study aimed to map the prevalence of LGBTIQ identities in Sri Lanka, as well as understand the sentiments, challenges, and frustrations of the community. The study used a sample of 4,019 individuals, covering the whole island. It is the first time such an exercise has been undertaken in Sri Lanka.

One of the key outcomes of the research was to quantify the LGBTIQ community of Sri Lanka. Accordingly, the survey results showed that 12% of the total population interviewed for the survey identified themselves as LGBTIQ, which can be projected to a total of 1,469,574 individuals within the projected base of persons between the ages of 18-65 in Sri Lanka. Among them, 8% identified themselves as bisexual, 0.5% as gay, 0.5% as lesbian, 1% as transgender and 2% as other.

The highest number of those identifying themselves as LGBTIQ was found between the ages of 18–29. Moreover, regionally in rural areas and at province level, the highest percentage of LGBTIQ people were found in the North Western and North Central Provinces combined.

LGBTIQ persons in Sri Lanka are subjected to legal, political, and social restraints, which results in discrimination and stigmatisation. Therefore, the LGBTIQ community remains in the shadows, and are forced to hide or be discrete about their identities, as well as the physical and structural violence they face. As such, the study identified specific challenges and barriers faced by the LGBTIQ community.

It was ascertained that 11% of LGBTIQ respondents had faced some form of abuse or discrimination due to their Sexual Orientation and/or Gender Identity/Expression (SOGIE). 6% of the LGBTIQ respondents mentioned that they were refused medical treatment, while 10% said they have been refused employment. Furthermore, 12% have been forced out of work, education or their houses compared to only 7% of the non-LGBTIQ persons who have faced similar incidents.

Of the total LGBTIQ people interviewed, 25% mentioned that they have been discriminated in the past 12 months, whereas of all the non-LGBTIQ respondents only 18% mentioned facing some type of discrimination in the same period. Additionally, 10% of LGBTIQ respondents have faced physical assault and 17% of them have faced some type of harassment including verbal abuse, harassment by the police, family and/or at work, etc.

With regard to workplace discrimination, survey findings suggest that LGBTIQ people faced less harassment in private sector companies compared to workplaces in the government sector. Survey findings also identified that most LGBTIQ people had faced harassment, discrimination as well as physical assault by law enforcement officials, family, and government officials.

In a stark revelation that demonstrates the harmful impact of negative attitudes towards the LGBTIQ community and heteronormative structures prevalent in Sri Lanka, many LGBTIQ respondents believed that life would be far less complicated if they were born as straight, cis-gender males or females. There were also those who believed that they would have attained their goals and ambitions much more readily if it were not for their different sexual orientation.

In another notable finding, it was revealed that LGBTIQ respondents felt that their childhood was an oppressive time in which they were subjected to bullying. The flaw in the value system and education system of the country greatly hindered their childhood. School was described as an oppressive environment, rather than a supportive learning environment.

Meanwhile, compared to those identifying themselves as non-LGBTIQ, a higher number of LGBTIQ people have been refused common services available in society. A higher number of LGBTIQ persons in the survey also faced harassment, discrimination, and assault, compared to heterosexual persons. Concerningly, most LGBTIQ persons had faced harassment, discrimination as well as physical assault at the hands of police, family, and government officials.

The report shows that, due to punitive and discriminatory laws, the authoritarian nature of society and government and the undue importance given to cultural appropriateness, the LGBTIQ community faces high levels of self-imposed stigma and related psychological and psychosocial issues.

Therefore, the LGBTIQ community will continue to face discrimination, harassment and rights violations until the laws that criminalise their SOGIE are repealed and there is adequate awareness and education about the LGBTIQ community, which will take away the prejudices in the minds of the non-LGBTIQ community of Sri Lanka.