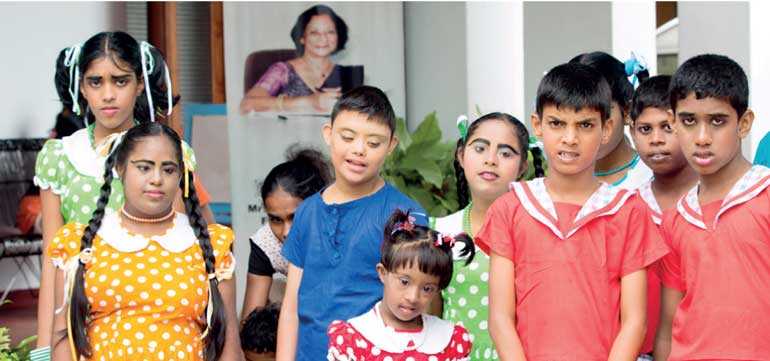 Supporting the disabled of southern Sri Lanka since 1987
By Aysha Maryam Cassim

Navajeevana is a charity approved by Parliament, based in the Hambantota district of southern Sri Lanka, working to rehabilitate people with disabilities as equal and participating members of a non-discriminatory society.

In 1987, Kumarini Wickramasuriya, lovingly known as 'Kumi or Aunty Kumi', founded a health centre and pre-school for disabled children with special needs, under a mango tree just a few kilometres north of Tangalle. The school, which is known as Navajeevana today, evolved into a fully-fledged Rehabilitation Centre that serves the needs of the marginalised disabled community in the most remote areas of Hambantota District and the Eastern Province. From these humble beginnings, over the last 30+ years, Navajeevana expanded services to offer a holistic program aimed at improving the quality of life of the disabled through therapeutic intervention, lobbying, advocacy, accessibility promotion, and livelihood development.
Commemoration of Kumi's vision

To commemorate its Founder Kumi's birthday, Navajeevana hosted a special event at the Centre to revive her vision and make the Centre's presence known as the primary organisation working with people with disabilities in the Hambantota District of southern Sri Lanka. Several distinguished guests graced the occasion on 2 August to celebrate Kumi's life at Navajeevana through the years. Parallel to the event, The Kumi Trust Fund was launched, through which all her friends and well-wishers could contribute to the benevolent cause of the organisation, keeping Kumi's vision alive.
The Centre

Located in beautiful premises in Tangalle, overlooking the ocean, Navajeevana Centre features a fully accessible training facility with clinics and accommodation for people with disabilities and their families. For visiting tourists, there is a café and a souvenir shop.
Working together

Navajeevana's program of Community-Based Rehabilitation (CBR) seeks to reach these unreached members of society. Founded on the principles of inclusion, participation, and capacity-building, the program is based on the active involvement of both caregivers and community members, and organisations of people with disabilities that are formed in the villages.

Through a network of volunteers and highly trained staff in the community, the Centre supports people with disabilities, using the most reliable local knowledge to make sure our support is going where it is most needed. Trained volunteers work alongside Navajeevana's 40 specialist field officers in the districts of Hambantota and Matara to help the disabled lead inclusive, independent lives with dignity. Navajeevana works together with Disabled People's Organisations (DPOs), encouraging them to take the lead in outreach clinics and serving communities. The leadership of DPOs of Hambantota District have proven to be immensely helpful in capacity-building and empowerment of the disabled people.
Creating a life without limits for people with disabilities

Navajeevana in the past few years has created a vibrant community disability service sector for children, adults, and families. Today, Navajeevana does ground-breaking work with the community and beyond, supporting individuals with disabilities and working towards a more inclusive society. From early identification and intervention to rehabilitation and support for livelihood development, Navajeevana provides holistic services for people with disabilities along with high-quality special education for children with physical and intellectual disorders. Their work is facilitated through trained community volunteers, caregivers and village organisations of people with disabilities.

The Navajeevana team is supported by a cadre of committed volunteers and family members who dedicate their time and expertise taking the disabled client right through a tailored rehabilitation plan from early identification to treatment, education, rehabilitation, and ultimately to full rehabilitation with counselling or support with income generation, to ensure that the person is participating equally in a non-discriminating society and is economically independent.
Therapeutic services and knowledge sharing

The Institution-Based Rehabilitation (IBR) department at the Centre caters to clients with physical disabilities by providing them with prosthetics and orthotics; physiotherapy; speech therapy; audio therapy; and access to wheelchairs and supportive seating. Navajeevana's mobile multi-disciplinary clinics and home visits are an important service that enables rehab services to reach the unreached. Their knowledge-sharing programs on disability rights and inclusive development are held for a range of stakeholders, from community members to school children and national policymakers. Navajeevana has a school for children with special needs that follows "Learning journeys to success" - an approach based around the premise that every child has a talent or skill, regardless of their disability.
The future of Navajeevana
It has been over 3 decades since the establishment of Navajeevana. Yet, access to services for people with disabilities in Southern Province remains critical. Poor infrastructure, scarce resources and services, the legacy of the tsunami, the long civil war, and a lack of understanding amongst ordinary people about the prevention and treatment of disabilities mean that despite Sri Lanka's rapid growth, people with disabilities remain some of the most vulnerable and excluded in society.

With a commitment to ensuring improved ability, independence, self-esteem and economic integration for people with disabilities, Navajeevana will work towards facilitating the creation of an inclusive society, keeping its Founder Kumi's vision alive in enabling people with disabilities to become equal and active members. Through its work, Navajeevana hopes to reach more people in the future and help strengthen the organisations of people with disabilities in the areas, bringing meaning and light to their lives.

Find out more about Navajeevana:

Navajeevana Rehabilitation Centre,

320, Mahawela Road,

Tangalle,

Sri Lanka

Tel: +94 47 224 2718 or +94 47 224 1345

Email: [email protected]

Fax: +94 47 224 0579