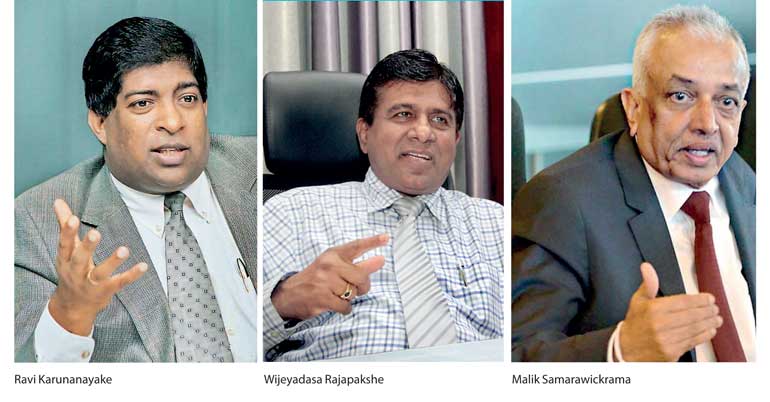 By Outsider

Due to public pressure and the President's firmness, Foreign Affairs Minister Ravi Karunanayake was forced to resign from his Ministry two weeks ago. Foreign Affairs Minister Ravi Karunanayake is currently being investigated regarding the alleged Bond treasury scam.

The Joint Opposition was quick to present a no-confidence motion against Ravi Karunanayake and the SLFP insisted he resigned from his post. It is said President Maithripala Sirisena and Prime Minister Ranil Wickremesinghe demanded the resignation of Ravi Karunayake. No doubt the no-confidence motion, tabled by the Joint Opposition in Parliament, also hastened Ravi Karunanayake's exit from Cabinet.

Two weeks later another Minister this time was axed. President Maithripala Sirisena conveyed the request made by the UNP to remove Minister Wijeyadasa Rajapakshe from his ministerial post, when he refused to retract the comments he made, Rajapakse was removed by the President due to UNP pressure.

The Prime Minister has said publicly: "If being guilty of fraud is proven, the Government will not delay taking action against the relevant people. The UNP is not a party of thieves. If there are any existing thieves inside the party, they will be removed. However, let the Government react after honest investigations. If the reports find the fraudulent activities, the person will be immediately dismissed."

On Monday a popular TV channel exposed Cabinet Minister of Development Strategies and International Trade Malik Samarawickrama who is also a very close associate of Prime Minister Ranil Wickremesinghe of playing dirty games in the Yahapalanaya Government in his attempts to serve his very own personal agendas, by openly flaunting regulations and letting his henchmen run riot and his connections to Anura Lokuwithana, the mystery man who owns Meridian in Dubai.

It is well known that 'Rigid Tyres' was to be given land in extent of 100 acres at approximately $ 11,500 per acre instead of minimum $ 40,000. Lokuwithana was not content with the bargain he got from the Government and he wanted the annual facilitation fee of the BOI reduced from $ 3850 per acre to $ 1 per acre. This proposition came to the Chairman BOI, who flatly refused.

Then Lokuwithana went back to Samarawickrama and complained that the BOI Chairman Upul Jayasuriya was refusing to grant his request. Minister Samarawickrama then submitted another paper to the Cabinet Committee, and got approval to reduce the annual per acre rate to $ 1 per acre. It is also proposed to carve out the 100 acres out of the zone and separate it. This company had been given a further exception by granting them a 12-year tax holiday which no company has been given after 27 April 2016 as per a decision of the Cabinet. The President then intervened and ensured that justice was done.

Business analysts say this latest revelation is only the tip of the iceberg and the President must order an immediate investigation by the Auditor General into the case and also of "hiring" a "lobbying firm" in USA just prior to the election of a President of that country and losing Rs. 22.5 million. This "hiring" was done even without consulting the Foreign Affairs Ministry.

Ministers who show no care or respect for the people's wishes and goes about in epicurean style and with a kingship attitude should not be allowed to behave in a dictatorial manner by the President. Mr. President, it is high time you crack a whip hard enough to push all the "dealmakers" out of the Government.

Justice must be served equally to all. As to why the JVP Leader who even lambasted the Health Minister recently for using State funds to do an open heart surgery in Singapore and the JO led by Rajapaksa is silent of these revelations is a big mystery to many people.
Malik to make

statement in P'ment
Development Strategies and International Trade Minister Malik Samarawickrama said yesterday he would make a statement early next week in Parliament clarifying his position over allegations made on a popular TV channel.