Panel discussion
---
The Junior Bar Committee of Sri Lanka, in collaboration with Lanka Clear, successfully organised a free seminar on the topic of 'Laws Relating to Data Protection and Digital Banking' on 20 February at Cinnamon Grand Colombo.

The seminar primarily targeted attorneys with less than 10 years of practice and the legal officers of financial institutions with the objective of creating awareness of proposed laws relating to data protection. The event drew the participation of more than 450 individuals, including eminent judges of the appellate courts of Sri Lanka.

The seminar began with a welcome address delivered by Junior Bar Committee Chairman Kuvera de Zoya PC, who highlighted the importance of digitisation and the steps taken by the Junior Bar to achieve it, staying in line with its theme for the year.

Following this, the Guest of Honour for the evening, ICTA Chairman Jayantha De Silva, addressed the gathering and stated that technology was not something that lawyers should fear but a tool which could make their lives much easier.

The first session of the seminar was on the 'Legal Aspects of Digital Banking'. The session commenced with a brief overview of the regulatory framework presented by ICTA Director/Legal Advisor Jayantha Fernando. It was followed by an enthusiastic keynote address delivered by Lanka Clear CEO Channa De Silva, who spoke on the transformation of payments in the digital world and further improvements to be expected in the near future.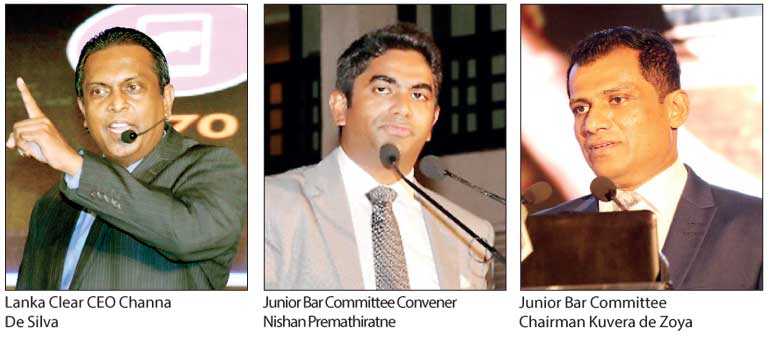 ---
Afterwards, an official from the Central Bank of Sri Lanka spoke to the gathering on new and planned digital banking initiatives.

The second session of the seminar was on 'Data Protection'. The session consisted of a panel discussion on the Draft Data Protection Bill. The panel comprised Jayantha Fernando - Director/Legal Advisor of ICTA; Sanduni Wickramasinghe - Senior Legal Officer, Mobitel; Kanchana Ambagahawita - Senior Assistant Director, Payment and Settlements Department, Central Bank of Sri Lanka and Rashmin De Silva - Legal Officer, Dialog Plc.

This was followed by a question and answer session where the judges of the appellate courts who

were present offered valuable feedback on possible amendments to the draft bill.

The event concluded with a Vote of Thanks delivered by Junior Bar Committee Convener Nishan Premathiratne, who commended the progress made by the banking industry, which is now able to clear a cheque in half a day and facilitate direct money transfers between parties within a matter of seconds. However, he also stated that Sri Lanka was ranked 164th in the World Bank Doing Business Index and scored one out of five in the automation of cases category. He underscored that the Junior Bar would take the initiative, along with other stakeholders, to promote digitalisation in Sri Lanka's court structure.
Organising Committee
---