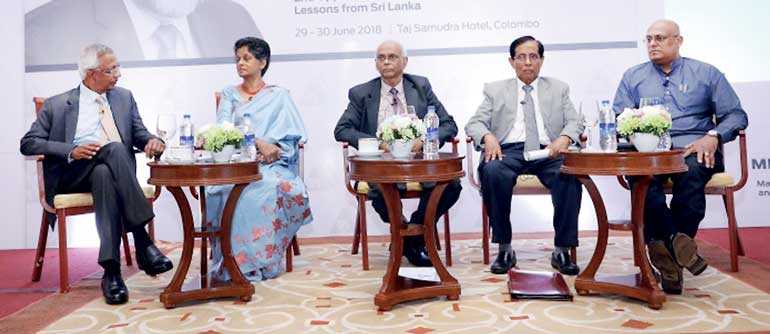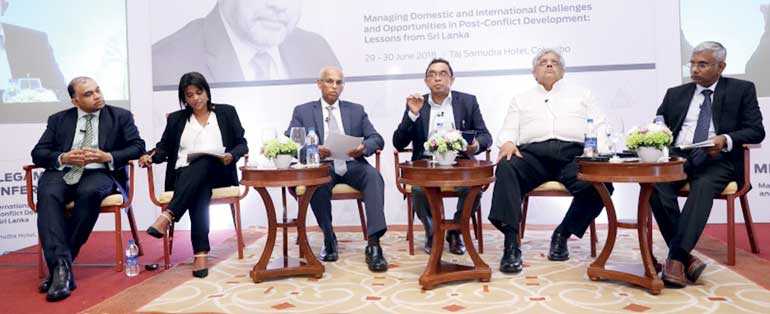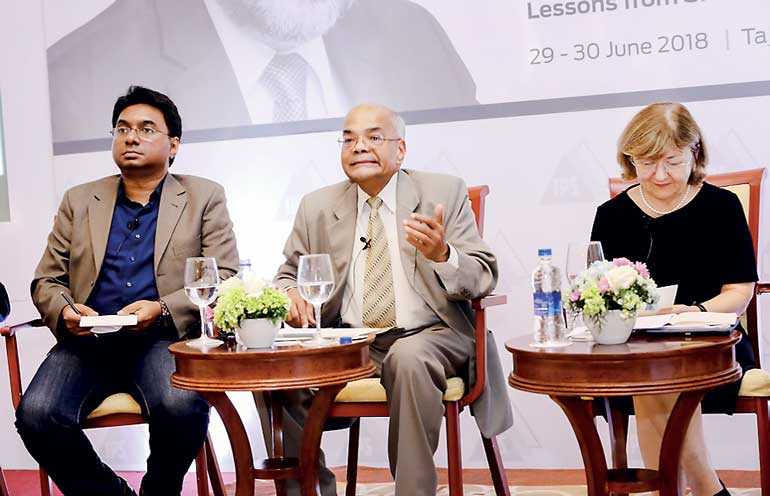 Speaking at the Saman Kelegama Memorial Conference, Professor of Economics at Monash University, Australia, Sisira Jayasuriya, pointed out that Sri Lanka is in a vulnerable position in terms of its debt.
He noted that there has been a shift in the sources of development finance. While earlier Sri Lanka used domestic savings, FDIs, concessional loans and aid, but now the country has to depend on loans from commercial banks and from China, he pointed out. This was a result of Sri Lanka's graduation to a low middle income country.

"While borrowing for development is not a bad thing, borrowing to pay back loans is not sustainable," he further cautioned.

The conference was organised by the Institute of Policy Studies of Sri Lanka (IPS) to mark the first year death anniversary of its former Executive Director, late Dr. Saman Kelegama, around the theme 'Managing Domestic and International Challenges and Opportunities in Post-Conflict Development: Lessons from Sri Lanka.'

It was attended by eminent economists both in Sri Lanka and overseas, including economists of Sri Lankan origin in Australia and the US, who deliberated on the different aspects of the economy that urgently needed reforms to transform it into a knowledge-based, highly competitive environment, and achieve sustainable growth.

Adjunct Assistant Professor of University of Iowa, Dr. H. N. Thenuwara, pointed out that beyond the lack of growth, there is are more serious underlying problems relating to inappropriate policies in Sri Lanka.

On the trade front, Professor of Economics at the Australian National University, Prema-chandra Athukorala believes that unilateral reforms are more important than pursuing Free Trade Agreements (FTAs).

Speaking on the role of private and public sectors in post conflict growth, Senior Economist at World Bank, USA, Dr. Ravi Yatawara, said when talking about developing policies, what Sri Lanka needs is agility of policymakers, govt. bureaucracy, and private sector. Another important factor is institutional development.

"In South Asia I see a fear of the big; But big firms is where it is at, not just for developed countries, but also for the developing countries. We cannot ignore that 80% of exports are done by 10% of the firms," he pointed out.

Another important industry in the private sector is tourism, which has been doing well, but IPS research shows that it can do better.

One of the issues, according to Professor of Economics at the Griffith University, Australia, Jayatilleke Bandaralage, is that the benefits have not trickled down to the grassroots level.

"The post-conflict tourism boom in didn't benefit the grassroots communities, because of the skill gap. Since the youth in the north and east didn't have proper skills, they couldn't be absorbed into the tourism sector," he observed.