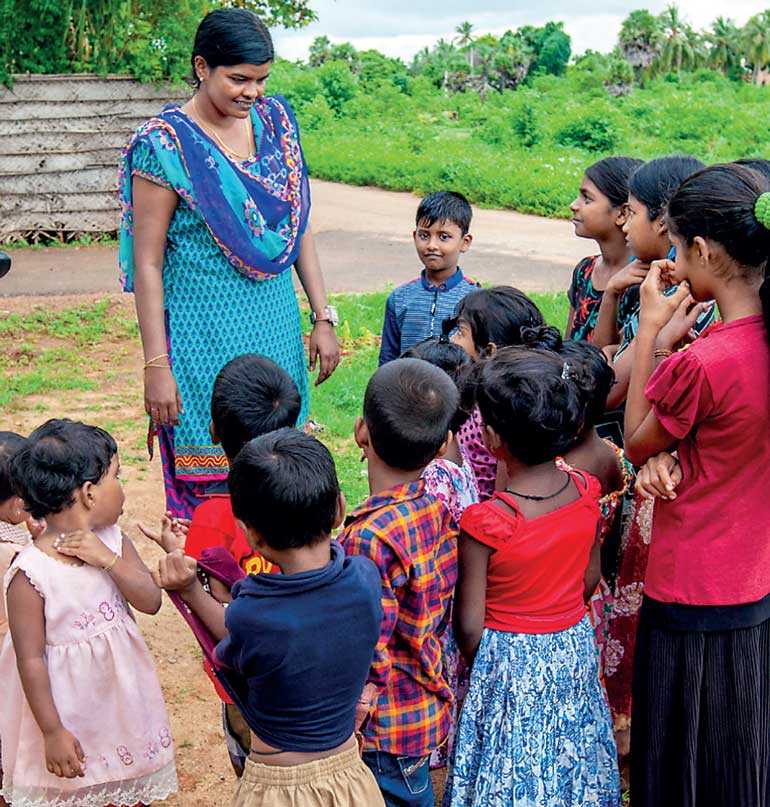 ---
Psychosocial support complements livelihood interventions in Tellipalai
Sugarna Kanagratnam remembers the first time she noticed Shantha* in school. A counsellor with Shanthiham - a specialised agency working on psychosocial support programs - Sugarna had been trained to look out for anything unusual. Shantha, a grade 1 student, was behaving oddly.
Fears and anxieties
When the others played, the young girl sat by herself. She didn't talk much in class, and had few friends. Then Sugarna met her sister, Sashikala* and realised that the problem may be at home.

"Shantha would not really say anything, but when we spoke to her sister we realised that their father was alcoholic and that their parents were fighting. The father was violent, and out of work," says Sugarna.

The counsellor began seeing the children, offering them support through art and drama therapy, and using story telling as a tool to help them open up and express their fears and anxieties. Later, her efforts expanded to include the girls' parents.
The hard truth
Initially, Sugarna says she was hesitant to visit the house, and wasn't sure if it was safe to approach the father. When she finally met Sashikala's parents, she had a long conversation with them both, reminding them of their responsibilities to their children.

Sugarna gave their father some examples of how his alcoholism was affecting his girls. She remembers that he was silent for a long time. "Later, he told me 'It is hard to listen to this.'"
Turning over a new leaf
The children were more open with their mother and she stayed in touch with Sugarna. She said she noticed her husband appeared to be mulling things over, and his behaviour changing slowly. Without being asked, he began spending more time with the children. He also began picking up and dropping the girls of his own volition – something he had never done before.

This is a family chosen for support under the European Union (EU) funded Catalytic Support to Peacebuilding program in Sri Lanka. The €8.1 million, 18-month program is being implemented by the United Nations Children's Fund (UNICEF), the United Nations Development Program (UNDP), and the United Nations Human Settlements Program (UN-Habitat) in partnership with a range of state and non-state partners.

Working in synergy, UNDP and UNICEF approached the challenge holistically. While the former provided chicks to help the family establish a coop and start selling eggs, the latter extended psychosocial support to the family to help them get back on their feet.

The chicks were a surprise hit. The children immediately took a special interest in them, and would put out food and water for them every day. They even cleaned the poultry shed happily. They began to do better at school. So much so that Sugarna felt that the little birds were a source of comfort and mental resilience for the children. As the family's emotional health improved, so did their financial status.

For Sugarna, who stepped in to be their counsellor, this approach made sense: "Only if people are ok emotionally and mentally can they actually work," she says, taking a pragmatic view. "There is no point in giving livelihood assistance unless the beneficiary also has a clear mind."
Learning on the job
Sugarna is new to this job in Tellipalai in Sri Lanka's Northern Province, but has always wanted to work closely with children. She says being assigned to these newly resettled areas in Northern Sri Lanka has brought up many challenges and taught her a great deal.

When she first reported for duty, she was apprehensive. "I knew people here have really struggled because they were exposed to the war. I thought it would be very difficult to deal with them," she says. Adding to the challenge was how remote and far-flung some of her field locations were and how few counsellors there were to take the load – there are only three of them for 12 Grama Niladhari (GN) divisions. Sugarna is responsible for four of these GN divisions, and must see at least three to four families every day.
Coming together to support each other
12 Core Groups made up of Rural Development Society members and engaged youth have also been established – one for every GN division. "We see a lot of issues in this area," says Arindini, listing domestic violence, Post-Traumatic Stress Syndrome (PTSD) and alcoholism as being very common. Often, the community does not know enough to identify those with special needs, particularly children with learning disabilities or attention disorders.

"There are people who do not even know that they have problems with stress, and they must address it or it will negatively impact both their work and family life," says Arindini. She argues that community-based mental health interventions can not only be remarkably effective, but also cost efficient and practical.
A rewarding experience
For her part, Sugarna finds it particularly rewarding to work with children, who she feels require special care. "My goal is to support the children to help them grow up strong," she says. They call her akka – or elder sister. "I know they listen to everything I say, and that means I have great responsibility to them."

*Names changed to protect the identity of the children