The Government must invest in its young people as they are the economy's most important asset, insisted BDO Partner and former Global President of the Association of Chartered Certified Accountants (ACCA), recently in an interview with Daily FT. McEnery specialises in corporate recovery and insolvency and has led the turnaround of many large enterprises through formal schemes of arrangement. He was appointed to the Board of Directors of Ireland's specialist Non-Performing Loan bank (NAMA) by the Minister for Finance in 2010 and was selected as Accountant of the Year in 2017.In this interview, McEnery shares his industry observations and insights on the global trends and confidence that Sri Lanka can learn from, in order to further build and strengthen its economy.

Following are excerpts:
By Shannon Jayawardena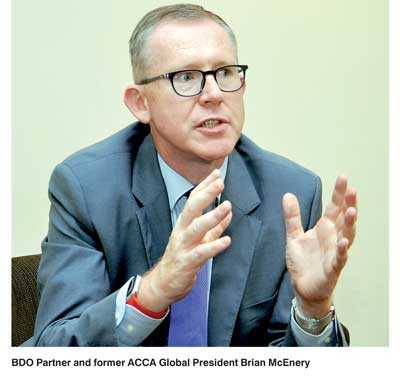 Q: Could you start by giving a small background about yourself and what fields you are associated with?

A: I come from Ireland and I am in an accountancy firm in Ireland called BDO. We have BDO officers here in Sri Lanka as well and it is the fifth largest global accounting firm. I am a partner in the practice and head two areas in our firm. One is in healthcare and consulting, so all of the financial aspects around hospitals, primary care, long-term care and social care and the second thing that I do is for companies that are in some financial difficulty, I restructure them and try to turn them around. Sometimes, that is called a company doctor, to bring a company or patient back to health. These are the two areas of our practice which I work in and I have a team of about 20 colleagues in Dublin which is our biggest office in Ireland.


Q: What in your opinion is the finance industry's biggest challenge, globally and here in Sri Lanka?

A: If you had asked me this five or six years ago, I would have said a different thing actually. One of our biggest challenges now is the move towards economic nationalism and that is a real challenge for the finance industry because finance likes to be a multinational business and capital moves to where there is opportunity which is a positive thing. If there are barriers being put up to the movement of both talent and capital, that is a real challenge to the finance industry. As a global accounting body, the ACCA is very encouraging of the free movement of capital and talent. Therefore we have members in 180 countries. That ability to be mobile across different markets is very important and is vital for the global economy. Some trends, particularly one out of the United States, I hope that they are not going to become too embedded because that is not positive for the global economy, if there is that element of global nationalism. It is a real challenge.


Q: Sri Lanka is currently seen as an emerging market. How do you think the country could grow in terms of the industry and stay ahead of its competitors?

A: Thankfully it is a growing economy and has been growing. Like my country it has also begun to reap the dividend of the political stability and lack of conflict. For instance, we had difficulties in the Northern Ireland and I know that there were similar difficulties in Sri Lanka but they have been managed and eliminated over the last couple of years. When you look at the impact of that, you can see the economic growth has occurred back into Sri Lanka with stability.

It is very difficult to bring economic growth to a country which has instability or political instability. I do think that what is vitally important and what I was so encouraged by is that we were at the Ministry of Finance and we spoke about what I believe is one of the most important things for any economy to focus on, which is how it is perceived in terms of its ease of doing business and I believe that as an island economy, Sri Lanka can, should and will do a lot more. If that were to be the focus of the Government and of the policymakers of Sri Lanka, its economy will benefit greatly.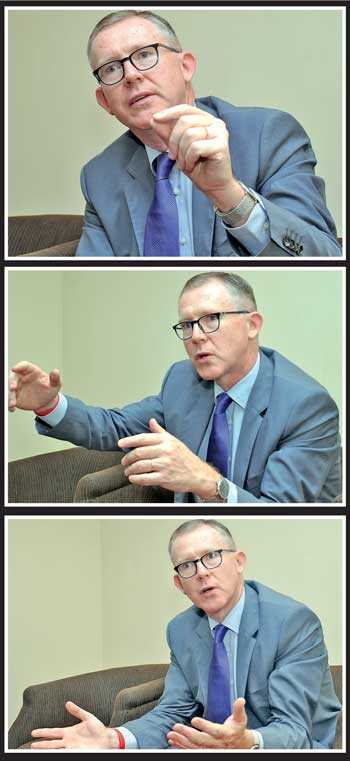 Currently Sri Lanka is up by three digits in terms of its rankings in the ease of doing business and it should over a period of time set goals. In my country, as an accounting profession we work with the government to try ensure that things like taxation was made more internationally consistent and was made more logical and easier to implement and comprehend. Other areas for instance, the ease of legal and legislative structure is very important and again through a number of measures and enactments of law that consolidated and modernised those laws, it made it easier for doing business in our country.

Other things like being able to register your lands quickly with the Land Registry, being able to protect your intellectual property and others are important measures. So there is a range of about eight to nine measures that are used in the index that determines the ease of doing business and I believe that they very much rely on whether or not a country is an easy place to do business. Whether there is good quality of young people who are the workforce and quite frankly if you do have that, even if you become a higher cost economy, employers still want to come.

Singapore has one of the highest GDPs per head and the way that they have done it is, they have made it number one in terms of the ease of doing business for many years and another important things is the integrity in the public service and in society in general. It is vitally important that over a period of time, there is a real determined push towards the political and societal integrity around pollution.

I believe two indices that business wants to look at before making a decision to come to a country are the Ease of Doing Business and the Corruption Index. We had this discussion with the Minister of Finance and he indicated to me, that indeed the Government has an objective to move 15 places in a short period of time in the Ease of Doing Business index.

If these are the types of goals that are being set on a continuous bases, the objectives in Sri Lanka have to be that education is brought to all the young people who want to advance in their life, the Ease of Doing Business is improved and the Corruption Index moves in the right direction. These are three fundamental things that could absolutely ensure that this economy continues and grows at a faster pace.


Q: Could you share with us some of the latest global economic conditions and what reasons have led to them?

A: ACCA produces the global economic survey with IMA and we do this on a global basis. For quite a long time period, the economic outlook was a positive one and still remains the same but not as positive as it has been since recent quarters. Some of the reasons why we see a softening of that confidence is absolutely around the two factors; one being the commencement of what has been seen as hugely damaging which is the trade war between the US and everybody else because there are tariffs imposed on European exports as well. It is and has the potential to manifest into a global trade war which brings back to the point of economic nationalism and I believe that, that is a real factor that is impacting the global confidence because you can only imagine if countries were all starting to impose tariffs on imports, then how would you be able to export out into other markets. That will be hugely damaging to the global economy.

The other thing that is weighing down the impact particularly in Europe is the instability around the Brexit and that is a process that is being tortures for both the United Kingdom and Europe. It is absolutely consuming the British Government. Hence very little else is being focused upon other than the machinations of Brexit. It is a very well-known instability and has been a prolong instability for nearly over a year. I believe that the United Kingdom's political situation has not helped as well. So that is a real impact on the political and economic stability of Europe and some of this economic nationalism that we have seen has spread to several other countries in the region as well, which is quite unfortunate.

I believe that when you have economic uncertainty, then you start to have things like exchange rate variability which is bad for business, because then businesses have to start thinking about volatility in exchange rates and then they have to go hedging. That begins to become a cost of doing business, if you are very worried of the ups and downs. We are in choppier economic waters in 2018 going into 2019, than we would have been back for the last couple of years for sure.



Q: How can Sri Lanka use the global economic confidence to transform its economy?

A: In my opinion, Sri Lanka has an awful lot of opportunities and positive factors about its economy and I think it can harness some of those. Firstly, is Sri Lanka well located? Absolutely. It has got two of the biggest global markets within very easy reach. It's got India with just short of 1.3 billion people, it's got China with just short of 1.4 billion and it has got good relations with both countries. As a consequence, I believe it certainly has the potential to have both Foreign Direct Investment and obviously as export markets for goods and services from Sri Lanka.

Firstly, Sri Lanka runs a trade deficit at the moment. I know that when our economy in Ireland got into some difficulty, the Government went sector by sector to see what are the key sectors that drive the Irish economy. Tourism is a very important sector in Ireland and it is a very important sector in Sri Lanka. So they went down and said what are the things that we need to do to make tourism a stronger industry Ireland. For instance, Ireland has a very short summer and it has quite an amount of rain throughout the year. Therefore we looked into what we could do to try and ensure that tourists don't just come into the country during the summer months, which can also be wet. So the Government encouraged the development of tourism infrastructure which is weather independent. They ensured that there was a service offered to the tourists who come to the country, even if there was continuous rain. So that was important.

Our tourism numbers are now at the highest level that they have ever been. The other thing that the Government did was they encouraged investment into hotels and so it gave some tax incentive for investment into the hotel industry. It also wanted to ensure that we were priced very competitively as a destination. These things were done across all the key industry sectors in our economy and that's how the country became so very strategic.

The Government needs to bring in education and skills to align it with one of the key areas of the economy that the country would want becoming proficient in the future. The Government must invest in the next generation because it is the most important asset any country can have.


Q: What role does digitalisation play in terms of building and strengthening a country's economy?

A: Digitalisation and the digital infrastructure are absolutely critical and are becoming more and more critical for the economy. For instance, when you have a really strong digital and communications infrastructure that is something that is vital for a country because you will not have Foreign Direct Investment if you do not have very significant and very deep ICT investment and continuous investment in technology and digital. You are at a huge competitive disadvantage if you don't have that investment in the first instance.

For example, it will be difficult to not have London as the financial capital of Europe and the reason is because it has all the ICT and digital investment in the city. It just goes to show, that if you do make the investment and if you have the infrastructure, it in actual fact becomes a really big competitive advantage.

One of our major areas of capital investment in my country, is to ensure that we upscale and start moving into fifth generation technology around telecommunications and that's exactly what's needed. It's going to be very important. I believe that we are going to a much more digital and technologically based economy and if you don't have those skill sets, you are going to be at a huge competitive disadvantage.


Q: Sri Lanka is known for having a rapidly-growing ageing population. What does an ageing and fast-growing population do to an economy?

A: It is actually going to be quite a challenge for the economy. To have 30% of the population of the country over 65 years by 2030 is a really high number. When you look at the birth rate and the death rate in Sri Lanka, the birth rate is lower than its neighbouring countries and the good thing is that the death rate has improved. What it means is, if you have a lower birth rate and if people are living longer, that's why you have an ageing population. So in some ways it is a great sign of the health system and shows that people are living healthier lives. The health expenditure has being growing at 11% per annum, but if this continues, that will start becoming a real challenge. You need to have greater pension planning and you have to encourage health insurance so that people can afford to cater for their own healthcare needs.


Q: With the country's economy growing, what opportunities will be created in the near future?

A: Sri Lanka should have as its objective, the alignment of a few key sectors with national policy and instead of trying to grow every sector, the economy should try and find out its unique selling points and winning attributes in the international market. That's what Sri Lanka needs to do and there are certain ones which are naturally aligned which can be really high value aspects such as tourism which is a very important sector. Of course, many other density and outputs from the agricultural sector needs to improved, for greater output from tea and textile industries among others. In terms of services, service tends to be high value and that's about ensuring that there's the availability of talent coming through. If you do have a strong services sector, then the country's economy will be at the high end.

Pix by Ruwan Walpola