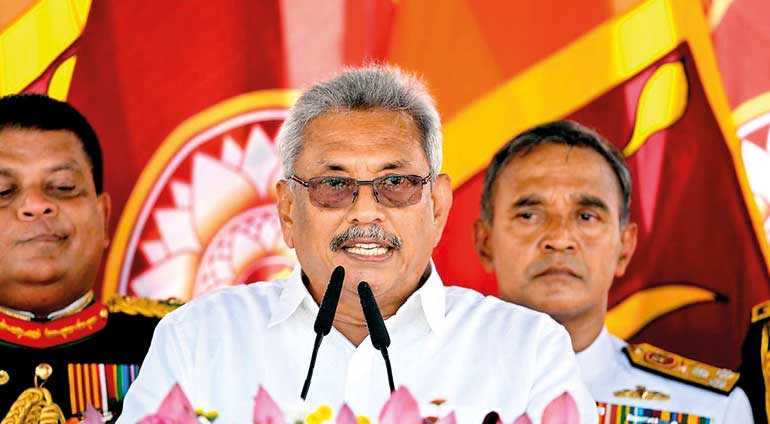 President Gotabaya Rajapaksa
---
By Nilkamal Gunewardena

The Presidential Election concluded on 16 November and Gotabaya Rajapaksa (GR) emerged the winner convincingly, dividing the electorate on communal lines and became the seventh President of Sri Lanka.

National elections are interesting times because of my hobby as a part time psephologist. You are enjoying the joys of psephology. A psephologist is a person who studies election results and voting statistics.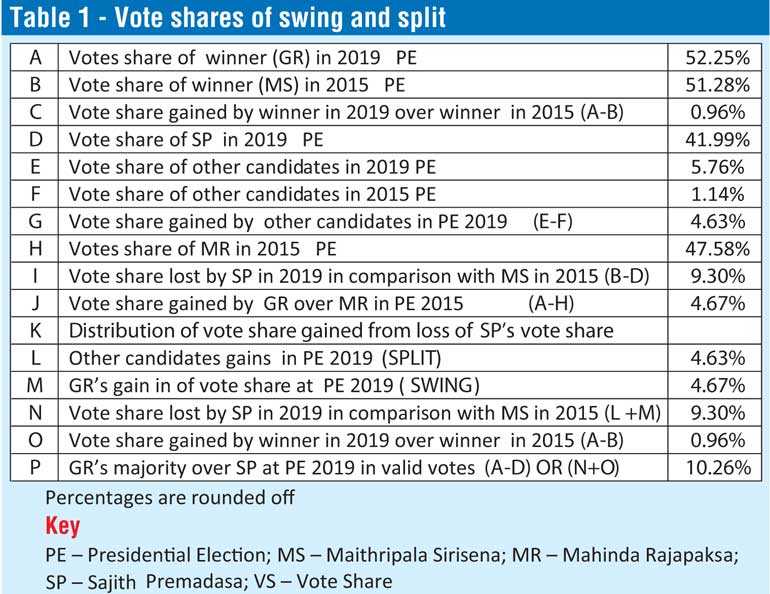 The most interesting question of an election is not who was the ultimate winner, is to understand how people voted and what motivated the voters to vote the way they did and the implications of the result. Another important factor is whether there is any change in voting patterns. If a person is not planning to vote, what's holding back?

A person's vote is the building block of democracy. Voting is often inconvenient, time consuming and one may even consider it to be pointless, knowing very well your individual vote may not make a significant difference among many millions of ballots that would be cast at a national election.

Sri Lanka has a two party system where two political parties dominate the political landscape of the country. One of the parties typically holds the majority in Legislature and is called the Governing party and the other which is the minority in the legislature is referred to as Opposition party.

An attempt was made by some professional groups and civil society activists at the Presidential Election 2019 to promote apolitical alternative democratic candidates to challenge the two main party candidates, resulted in heavy defeats to those candidates promoted by the groups.


Voter composition

Ethnic composition: Sinhalese 74.9%, Tamil 11.2%, Indian Tamil 4.1%, Moor 9.3%, Other 0.5%.

Religious composition: Buddhist 70.1%, Hindu 12.6%, Islam 9.7%, Roman Catholics 6.2%, Christian 1.4%.

Gender composition: Male 48% Female 52%

GR's vote share in electoral districts with 90% or more Sinhala Buddhist representation such as Galle, Matara, Hambantota, Anuradhapura, Moneragala exceeded 65%. Voter turnout was 85% plus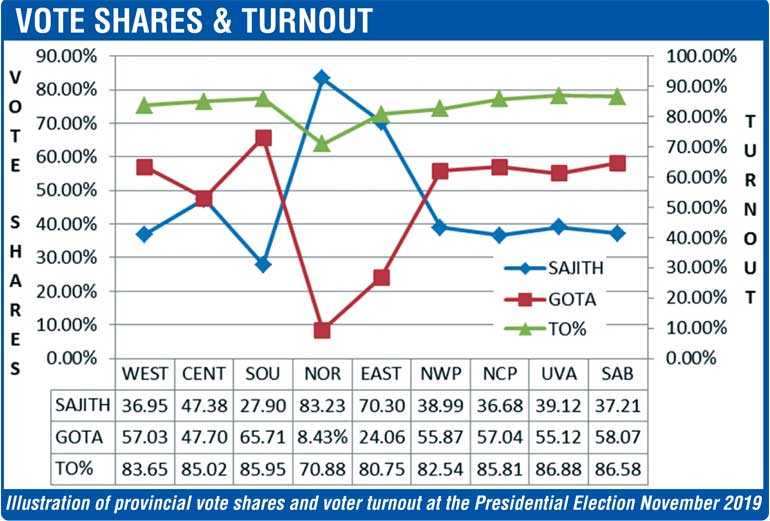 Sajith Premadasa's (SP) vote share in electoral districts with 80% or more Tamil representation such as Jaffna and Wanni exceeded 80%. Voter turnout was 68% and 77% respectively. Muslim Electoral Districts Batticoloa, Trincomalee and Digamadulla, voter turnouts were 80% plus, were also won convincingly by SP.

Voting pattern at the Presidential Election 2019 was such that a massive majority of Sinhala Buddhists voted for GR and an overwhelming number of Tamils and Muslims voted for SP.


Voter turnout

Voter turnout at the Presidential Election in 2019 was unprecedented; 83.72% of eligible voters cast their ballots at this election. Voter turnout ranged from a high of 87.98% at Udu Dumbura Polling Division to a low of 46.61% at Kankesanthurai Polling Division.


Factors that affect voter turnout
Electoral competitiveness – Popularity of candidates/political party in the polling division will influence turnout.
Election type – Presidential, Parliamentary, Local Government. Voters have a high level of interest in Presidential Elections.
Demographics – Age, gender, ethnicity, social class
Voting regulations – in some countries voting is mandatory, in such countries a high turnout is observed at national elections.
Floating voters

Two main parties have loyal groups of supporters who always back their favourite party irrespective of what the other camp offer in their party manifestos/propaganda. There is another group of voters who are not aligned to any political party but whose voting patterns have a significant impact on the outcome of an election. This group is known as the floating voters. It is estimated that at the Presidential Election 2019, the floating voter base accounted for approximately 1.3 million valid votes.

A floating voter has no allegiance to any political party or is one who will vote across party lines. They play a huge role in deciding the outcome of an election one way or the other. Their votes are sought after and voting patterns cannot be predicted with certainty.

Floating voters are likely to reward or punish incumbent governments for the country's economic performance, foreign policy, domestic security policy and tax policy, etc.

Changes in the margin of victory in a polling division could be attributed to the swing in vote and/or the split in vote, e.g. the split in the opposition unity was noted at this Presidential Election with the JVP leader contesting in 2019.

It was very encouraging to note that candidates who represented Muslim and Tamil communities M.L.A.M. Hisbullah and M.K. Sivajilingam faced heavy defeats as they did not receive sufficient support to create an impact even in areas dominated by the communities they represented. However it is very apparent that the majority of Tamils and Muslims voted against GR though Sinhala Buddhists voted overwhelmingly for him.


Swing and split

Registered voters increased by 947,406 over the registered voters in 2015 and 15,992,096 were eligible to vote in 2019. The voter turnout too increased to 83.72% from 81.24% of registered voters in 2015. Therefore it is not possible to make a straight comparison of the absolute votes as the number of valid votes is not same at Presidential Elections in 2015 and 2019 due to changes in number of registered voters and voter turnout. A comparison could be made only after factoring for these changes.

GR achieved a vote share of 52.25% of valid votes as against Maithripala Sirisena's (MS) vote share of 51.28% in 2015. This is an increase of 0.96% of vote share in 2019 for GR. (Table 1 C). SP's vote share was 41.99% which is 9.3% (Table 1 I) less than what MS received in 2015. GR's majority over SP is 10.26% (Table1 P).

At the Presidential Election held in 2015 all other candidates excluding MS and Mahinda Rajapaksa (MR) received only 1.14% of valid votes and in 2019 other candidates received 5.76% of valid votes (Table 1 E) which increased other candidates' vote share by 4.63% in 2019. This split the opposing votes of the two prominent candidates which in turn impacted adversely on SP's vote share by at least 3.0%. At the 2015 Presidential Election JVP supported the NDF candidate MS.

Swing towards Gota is 4.67% (J or M) after setting off votes gains made in Northern and Eastern Provinces by SP.


Key learnings

Highest vote share from a polling division of 87.11 % was recorded at Kilinochchi Polling Division at Presidential Election 2019 for SP and while GR received a vote share of 5.07% at the same Polling Division which is lowest vote share for a leading candidate at this year's election. Lowest vote share of the two frontrunners in a predominantly Sinhala Buddhist Polling Division was recorded at Tangalle Polling Division which was 21.18% for SP.

SP could only win Galle Polling Division in the Southern Province as UNP's vote base in the Sinhala Buddhist belt has severely eroded at the Presidential Election. GR could not win a single Polling Division in the Northern and Eastern Provinces but won 16 out the 22 electoral districts by galvanising Sinhala Buddhist voters to cast their ballots to him.

The JVP too failed to make an impression in urban as well as rural areas with their Leader AKD (3.16% vote share) speaking to voters like a school master has remarkably reduced his appeal to the voters at this election.

Once again the widely-held notion that a Presidential Election could be won with a majority of minority votes and a minority of majority votes was proved wrong. (MS received 1,637,023 more votes in provinces other than the North and East than SF in 2010, while MR received 226,043 votes less in 2015 in these provinces than what he received in 2010, thus contributing to MR's defeat.)

The voting pattern changed significantly at Presidential Election 2019 to elect a president almost exclusively with Sinhala Buddhist votes. However Gotabaya Rajapaksa is the President of all communities and people living in Sri Lanka whether they voted for him or not and expect him to usher a new era for all citizens to live in peace and harmony.

GR has to provide top priority to national reconciliation in order to protect Sri Lanka's ethnic and religious pluralism.