Growing incidents of smuggling of Chinese cigarettes raises concerns
---
By Kumar Ranaweera
---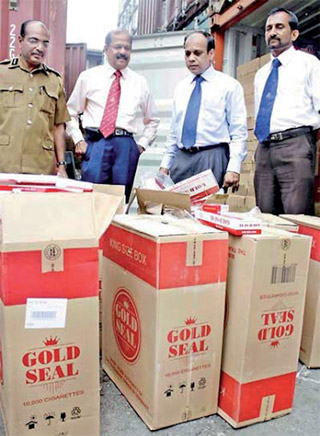 The illicit tobacco market in Sri Lanka has achieved exponential growth in recent years, and any effort to allow foreign cigarettes into the market – particularly from markets like China – will only serve to exacerbate the problem
---
China's growing political and economic influence over Sri Lanka shifted the balance of trade between the two nations that dates back to the 2nd century AD. With the growing Chinese workforce in the island, the products and services targeting the wants and palate of the mainland's consumers have also risen significantly.

A trade deficit with China can no longer muster a concern, as almost every consumer item in the world now hails from China. Free trade offers enhanced choice, competition and value to enterprises and consumers alike, birthing innovation and opportunity across all sectors. But, can open trade be welcome for products posing harm to human health?

With over 6,000 Chinese nationals now domiciled in the country, over the past decade Sri Lanka witnessed a steep increase in attempts to smuggle Chinese cigarettes. The popular notion is that the smuggling was driven by the Chinese nationals' preference for their local flavoured cigarettes. Notwithstanding concerns for flavour, the most appealing factor for Chinese cigarettes is cost. In China, a pack of premium cigarettes is not more than $ 4, whereas here in Sri Lanka it's as much as $ 7. 'Sri Lanka Police hunt for Chinese national smuggling cigarettes' was a popular headline in pre-pandemic times, as fines imposed for smuggling were hardly a cause for deterrent.


The Chinese wave

Constant crackdowns, confiscations, and onset of the pandemic have hardly dissuaded attempts to smuggle cigarettes into the market. Since June 2020, authorities have confiscated over 600,000 cigarette sticks smuggled into Sri Lanka from China. Early last year, SLPP Parliamentarian Dr. Wijeyadasa Rajapakshe stressed the need to increase fines on illegally imported cigarettes, as the maximum fine for such an offence is Rs. 1 million irrespective of the number imported.

He added, the cost to import a cigarette from China is not more than Rs. 2.00, and racketeers could earn up to Rs. 400 million should they successfully clear a 40-foot container of cigarettes. The revenue loss to the Government is significant in addition to ill-effects on society.

Sampling and consuming foreign products during travel overseas is popular practice amongst travellers and expatriates. There is a wide range of locally manufactured cigarettes already available in the market, so what deters Chinese from smoking them? It comes down to a matter of cost. Sri Lankan cigarettes are amongst the most expensive in the world, and Chinese smokers in the island want access to cheaper, illegal alternatives. Sri Lanka is also a preferred destination for cigarette smugglers from other parts of the world, and this again is due to its low cost-high returns nature.

What the Government needs to do to control the situation is revisit and review its regulations and control measures listed to deter smuggling. This is in addition to strengthening its intelligence and detection mechanisms at ports of entry. Smuggling poses serious risks to Government revenue, and with over 730 million sticks estimated to enter the country illegally, this translates to over Rs. 38 billion in losses annually. With Chinese interest in the country rising exponentially with the Port City project and other endeavours around the island, the Government must take measures to safeguard its earnings from the tobacco industry, and not allow it to be diluted due to large-scale smuggling.


Government caves and moots license

Worryingly, in 2019 the Ministry of Finance mooted a plan to license Chinese cigarette imports into the country, to meet the growing demand of Chinese workers. The proposal was met with stiff opposition from within the Government as well as the tobacco control bodies. The Ministry of Health took up the position that this would be "a retrograde step that will undermine all the current programs for preventing harm from tobacco".

Over the past decade, Sri Lanka had become a shining light on the World Health Organization's global agenda for tobacco control, receiving significant support and commendation for measures taken. As a result, Sri Lanka shows positive change with declining tobacco usage over the last 10 years. The scheme to bring in foreign cigarettes will practically and symbolically run counter to these efforts and negate most of these gains, the Health Ministry said. Fortunately, sanity prevailed and the move was shelved.


No room in our market

Sri Lanka is a rather small market of under three billion sticks annually and contracting due to effective control measures. Latest reports following a WHO survey points to smoking incidence dropping to as low as 10% in Sri Lanka during 2019. Effectively, this would mean there will be little or no new local smokers to increase demand for the product. The only new addition to the market come from Chinese smokers – with limited growth – who seek cheaper products, and Sri Lanka as alluded to before proffers some of the highest prices in the world.

Considering the above, it becomes evident increasing products or players in the market will not enhance Government revenue, on the contrary, it would facilitate further influx of illegal cigarettes and dwindle Government revenue from the category. The resultant tax loss to Government would be in millions, in addition to added burden of worsening public health, law and order. Who will regulate and enforce price controls? How will the Government ensure a level playing field?


A smugglers paradise

Furthermore, what guarantees do we have on the type of product that would invade our market? Popularly dubbed 'Chinese Beedi', some of the Chinese cigarettes that have been smuggled into the country are equivalent to beedi, with poor quality standards – products that may essentially have been rejected in China. The illicit tobacco market in Sri Lanka has achieved exponential growth in recent years, and any effort to allow foreign cigarettes into the market – particularly from markets like China – will only serve to exacerbate the problem. Furthermore, does our public health policy afford any room for new suppliers in this market?

As alluded to by the Ministry of Health last year, a decline in tobacco use means greater economic opportunity for families in lower socio-economic sections. Any decision to allow imports of cheap foreign cigarettes will reverse most of the positive developments achieved in the sphere of tobacco control in Sri Lanka.

"Majority of major development projects are conducted through Chinese companies and Chinese aid. In this situation the Chinese government possesses power to diminish efforts of applying correct taxes on Chinese cigarettes. How appropriate is it to allow importing cigarettes from China in the guise of helping people working temporarily in Sri Lanka?" the Health Ministry questioned.
---
(The writer is an undergraduate of the University of Colombo and also serves as Research Assistant at a leading audit firm in Sri Lanka.)
---