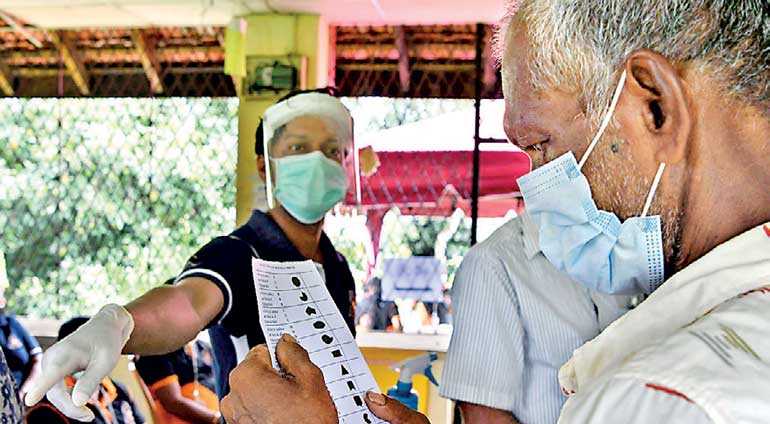 Many small-time entrepreneurs and their employees are caught in a bind over giving up work time to go to their home areas to cast their ballot in next week's much-awaited parliamentary elections
– Pic by Shehan Gunasekara
By Dishani Senaratne

After months of lockdown, can small enterprises lose a day's earnings and new work tasks to allow for voting time? Many small-time entrepreneurs and their employees are caught in a bind over giving up work time to go to their home areas to cast their ballot in next week's much-awaited parliamentary elections.

Unlike for big corporates, the daily cash flow is crucial for Micro, Small and Medium Enterprises (MSMEs). Nor do their employees like their workplaces lose business because it hits them most. For daily-paid workers too, it is difficult to lose earnings.

According to 2019 government statistics, MSMEs play an important role in Sri Lanka's economy, contributing 45% of domestic employment and 52% of Gross Domestic Product (GDP). Successive political dispensations have launched numerous programs to empower this sector over the years with varying degrees of success.

As the political landscape is currently gearing up for a general election, it is vital to ensure full and equal exercise of the workforce's suffrage, regardless of whether they engage in low or high-skilled jobs. Under the provision of Section 110 of Act No. 15 of 1981, all employees, including causal workers, should be granted paid leave to exercise their franchise, taking into consideration the distance to the relevant polling centre.

Not granting leave to employees to cast votes is an offence that could be prosecuted and punished in the Magistrate's Court. Despite such legal framework, certain MSME employees experience their share of problems related to their voting rights that seem to have received less attention.

Pettah is synonymous with trade and commerce where an overwhelming majority of workers hail from relatively rural areas who have migrated to the commercial capital of Colombo for employment. During the days preceding and following an election, business activities usually come to a standstill in Pettah, impelling most of the employees to return to their villages not only for the purpose of casting their votes but also to spend some quality time with their families.


Challenges in exercising right to vote

In contrast, some of their counterparts who work in micro-level businesses based outside Colombo face challenges in exercising their right to vote. A computer operator at a communication and phone shop in Dankotuwa revealed that the owner is averse to closing the shop because of high customer patronisation even on the election day.

A mobile bread seller (choon paan) whose native place is Jayanthipura echoed that he was unable to vote at the 2019 presidential election, unlike his co-workers who live in close proximity to the bakery in Chilaw. Similarly, a private security guard disclosed that non-traditional shift schedules of his job have prevented him from casting his ballot on several occasions.

Against the backdrop of absence of compulsory voting laws in Sri Lanka, polling station no-shows should not be treated as unworthy of careful scrutiny.

For a vast majority of large-scale companies, facilitation of employee voting rights is central to their company ethos that goes beyond abiding government rules and regulations. Some of the principal employer organisations in the country – The Ceylon Chamber of Commerce (CCC), The Employers' Federation of Ceylon (EFC) and The Ceylon National Chamber of Industries (CNCI) – expressed the unanimous view that they are committed to respecting workers' suffrage.

In a similar vein, a few members of both the Matara District Chamber of Commerce & Industry (MDCCI) and the Batticaloa District Chamber of Commerce Industry and Agriculture (BDCCIA) reverberated that employers should be supportive of the employees' efforts to vote in order to strengthen democracy.

Most micro-level entrepreneurs depend on daily cash flow, compelling them to keep their businesses moving forward almost every day. The profit margin of large-scale enterprises, on the contrary, is less affected in case of non-operation of businesses for one or two working days," a senior Finance Manager who is attached to a leading conglomerate observed.
"This business has to continue, no matter what. I have to pay salaries of the people who work here. Elections come and go," a proprietor of a vegetable store in Narammala said. Furthermore, he stated that he would give the helpers at his store an extra payment, to "compensate for their missed opportunity to vote." While the MSMEs are likely to bear the brunt of the economic impact of COVID- 19, their struggle for survival will possibly come at the cost of employee leave entitlement.

"The trainers at my gym had nearly a two-month break during lockdown. I can't close the gym again even for a day," a gym owner in Katugastota explained the initial steps he has taken to post-coronavirus recovery. When queried, all the four trainers at the gym were willing to forego their right to vote in view of increasing job vulnerability as a result of COVID-19.

On the other hand, a few MSME employees who responded were reluctant to go back to their native places to cast their votes due to different reasons that ranged from exorbitant bus fares to political apathy. "I'm worried that there will be another lockdown after the election. I got stuck last time and could not come back. I might not be able to return this time, if I go to my village in Galle," a mechanic who works in a garage in Wattala expressed his worries.

A handicraftsman who is paid under a piece rate system by his master craftsman mentioned that he would continue to work in order to make ends meet, having shut the front door of the shop to give the impression that he has returned to his village.

In addition, a Pickme driver added that making more trips would be his priority, not returning home to vote.

Meanwhile, Lanka Private Bus Owners' Association declared that the number of buses and bus journeys operated on certain roads would be reduced by 50% owing to commuters' growing inclination to shun public transportation amid continued concerns over the sudden spike in COVID- 19 cases.

Later, the Minister of Transport Services Management Mahinda Amaraweea assured that both train and bus services would be available complying with health and safety measures for those who are travelling from Colombo to their hometowns. Admittedly, women's safety is more at risk in the event of unreliability of public transportation.

For the LGBTIQA+ community, their past voting experiences have been rather unpleasant. "I'm registered to vote at my hometown in Matale. But the community is not welcoming and I prefer to stay back," a salon assistant who identifies herself as transgender lamented.

Inarguably, the lack of regular identification documents is an obstacle for transgender persons to exercise their franchise. Even though the much-awaited gazette notification on health guidelines stresses on physical safety of voters, combatting voter discrimination is of paramount importance to create a safe space for all voters.


Multifaceted issues

On one level, the relatively lesser number of election complaints received both by the Department of Labour and Sri Lanka Chamber of Small and Medium Industries (SLCSMI) reflects how worker rights are safeguarded in the Sri Lankan context. On another level, focusing on statistical data alone is woefully inadequate to address complex and multifaceted issues such as barriers in exercising franchise.

In reality, the workers in micro-level enterprises refrain from making complaints to authorities for fear of losing their jobs. "I'm the only employee at the laundry where I work. If I tell anyone, the owner will surely know that I have done it," a laundry worker described that making a complaint is no easy task in workplaces where there are only a handful of employees who have limited affiliations with trade unions. With the revenue drop during lockdown, the informal sector is forced to keep their doors open for mere survival, perhaps even during the election period. The introduction of bounce bank loans as well as implementation of a debt moratorium are deemed viable long-term solutions to assist the entrepreneurial community to get back on their feet. Sadly, unregistered informal businesses and the self-employed usually fall prey to unlicensed moneylenders because banks and other financial institutions view their ability to repay with scepticism.

The significance of voter turnout on the election outcome has been put under spotlight with the decision of the Election Commission (EC) to assign two extra days for postal voting. Arguably, granting postal voting rights to the MSME sector will probably enable those who are residents in outstations to cast their votes sans affecting work efficiency – irrespective of whether the country is in a pandemic situation or not.

The EC's initiative to introduce a remote voting system that is similar to postal voting to facilitate the voting rights of those who are in quarantine centres and no-go zones is a step taken in the right direction to ensure free, fair and transparent conduct of the election. Extending voting rights to migrant workers should be expedited, given that over 200,000 Sri Lankans emigrate for work annually, according to the International Labour Organisation (ILO). In 2003, the Philippines enacted the Overseas Absentee Voting Law with a view to ensure equal opportunity for the Filipinos who are living or staying abroad to exercise their fundamental right to vote.

Singapore follows the practice of setting up polling stations at foreign diplomatic missions or consular divisions while the United Kingdom citizens who live abroad can vote by post, inter alia. India mulls over extending the facility of proxy voting to their overseas citizens although the proposed Bill has drawn criticism.