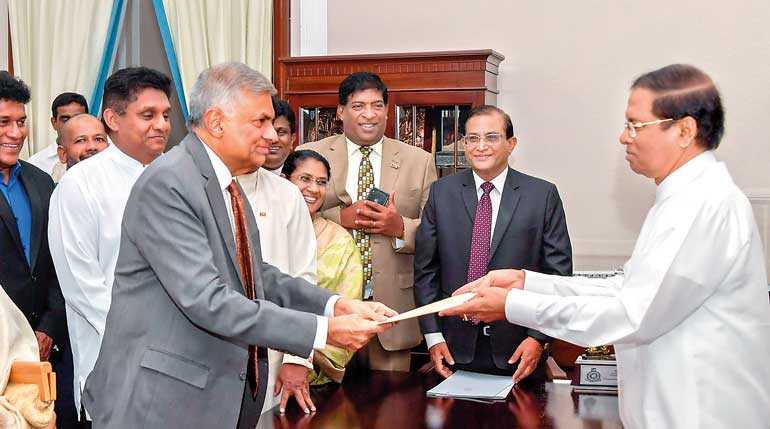 Sri Lanka cannot hope for more than an uneasy truce until the presidential polls due in January 2020
By Sunanda K. Datta-Ray

www.freepressjournal.in: The end of Sri Lanka's 51-day constitutional crisis appears to cap the return of democracy, albeit somewhat flawed, to South Asia. With Khaleda Zia locked up for corruption, Sheikh Hasina Wazed is all set to be re-elected as Prime Minister of Bangladesh on 30 December.

A grateful Ibrahim Mohamed Solih, the new President of Maldives, praised India as his country's "closest friend" and "largest trading partner" during his three-day visit to this country. And the Congress opposition has wrested three states from the ruling Bharatiya Janata Party.

The devil lies in the details. And in a troubled past bursting with short-lived opportunistic alliances. When Mahinda Rajapaksa, who ruled the country in an increasingly authoritarian manner from 2005 to 2015, first became president, it was through massive floor-crossing to lessen his dependence on the Janatha Vimukthi Peramuna's 39 MPs.

Throughout the long run-up to taking over as prime minister as a result of Maithripala Sirisena's sudden coup, he talked about bringing parliamentary elections forward. It was something he reiterated again during his short and tumultuous spell as prime minister. Recently, the former President and Prime Minister warned grimly, "What is now gathering against the enemies of the country is a country-wide political force that no one can stop."

Sri Lanka cannot hope for more than an uneasy truce until the presidential polls due in January 2020. And as always happens during such an interregnum of cessation of actual hostilities, contenders for office and rival ethnic groups will be busy trying to recruit allies and collaborators as they eye elections for the future. Even a return in some modified form of the Liberation Tigers of Tamil Eelam cannot be ruled out during this uncertainty.

Sri Lanka's Supreme Court forced Rajapaksa to step down on 15 December, overturning Sirisena's two attempted presidential coups – dismissal of the Prime Minister and dissolution of Parliament – and restoring Ranil Wickremesinghe of the United National Party to the office of which he was arbitrarily deprived on 26 October.

However, the seven-group United National Front which backs the restored prime minister has only 103 MPs in the 225-member House. This includes such disparate partners as the island's largest Muslim party and the Sinhala Nationalist Jathika Hela Urumaya.

The support of the 14-member Tamil National Alliance of moderate Tamil nationalist parties and former militant groups formed in October 2001 and on which the ruling alliance depends is a reminder that the fundamental problem concerning the country's Tamil minority is far from being resolved. The UNP-UNF regime might also forfeit popular sympathy if it succumbs to pressure from the JVP, which is as racially exclusive as it is militant, to move an impeachment motion against Sirisena.

An understandably aggrieved section of the UNP might also be tempted to try and discredit the president by setting up a probe – either a parliamentary select committee or a judicial inquiry – but this is not likely to achieve much. A president can only be impeached with the support of a two-thirds parliamentary majority, which means 150 members. Since the TNA has said it does not want impeachment, the authors of any such move would have to try and poach parliamentarians from other factions.

Of course, there is much Sirisena can be charged with. While the constitution's 19th amendment does allow the president to dissolve parliament, he can't do so until four and a half years of its term have been completed. Moreover, the circumstances in which the prime minister can be dismissed are clearly stipulated.

Sirisena acted recklessly in disregarding these stipulations. On 9 November, he unconstitutionally suspended Parliament till the 14th; on that day, his nominee, Rajapaksa, lost a no confidence motion and a fight broke out on the floor of the House. The Sirisena-Rajapaksa alliance added insult to democratic injury by arbitrarily rejecting the vote and more fighting erupted two days later when Rajapaksa lost another confidence vote which, again, he and the president refused to accept.

It was clear that the complex relationship between Sirisena and Wickremesinghe had completely broken down and that the former was unwilling to work with the latter as prime minister. Their differences are personal as well as political. Sirisena served as a cabinet member in his administration and unexpectedly challenged his old boss in the January 2015 presidential contest. It was widely hailed as the "advent of democracy" when Rajapaksa quit as president in the early hours of 9 January 2015, just after Wickremesinghe's return as prime minister, and Sirisena became president.

Having won a court battle to return to power and revive the "dissolved" parliament, and with a twice-proved legislative majority, there is no reason why Wickremesinghe's UNP-UNF combine should opt for the early parliamentary polls Sirisena wanted to serve his own ends.

But there is no reason either why the prime minister should not try to capitalise on his victory by setting a date for the election to provincial councils, which no Sri Lankan politician has so far seemed anxious to hold. Some Sri Lankan commentators attribute this to a fear of facing the people. Others recall that postponement can exact a high price from those responsible for the postponing.

Sirisena can never forget that his Sri Lanka Freedom Party and its then leader, Sirimavo Bandaranaike, were swept out in 1977. J.R. Jayewardene and the UNP were held responsible for the bloodbath in the eighties. The Sirisena-Wickremesinghe coalition was humiliated in February. Meanwhile, the belief of the Sri Lanka Podujana Peramuna Chairman G.L. Peiris, that "people would question the practical need for provincial councils if the government delayed elections to them any further" suggests both hope and strategy.

Many Sinhalese believe provincial councils were devised by India and forced on Jayewardene's government. They abhor the very idea of devolution as a first step to vivisection. However, it's only through dynamic provincial councils that Colombo can hope to instil a sense of participation in the regions and minorities. Without that, Sri Lanka might suffer another upsurge. This may be the calm before the storm.
(Source: https://www.freepressjournal.in/analysis/dynamic-councils-needed-to-fix-sri-lankas-political-woes/1420217)
(Sunanda K. Datta-Ray is the author of several books and a regular media columnist.)