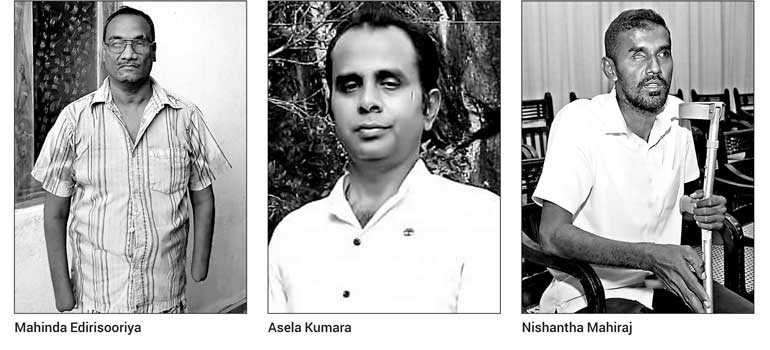 http://www.defence.lk/: Mahinda Edirisooriya, 48, who lives in Ibbagamuwa in the Kurunegala district, was among the many disabled war veterans who staged the fast unto death, which lasted for nearly 20 days, last September. The veterans' agitation drew much attention as the fast which began with five soldiers in front of the Fort Railway station, triggered a social outcry by concerned public in the acute absence of response from the previous government.

Edirisooriya recalled how one of his colleagues, the Convener of the 'Fallen and Disabled War Heroes Organization' Nishantha Mahiraj, lost his right eye due to an indiscriminate tear gas attack by the police during a protest in 2016. One canister hit his eye, resulting in severe damage and loss of eye sight.



"This is the extent that we went to gain our rightful and legitimate demands. That day we were trying to handover our demands in writing to the President Secretariat but were treated with utmost disdain. In 2016, we demanded for the payment of service pension for disabled soldiers who had a service of less than 12 years which was a category that was neglected," Edirisooriya said.

Edirisooriya joined the Army's 2nd Sri Lanka National Guard (2SLNG) in 1990, at the age of 19. In 1992, whilst conducting a route clearing at Palampattar in Trincomalee, he sustained severe injuries following an anti-personal (AP) mine explosion. The incident resulted in losing both his arms and eye sight. Since then he had spent over three years at the Army Hospital and at the 'Ranaviru Sevana' a residential caretaking facility for disabled soldiers located at Ragama.

By 2019, having identified further flaws in the existing scheme for pension payments for the disabled and fallen personnel, they raised their concerns collectively.

Subsequently, they forwarded four demands to the previous government: to pay salaries and allowances to the disabled soldiers they received at the time of retirement, for life; to continue to pay the salary and allowances to the family members of the disabled soldiers even after their death; to continue to pay salary and allowances to the wives of the deceased war veterans even after they completed retirement age of 55 years and to pay the salary and allowances to the parents of an unmarried deceased soldier.

The fast was called off on 30 September, after the present Prime Minister Mahinda Rajapaksa as an MP promised to meet the demands following the Presidential Election.

Four months have gone since the protest and three months following the Presidential Election in which the former Defence Secretary Gotabaya Rajapaksa as the SLPP candidate swept to power mainly on populist votes.

"Sometimes, I feel that disabled war veterans have become a commodity for politicians for their petty gains. And it is saddening to see that a few of our people with vested interests are biting into such ploys," Edirisooriya said.

He was referring to the protest staged by a group of war veterans in Colombo recently. "I really don't see a legitimate basis or rationale for such a protest when the incumbent government within its 100 days at office has already taken measures to address the existing technical flaws that happened during the previous regime," he said. "Ironically, none of the individuals who are part to this recent agitation are pensionaries. I think that they are unable to comprehend the realities or are willingly part of a folly that has political ends."

On last 23 February, Defence Secretary Maj. Gen. (Retd) Kamal Gunaratne summoned a meeting to draft a new Cabinet paper addressing existing technical discrepancies over pension payments for disabled war veterans, families and widows. The revised cabinet paper is to scrutinise the issue under four categories: Disabled/Unmarried; Disabled/Married; Deceased/Unmarried; Deceased/Married.

Nishantha Mahiraj was at the forefront in almost all the struggles made by the disabled war veterans since 2015. Having lost an eye as a result of reprisal by the police during a protest staged at Galle Face in front of the Presidential Secretariat in 2016, Mahiraj said, "Our agitations and concerns were all raised on reasonable grounds. In 2015, the previous government sidelined a Cabinet decision taken by the previous regime for the payment of service pension for disabled soldiers who had a service of less than 12 years," he said.

In 2017, an amount of Rs. 7,200 was written off from payments due for the month of March, for widows of deceased war heroes and disabled war veterans," he said. "We were informed that the pension and service payments received by the widows and disabled veterans were disproportionately high. Similarly, a sum of Rs. 3,500 was reduced from the August (2017) pension payments. This is the extent of how the widows and disabled war veterans were ridiculed by the previous regime," he claimed.

Having joined the Sri Lanka Police Department in 1995, Asela Kumara, 45, an ex-Sargent of Police, sustained multiple injuries due to an anti-personal mine explosion whilst on duty along the Vavuniya-Mannar road on 30 May 2000. He viewed the recent protest staged by a group of disabled veterans questionable.

"No one among the individuals who staged the protest is over 55 years. They would still be withdrawing salaries for over 10 more years. There are about 150 disabled police officers who are over 55 years and except for a handful, the rest are content with the pension. Surprisingly, no one is seemed to be interested with the recent event. This itself is evident to say that the protest is a staged act for political mileage and commercial benefits," Kumara said.

"Let me tell you that has any one ever raised the question of compensating those families and individuals who lost their lives, limbs and livelihood during the war. The LTTE terrorists carried out many heinous acts especially targeting the border villages. Many train and bus bombs were set off by the terrorists killing hundreds. So what about those affected," Kumara said.

Edirisooriya, who lost his two hands and the eye sight during a mine clearing operation, is resolute in his belief that these demands would be met. "Our President and the Defence Secretary are war heroes and they know the pulse of those who fought to protect Sri Lanka. What more guarantee do you need when you have two individuals who have proven with word and deed of their metal?" he asked.

The incumbent government guaranteed to solve the issue also considering various categories affected.

He said he was pleased that the Defence Secretary had identified the core issue. "In fact, when we submitted one of our demands – the payment to be continued as pension after 55 with no reduction – the previous government agreed to supplement it with an allowance. We were denied of meeting any responsible official including the Finance Minister to explain the implications of this decision," he explained.

"There was a time when regimes in power deliberately disregarded the armed forces. Soldiers were known as 'Army karaya'. Indeed the days have changed and now people look upon us as 'War heroes'. Yes, I may be disabled but I'm not handicapped," said Edirisooriya as he leaned onto his chair as one could sense the pride of a solider that never fades.