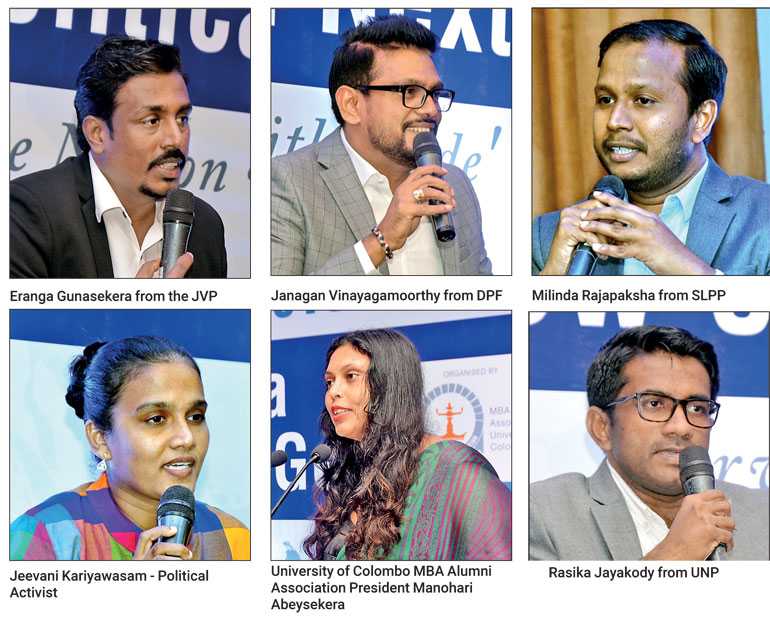 ---
Young representatives of major political parties offer their views on how the political culture should be changed to provide genuine solutions to the country's problems
By Nuwan Senarathna

Youth representatives of the United National Party (UNP), Sri Lanka Podujana Peramuna (SLPP), Janatha Vimukthi Peramuna (JVP), Tamil National Alliance (TNA) and Democratic People's Front (DPF) gathered for the first time recently to express their views on how their respective parties could work together and which policies would be most relevant to building a peaceful and economically advanced Sri Lanka.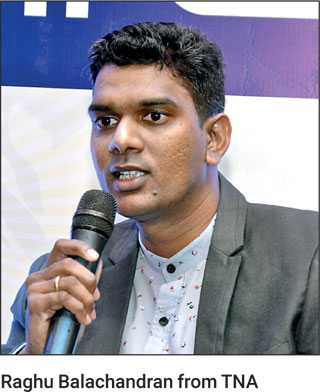 At a special forum organised by the Colombo University MBA Alumni Association and the Daily FT titled 'Future of Sri Lanka: View of Political NextGen', five young political representatives delivered their perspectives to the audience. They were Milinda Rajapaksha from the SLPP, Rasika Jayakody from the UNP, Raghu Balachandran from the TNA, Eranga Gunasekera from the JVP and Janagan Vinayagamoorthy from the Democratic People's Front (DPF). Political activist Jeevani Kariyawasam also provided her views on the country's political future.
Open-minded youth
Rajapaksha, kicking off the discussion, said that in order to reform the Sri Lankan political culture, more open-minded youth should enter politics.

"The behaviour of a politician is one of the most widely discussed issues in Sri Lanka. However, as young politicians, we have to look at how we are going to sit in one place and discuss how we are going to address these issues. As youth politicians, we all have to look with an open mind at how we are going to reform Sri Lanka's political culture, whether it is the Constitution, the Executive Presidency, the parliamentary system or the Judiciary. The younger generation looks at these matters from a different perspective. They view the entire system as having failed to meet their aspirations," he asserted.

He pointed out that the current electoral system should be reformed and this should be a priority. In his view, that would change the current political culture in Sri Lanka.

"If any of us here wishes to contest the upcoming Parliamentary Election, each person will have to spend at least Rs. 50 million for the campaign. The existing political parties have been unable to change the political culture in a way that will attract youngsters."

Expressing his views, Jayakody said the correct formula should be found to change the existing political culture. He insisted that the country could only go forward when the correct formula had been found.

"The UNP believes that we can only go forward if we find the correct formula. First of all, we do not believe that development can be attained by sacrificing freedoms. At the same time, we do not believe that attaining freedoms alone and promoting democracy will address existing issues in the country and political culture."

He noted that the country should strike a balance between freedom, democratic rights and development. According to Jayakody, the UNP's policies were based on the principles of a social market economy. He also said Sri Lanka needed to move towards being a knowledge-based economy.

"Priority should be given to research and development, to improving innovation. Sri Lanka has given very little focus and space for innovators."
Economic challenges
Gunasekara, during his turn, opined that the political leadership should recognise the current status of the country's economy and insisted that the political leadership should look for broader solutions to address those issues. "We have to understand the ground reality of the Sri Lankan economy. We view the trade deficit as one of the biggest challenge that lies ahead of us as a country. We have to reduce the dollar outflow and look for ways to improve dollar inflows."

Gunasekara argued that the Sri Lanka economy could be strengthened if domestic production was promoted. According to Gunasekara, the dollar outflow could only be reduced if import substitution policies were implemented.

"For example, dairy production can be promoted in various parts of the country. If we can do that, we can reduce milk powder imports, which can save a lot of foreign currency."

Vinayagamoorthy, expressing his views, pointed out that Sri Lanka had not taken measures to tackle the language barrier, which, according to him, kept the Tamil and Sinhalese communities divided.

"The leaders of the country are not ready to address the language barrier. This language barrier has raised suspicion and distrust between communities. We have not yet identified solutions to address this issue," he said.

"We are at a crossroads in deciding whether we are going down a dangerous and divisive pathway or if we are going to make a U turn. If we want to make a U turn we have to choose the right leader. Now we are on this platform to talk about the 2019 Presidential Election so as we have to think about what as youth we can contribute to this country."
Reconciliation needs
He pointed out that the Easter Sunday attack had shown that the political leadership was yet to identify real issues within the country in terms of community relations and other challenges.

"In 2009, we thought we were going to be the Wonder of Asia. But the Easter Sunday attacks showed that we have still not achieve that. This incident reminds us that we have not identified the real issues existing in Sri Lanka."

According to Vinayagamoorthy, foreign investors were afraid of investing in Sri Lanka due to the existing political culture. He suggested that a change in the education system would address such issues.

"We have to introduce all three languages as compulsory subjects for the Ordinary Level exam," he recommended.

Kariyawasam said that politicians had lost their credibility over the past few years as they were unable to deliver the promises made in their manifestos. "All major political parties have become a source of public ridicule. They are not addressing real issues. The youth have started to question policies and ask what political parties are doing to address existing issues," she said.

TNA representative Balachandran pointed out that most of the country's issues were intertwined with a failure to build a Sri Lankan identity.

"The problem in this country is that we were unable to build a Sri Lankan Identity. People thought that the war is the only thing that was holding us back from achieving development goals," he said. India has been able to develop their economy despite community divisions because they have been able to build an Indian identity, he contended. "You can talk about development but we are not sure if we are safe in this country. When the country is not safe no one will come and invest in Sri Lanka."
Changing the system
Responding to a query on what assurances could be given by the panellists that in 10 years they would be different from current top-level politicians, Rajapaksha said that for the future of young politicians to be changed the existing political culture should be transformed. He pointed out that young political leaders should take the first step today to be that change.

"We have made this system and we are the ones maintaining this political culture. Willingly or unwillingly, we are maintaining this system. Unless we are genuinely willing to break away from this system, none of us will be able to contribute productively or give anything progressive to society," he said.

"I am sure that is not the fault of Ranil or Mahinda; they would have been in this situation anyway and they are also politicians who have been driven by this system."

Jayakody pointed out that due to the prevailing electoral system and political culture, those who contest elections would have to face a number of financial challenges. He noted that people who wanted to get involved in politics were hindered by financial challenges and would either have to walk away from the contest or look for an alternative means of raising money to fund their political careers.

"The biggest problem in Sri Lanka is that people who can change the system cannot come into the system because of the cost associated with elections. In order to find money to cover that cost, we have to depend on other people who harbour various agendas.

"Therefore, when you are elected, you have to help them sometimes even though they may not say what they really want to do but we have to do that as we have to pay them back."

He pointed out that in order to prevent financial hurdles in election campaigns, a robust campaign financing law should be implemented. "We are campaigning for a campaign finance law."
Competent people
Gunasekara, responding to a query, said the JVP would support any initiatives that would ensure a better future for the country.

"We have changed and we will accept anything that is good for the country. We are still unable to find a way to address the language barrier. I think the people of this country need change."

Vinayagamoorthy argued that it was essential to encourage competent people to enter politics so that there was a steady pipeline of leaders to choose from.

"The important factor is people. Without people there can be no genuine leadership. If there are good leaders then the people will chose the right people, at the right time, for the right jobs and those people will then resolve the problems we face," he said.

Kariyawasam said certain voters expected politicians to act unethically, which they did because they felt that was the best way to earn votes.

"People have the right to elect their representatives but sometimes people expect too much from politicians. When I was a Local Government representative, I had to go through unpleasant experiences due to these experiences."

Balachandran argued that legal reforms were needed to impose a retirement age for politicians to open doors for young people to become leaders of the country.

"I think it's again in the hands of the people. There is an age limit for every profession in this country. But there is no age limit for politicians. I think the time has come for the public to demand a legal retirement age for politicians. Because they are blocking others' opportunities. If they don't want an age limit they should not get paid. Let them do it as a volunteer service," he argued.
Pix by Upul Abayasekera