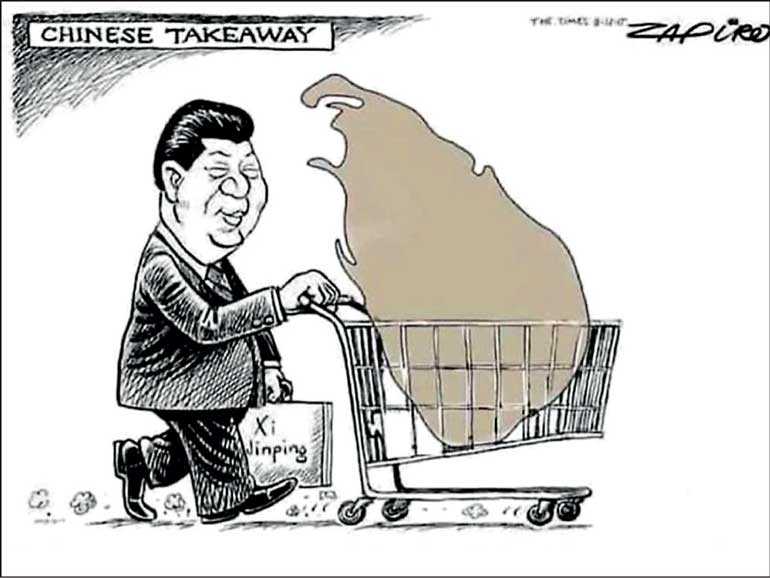 ---
By Patrick Mendis and

Dominique Reichenbach

On 13 June, Sri Lanka received another round of Chinese-made face masks and medical equipment to combat the coronavirus, providing further evidence that Sri Lanka is a major target of Beijing's foreign policy and 'donation diplomacy'.

China's continued Indo-Pacific expansion and Belt and Road Initiative (BRI) promotion, culminating in the launching the 'Health Silk Road', have caused a swell in US-China tensions. Sri Lanka, referred to as an important piece of 'real estate' by US Ambassador Alice Wells for its strategic location in the Indian Ocean along major maritime shipping routes, has been a flashpoint for these New Cold War-causing tensions over recent months.

China's amplified efforts to bolster relations with Sri Lanka have shifted the global order and left the US grasping for straws to maintain its global prestige and relationship with the island nation.
Escalating tensions and playing political favourites
Prior to 2019, Sri Lanka's administration was pro-Washington and favoured striking political deals with the United States. For example, in 2017 the pro-American Sirisena-Wickremesinghe administration happily renewed its Acquisition and Cross-Servicing Agreement (ACSA) with the United States for another 10 years. The ACSA allowed the transfer and exchange of logistics supplies, support, and refuelling services which benefited US military operations in the Indo-Pacific region.

A mere two years later, however, the pro-Beijing Gotabaya Rajapaksa administration has refused to cooperate with US initiatives, exemplifying that Sri Lanka is now actively choosing partnership with China instead of the US. Recently, the US failed to renew its Status of Forces Agreement (SOFA) with Sri Lanka, even after pledging $ 480 million in development aid via the Millennium Challenge Compact (MCC). The US and Sri Lanka spent months debating the MCC compact which promised infrastructure development projects, much like China's BRI projects within Sri Lanka's borders; however, the Colombo administration ultimately declined to sign the strings-attached MCC offer and refused to renew the SOFA.

The SOFA negotiations instigated some political tension and debate amongst Sri Lanka's political class who called the SOFA a "very serious infringement on the country's sovereignty." In the wake of these June 2019 tensions, Secretary of State Mike Pompeo cancelled a trip to Sri Lanka during his tour of the Indo-Pacific region. Though the US claimed the cancelation came due to 'scheduling conflicts', many Sri Lankans speculated that it had more to do with rising local anti-American sentiments as the US attempted to establish a new military base in Sri Lanka as part of its, now failed, SOFA agreements. In retrospect, it seems that this trip cancelation and rising local sentiments against American influence in Sri Lanka foreshadowed the decline in US-Sri Lankan partnership in favour of China.
Money makes the world go 'round
It is no wonder that Sri Lanka has shifted its alliance, as COVID-19 proved that China has the undeniable power of the purse. After the outbreak of COVID-19 in Sri Lanka, the Colombo administration sent an urgent request to the Chinese government for foreign aid to manage its current financial debts and combat the virus.

Just days later, the Chinese government responded by extending a 10-year $ 500 million concessionary loan to Sri Lanka, stating that the two countries have enjoyed a 'long history of friendship' and that the Chinese government is committed to 'continuously providing necessary assistance to the Sri Lankan government and people within our capacities for the country's economic and social development'.

In addition to the concessionary loan, China has also provided several planeloads of medical supplies to Sri Lanka, the most recent being in early June, as well as a detailed report on the measures China took to control the spread of COVID-19.

In comparison, to help Sri Lanka mitigate the pandemic crisis, the US only provided a $ 5.8 million grant, a tiny fraction of the Chinese $ 500 million commitment. Juxtaposed against China's overgenerous donation diplomacy, it appears that there is virtually no benefit for Sri Lanka to choose partnership with the US in place of China, suggesting that Beijing is successfully shifting the world order.
New partnerships
Sri Lanka became famous for exemplifying the dangers of the BRI and its 'debt trap diplomacy' tendencies when it surrendered the Hambantota port and 15,000 acres to China for 99 years in 2017, giving China a strategic foothold along major commercial shipping routes.

Despite this 'debt trap', Sri Lanka's BRI partnership with China has only continued to flourish. Days ago, Sri Lanka and China established the 'China-Sri Lanka Belt and Road Political Parties Joint Consultation Mechanism', which met for the first time on 11 June.

The meeting confirmed that the "Communist Party of China stands ready to cooperate with political parties of Sri Lanka to promote bilateral cooperation" and promised "exchanges on governance" to expand BRI cooperation and economic development. At the meeting, Sri Lankan political leaders emphasised their 'deep feelings' and gratitude towards China for its valuable epidemic prevention support and economic development initiatives.

Amidst the backdrop of COVID-19, it is clear that China has maintained an agenda of vying for international leadership to the detriment of both the US's global reputation and US-China relations. Remembering the Sun Tzu quote, "If an enemy has alliances, the problem is grave and the enemy's position strong; if he has no alliances, the problem is minor and the enemy's position weak," it seems that China has taken to weakening strategic US alliances throughout the Indo-Pacific region, most notably in Sri Lanka.


(Patrick Mendis, a former American diplomat and a military professor, is a Taiwan fellow of the Ministry of Foreign Affairs of the Republic of China and a distinguished visiting professor of global affairs at the National Chengchi University (NCCU) as well as a senior fellow of the Taiwan Center for Security Studies in Taipei. Dominique Reichenbach, an American David Boren scholar, served as a research intern and teaching assistant at NCCU. Their views expressed in this analysis do not represent the official positions of the current or past affiliation of their institutions nor the respective governments.)

(Adapted from The National Interest, a leading American journal in Washington).