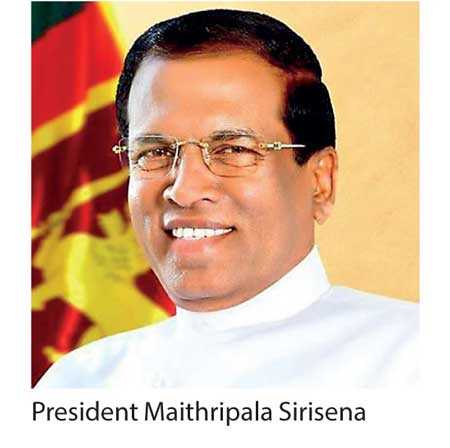 16 July 2018

President Maithripala Sirisena,

President of Sri Lanka,

Presidential Secretariat,

Janadhipathi Mawatha,

Colombo 1.

Dear Mr. President,

Issue of an Executive order to advance pending investigations involving significant economic crimes

You were a key signatory to the declaration issued following the 2016 London Anti-Corruption Summit, which recognised inter alia that:

"Corruption is at the heart of so many of the world's problems. It erodes public trust in government, undermines the rule of law, and may give rise to political and economic grievances that may, in conjunction with other factors, fuel violent extremism. Tackling corruption is vital for sustaining economic stability and growth, maintaining security of societies, protecting human rights, reducing poverty, protecting the environment for future generations and addressing serious and organised crime. No country is immune from corruption and governments need to work together and with partners from business and civil society to tackle it successfully. We need to face this challenge openly and frankly to fulfil our shared commitments under the 2030 Agenda for Sustainable Development to 'substantially reduce corruption and bribery in all their forms' and 'strengthen the recovery and return of stolen assets'."

"We see tackling corruption as a top priority, at home and abroad. We will take action to prevent corruption and to ensure it does not fester in our government institutions, businesses and communities. We will seek to uncover corruption wherever it exists, and to pursue and punish those who perpetrate, facilitate or are complicit in it."

"The corrupt should be denied the use of legitimate business channels to further illicit activity, and anyone who launders the proceeds of corruption should be brought to justice in full accordance with applicable law."

"People should be able to report alleged corruption without fear of reprisal and with confidence that credible information will be acted on. We commit to make it easier for people to report suspected acts of corruption, to protect 'whistleblowers' from discriminatory and retaliatory actions, and to promote action including by law enforcement agencies where credible information is provided.

"Those who facilitate tax evasion should be held to account."

"The corrupt should be brought to justice."

"We want to send a clear signal to the corrupt that they will face consequences internationally."

It is believed that the timely completion of some of the key investigations and associated prosecutions connected with significant suspected economic crimes, involving money laundering offenses, corruption, stolen State asset recovery, wrongful alienation of State assets, criminal breach of trust, and revenue offenses; and also unauthorised currency movements/smuggling and drug trafficking, etc. are challenged by administrative bottlenecks associated with due process and agreed procedures and delayed by the lack of effective coordination and networking amongst law enforcement agencies.

A majority of the challenges and bottlenecks referred to above can successfully be overcome, by an Executive order issued by you in terms of the Constitution and duly endorsed by the Cabinet, directing all heads of functions engaged in law enforcement (within the Attorney General's Department, the Auditor General's Department, the Police, the Revenue Services, Independent Regulatory Agencies, Bribery and Corruption Commission and Financial Intelligence Unit, etc., subject of course to any limitations imposed by the specific enactments binding them to the contrary), that in the progressing of the investigations and prosecutions of serious economic crimes, described in the foregoing paragraph, that the said Heads of functions:

1.Cooperate, assist , facilitate, co-ordinate and support each other, by joint and collective initiatives, working in tandem and in network partnerships and with mutual cooperation;

2.exchange information, data, intelligence and evidence as available, which are believed to be of value and mutual advantage to other agencies progressing investigations;

3.Subject to recognition of any specific restrictions placed, share the information, intelligence, leads and evidential support material made available by international intelligence agencies, overseas investigators, international law enforcement agencies, under mutual assistance and co-operation facilitation, of mutual advantage value to other agencies ;

4.Begin investigations on own volition, even without a formal complaint or a formal direction,

a.where intelligence agencies, overseas investigators, international law enforcement agencies provided data, information, intelligence and evidence provide pointers and leads to suspicion that significant economic crimes, possession of proceeds of crime, stolen state assets or attempts at laundering of proceeds of crime are evident

b.where in the course of an ongoing investigation there arises pointers and leads to suspect that significant other economic crimes and possession of proceeds of crime, stolen state assets or attempts at laundering of proceeds of crime are evident

c.where local or international media reports or other exposes (e.g. Panama Papers), evidence lead at Commissions of Inquiry, disclosures in Audit or Other Professional Report/Findings or judicial pronouncements, lead to suspect that significant economic crimes and possession or laundering of proceeds of crime are likely

5.Where in the course of an investigation or inquiry including those referred to or arising from 1-4 above, it is evident that serious economic crimes linked to

a.Tax, Customs Duty or excise evasion

b.Transfer pricing

c.Illegal and unauthorised dealings in foreign currency, currency manipulations or smuggling of currency

d.Illegal and unauthorised trading in securities, stocks and debentures, etc.

e.Illegal and unauthorised dealings in gems, jewellery and precious metals or smuggling

f.Illegal and unauthorised dealings in narcotics, dangerous drugs

The relevant agencies to cooperate and network and investigate collectively in partnership with the associated Revenue Services, Regulatory Authorities or agencies in successfully realising the investigation goals and completing prosecution processes successfully

6.Where a law enforcement agency which has recorded a complaint or have received valuable information or evidence but believes that it is more appropriate, due to similar investigations being progressed by another agency or where another agency has better capacity to more efficiently and effectively deal with the ongoing inquiry, the agencies handling investigations be empowered to transfer such investigations to the more appropriate agency with better capacity to progress inquiry or progress such investigation jointly with such other agency

7.All agencies collectively maintaining centrally, a secure access controlled data base of intelligence, information, beneficial interests and assets declarations, case management and registry records and provide respective agency accessible ICT and software systems and services to facilitate investigations, co-ordination, oversight and follow-up.

It is believed that many of the key challenges referred to above can be overcome with the implementation of the above recommendation and thus enable the Government led by you, to deliver the Anti-Corruption Summit commitments and effective good governance, rule of law and justice.

Yours Sincerely,

Chandra Jayaratne
Cc

Prime Minister, Attorney General, Secretary to the President, Minister of Finance, Inspector General of Police, Chairman and Secretary START, Minister of Law and Order, Heads of Law Enforcement Agencies, Heads of Regulatory Agencies, Minister of Justice, Heads of Revenue Services, Media – For Public Communications.