---
By Sanjeeva Abeygoonewardena
---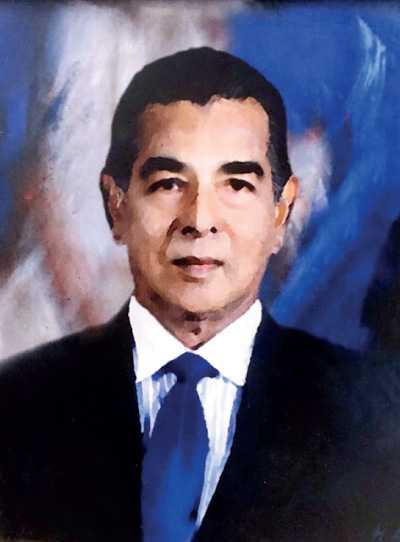 Growing up with someone in a police uniform is not entirely a novel concept, but living with a conscientious police officer who was committed to his duties was something we were fortunate to witness. It had a profound influence on our lives.

Traffic and security were buzz words within the walls of our home. First, it was security where our lives revolved around the movements of VVIPs. We were privileged to have some kind of proximity to the likes of President J.R. Jayawardena, President Premadasa, Ministers Lalith Athulathmudali, Gamini Dissanayake, Prime Minister Rajiv Gandhi and occasionally even members of the British royal family, through our father.

We often discussed about such personalities over meals or during our trips as a family. Out of all these encounters, my father considered being acquainted with Pope John Paul II, President Ronald Reagan and Her Majesty Queen Elizabeth II as very precious moments. Meeting with the Japanese emperor brought him close to Jaica, which in turn eventually led him to a career with them post-retirement from police services.

However one of the proudest moments he shared was how he dealt with the Scotland Yard inquiry into the bomb explosion in 1987. He proudly narrated his experience to us, citing his contribution to the inquiry. He also reverted to his fervent work in traffic admin and road safety not long after.

Traffic was ingrained into our DNA during our teen years because my father excelled in this sphere which he adored. He was a vigorous, professional enforcer of traffic and his work extended to discussions and decisions with the Road Development Authority, the Urban Development Authority and the University of Moratuwa. His extensive training in this field took him to the United Kingdom, Sweden, Thailand, Japan and India on extensive training programs and workshops on numerous occasions.

His passion to share his wisdom and knowledge amongst his peers and juniors was sincere and open. I vividly recall him telling me that he loved to teach to learners and offenders of traffic. One striking quote in his office desk read "Law is no respecter of a person", a reminder that we need to be mindful of being persistent if we are to enforce what is right.

He lived by every word he preached as a police enforcer. When I was in my late teens, I used to answer most of his calls from the control room of City traffic, which were serious matters he had to be informed of, irrespective of time. As the landline was right next to my room, I had to answer these calls and wake him up each night or during odd hours of the morning. Some of these calls took almost 30 minutes for resolving matters depending on how grave the predicament. Observing his commitment to resolve certain matters at that time of day certainly inspired me later on in life, although at that very moment I was baffled by why he went the extra mile rather than attending to them the next day.

One of the proudest moments in his illustrious traffic career, which he often spoke about, was his involvement in making traffic arrangements for the non-aligned summit in 1976, where precision and timing to move motorcades of over 75 heads of state was carried out to perfection. He again excelled with the Pope's visit in 1995. Other significant initiatives were the traffic warden programs in schools and introducing white belts, caps and gloves for all traffic police officers. They became the standard uniform for traffic cops thereafter.

No less a person than retired senior DIG Merril Gunaratne, in his recent book 'Perils of a profession', said of my father Camillus, "He was probably the best traffic enforcer in the country at the time." What he meant was that the country missed the opportunity to use his services sorely.

If I learned something about being a public servant, it was about being of service, whilst expecting nothing in return. He would share case studies or examples of good public service which eventually showed that we need to work in the best interest of every person. Efficiency, effectiveness and selflessness were his guiding recipe in getting a job done, whilst a bonus was to earn a friend or two in the process.

He was used as an advertisement to attract talent to the police service, given his smartness, vigour, his charming personality and good looks.

And yes, I am at most times reminded – that I can't hold a candle to him where his persona is concerned although I resembled him in some ways.

He was regarded as a teacher, a stickler for enforcing the law and upholding them at all times. Compromise was not in his work ethic. He was proud about his ability to serve the Police at all occasions and he did carry himself with a sense of conviction and pride, be it with or without his uniform.

As highlighted and described by SDIG, Merill Guneratne in his dedication to my father, "Camillus and those of his ilk were upright, proud, honest and honourable men who eschewed material assets, exuberance, excesses, abuse and double standards. Camillus had deep respect at all times for standards, justice, the rule of law, fair play and discipline. In his own persuasive style, he often held his ground when having to disagree with his superiors or the establishment, on professional matters.

The police service as a career has much to offer by way of temptations which are not consonant with ethics and values expected of the profession. At no point of time in his illustrious career did Camillus succumb to them. He joined the service with modest means, and left the same way. Nor was he selfish to the point of acquiring benefits, though being in the proximate presence of powerful patrons he served during his time."

Even while ailing, he made it a point to call his junior OIC's and lecture them if he observed any wrong doing or lethargy by any traffic policemen on duty. I recall him making me drive to Bambalapitiya Police station to support a relative who was fined for drinking after a glass of wine.

He pointed out to the police, the practice in the world which allows a tolerance limit for drinking and driving, an aspect neglected by traffic enforcers today simply because of their obsession with accumulating traffic detections.

We, as kids were brought up by our father to obey the rule of law and if we violated them, we were equally responsible to be punished like in the case of all public offenders.

He was despite his modest means, a very proud person in his faith, although I had never heard him recite prayers in public. He made it a point to always thank the good lord for all his good deeds. Apart from his affiliation to the police service, he did yeomen service to many other associations. The OBU of St. Peter's College was one where he devoted much of his time where he served as a past president and Parent Teacher Association president. He took particular interest in supporting college rugby by introducing professional coaches and in ushering sponsors that formed a support structure towards the betterment of the game, which both myself and my brother were fortunate to participate and excel in.

In addition to this, he served as the president of the NCC, which was at one time his home away from home and where he would take pride in his commitment to serve a great cricketing club to ensure that it became a formidable organisation. He was also very proud of his tenure with Sri Lanka cricket whilst the most talked about moment was his ability to organise the T20 tournament in Sri Lanka where he was tasked to head security arrangements.

The other associations he was able to contribute were, Retired Senior Police Officers Association, International Police Association, JAICA Alumni and the Joseph Vaas Trust.

Overall, he was a great coordinator, a leader and administrator. Every association he touched virtually turned to gold.

He would often narrate how he joined the police service as the first in his batch, despite many others being elite sportsmen. In all humility he would recall that he had no profound accomplishments. Despite being so, he worked hard to earn a reputation for himself by devoting his time to building relationships whilst also ensuring that any task conferred upon him was well executed. He was always careful with the choice of words he used, ever conscious of the need for courtesy and politeness.

Something I would never forget is how he confided in me during his last moments, holding my hand tight and saying, "God has been kind towards him." When I met with an atrocious accident back in 1995 while being on the pillion of a motorcycle at 2 a.m. on 14 February, he believed that it was God who ensured a miracle that helped me escape even without a broken limb.

My father lived a full life. He adored his family, his work, and his unflinching commitment to honour, honesty and pristine standards in whatever he did in the course of his trek through life. He taught us that we should uphold such virtues in all our trials and tribulations through life, resisting the temptation to succumb to greed and selfishness. We are grateful to him for showing us the way to live; the way his faith and his alma mater taught him. We are in his debt, for this unique inheritance.

I would like to conclude this eulogy by paying tribute to our alma mater, St. Peter's College, a school which produced many outstanding personalities who went on to join the police force in the 1950s. It is to the credit of the school which nurtured them that these stalwarts held not only the school, but also the police flag high.

On this note, let me share the second most striking quote from his office, that had a lasting impression on me; 'Be nice to people on your way up, because you are bound to meet them on your way down', a proverb which he lived by, until his last breath.