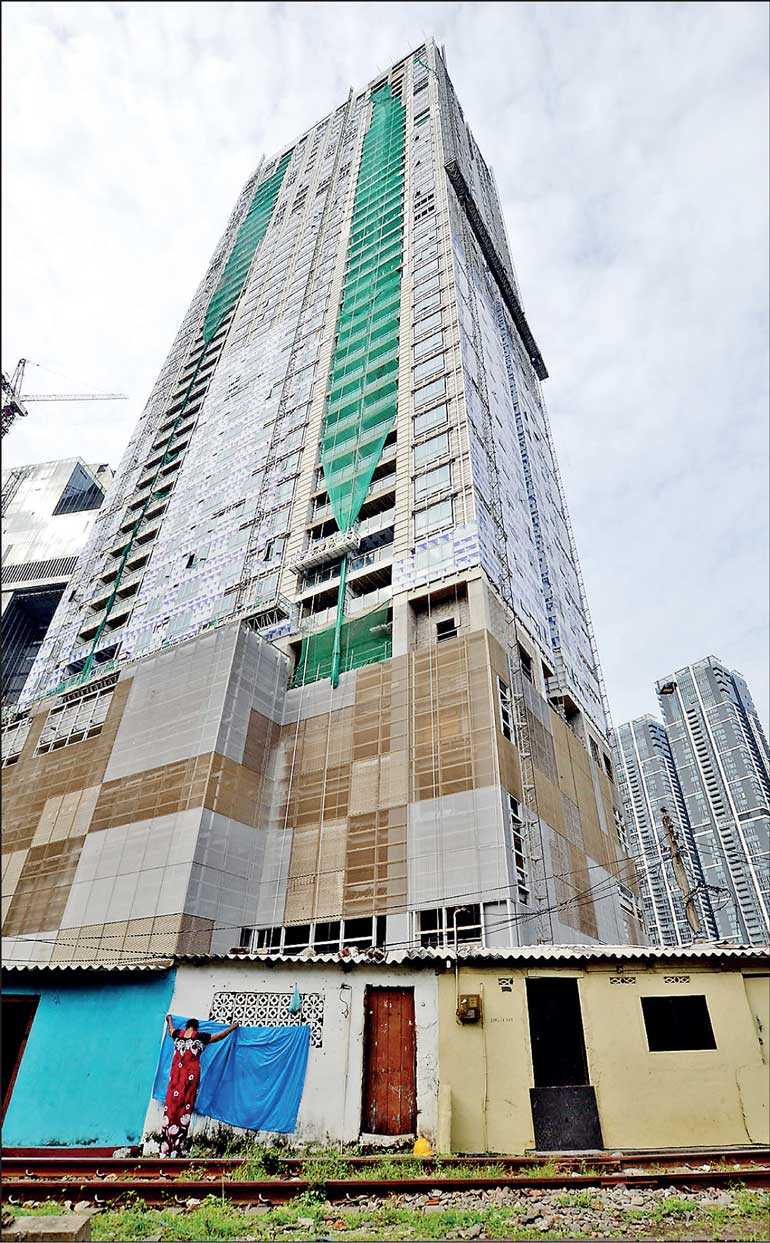 In Sri Lanka, development has historically failed to be rights based and instead has been erroneously understood as massive infrastructure development, which has not benefitted large sections of the population – Pic by Shehan Gunasekara
---
As we mark the 30th anniversary of the UN Human Development Report, the planet is faced with grave challenges to human security and development. At the core of this lies an undeniable fact- development policies which disregarded human rights and the impact of environmental destruction and exploitative practices on human beings, are the cause of the crisis humanity now faces.

In Sri Lanka, development has historically failed to be rights based and instead has been erroneously understood as massive infrastructure development, which has not benefitted large sections of the population.

The corporate sector, working with the acquiescence or approval of the State, has largely been a proponent of a development approach that disregards human rights. This approach has resulted in environmental degradation and displacement of communities, which in turn has affected food, water and livelihood security, particularly of those that were experiencing poverty, historical marginalisation or are conflict-affected, and have been placed on the margins of emerging development initiatives.

It is good to recall that many of the gains that Sri Lanka has historically achieved in human development have been due to sustained struggles of the progressive forces that prioritised universal health coverage and free education.

As the UN Declaration on the Right to Development states, "The right to development is an inalienable human right by virtue of which every human person and all peoples are entitled to participate in, contribute to, and enjoy economic, social, cultural and political development, in which all human rights and fundamental freedoms can be fully realised."

This is reiterated in Sustainable Development Goal 16 which states that 'Conflict, insecurity, weak institutions and limited access to justice remain a great threat to sustainable development'. This means that development and economic prosperity have to contribute to increased peace, human security and justice.

To the contrary, in Sri Lanka, economic policies and development schemes implemented by consecutive governments have contributed to the conflict and exacerbated existing inter-community tensions. As a result, Sri Lankans had to endure prolonged violence and brutal wars and paid the price in lives and arrested development.

Development initiatives have also often been used by governments to deny demands to address the root causes of and genuine grievances related to the ethnic conflict. A development discourse devoid of a rights base de-politicises and de-historicises discrimination and injustice.

Any development initiative that fails to acknowledge the role of structural injustice in perpetuating poverty, in a context where there is no substantive reform to address disparity of power, will serve to only widen existing inequalities.

A notable example is the allocation for health in the 2021 Budget was reduced from previous years despite the pandemic, which illustrates that human security and development is yet to become a top priority for the Government.

Further, the growing role of the military and curtailing of civil and political rights of populations adversely impacts socio-economic rights and ability of people to contribute to development processes and hold the government, i.e. the primary duty holder, accountable for ensuring that development processes are equitable and do not undermine other rights.

In this context, the international donor community must consider whether and how the stated aims of their programmes could be achieved in an environment in which civic rights are being curtailed and the activities of civic activists and civil society organisations are being subject to extra-legal and repressive restrictions.

The UN Declaration on the Right to Development and Sustainable Development Goal 16 must be the foundation upon which development funders and agencies base their work. Failing to do so will contribute to a development approach dominated by the corporate sector that excludes and will be detrimental to many poor, vulnerable and marginalised communities.

Civil society in Sri Lanka should be viewed by the Government of Sri Lanka, the United Nations and donor community as a stakeholder, partner and important contributor to development. In particular, this ethos and spirit must be reflected in both the statements and actions of the United Nations Development Programme (UNDP) the UN system's development agency, which is duty bound to assist countries achieve the Sustainable Development Goals. Ensuring rights-oriented perspectives and local voices are placed at centre of any discussions is a necessary step in this regard.

We were disappointed to note that per the initial invitations for the public launch of the Human Development Report on its 30th anniversary in Sri Lanka, all local speakers were from the corporate sector, with only one woman and no one from ethnic minorities. However, we are pleased to note that after some critical feedback civil society has been included in the panel making it more inclusive, though it still appears to be dominated by the corporate sector.

As the lead UN agency for development, we call upon UNDP in Sri Lanka to champion the rights-based development approach. We reiterate that it is imperative that UNDP's programming encourages and enables the implementation of a development approach that is inclusive of key stakeholders and takes into account the diverse and plural nature of Sri Lankan society. In order to achieve this, it is critical that UNDP's programming is cognisant of the historical impact of development policies and programmes as drivers of conflict and its impact on the environment.

At this critical moment, we call upon the Government of Sri Lanka to ensure development plans are rights based and consultative with all communities. We also call upon UN agencies to ensure their words and actions are in line with the Rights Up Front Action Plan, and to support efforts to adopt a human rights-based approach to development in Sri Lanka. The failure to do so will exacerbate challenges faced by those promoting more participatory and rights-based development in a repressive environment.


Individuals
Nida Admani
Sarah Arumugam, Attorney-at-Law
Ashila Dandeniya
Marisa De Silva
S.C.C. Elankovan
Sarala Emmanuel, Feminist Researcher
Sr. Deepa Fernando
Ranjan Fernando
Rita Fernando
Ruki Fernando
Anne-Marie Fonseka
Dr. Mario Gomez
B. Gowthaman
Radika Gunaratne
Deekshya Illangasinghe
Dr. Sakuntala Kadirgamar
R. C. Pradeep Kumar
K. Lavakusarasa
Kurushanthan Mahaluxmy
Melani Manel Perera
Sriyanthi Perera
Sanjula Piertez, Attorney-at-Law
Theresa Rajapaksha
K. Ranawana
Lasantha Ruhunage
Dr. Paikiasothy Saravanamuttu
Shreen Saroor
Ambika Satkunanathan
Revd.S.D.P.Selvan
Joanne Senn
Shivanthi Silva
Vanie Simon
Visakha Tillekeratne, Independent Activist
Sandun Tudugala
Ralston Weinman
Dr Tush Wickramanayaka
Godfrey Yogarajah


Organisations
Aham Humanitarian Resource Centre
Centre for Policy Alternatives
Centre for Society and Religion
Eastern Social Development Organization
Human Elevation Organization (HEO)
Institute of Social Development
International Centre for Ethnic Studies
Islamic Women's Association for Research and Empowerment (IWARE)
Law & Society Trust
Mannar Social and Economic Development Organisation
Mannar Women's Development Federation
Movement for Plantation Peoples' Land Rights (MPPLR)
Muslim Women's Development Trust
Nelumyaya Foundation
Social Institute for Development of Plantation Sector (SIDPS)
Sri Lanka Working Journalists Association
Upcountry Civil Society Collective (UCSC)
Women's Action Network