By Patrick De Silva

Budget 2019 presented a mixed bag to Sri Lankans, but largely good. The drawback, once again, is the lack of courage to introduce and implement bold, ground-breaking and decisive economic legislature targeting long-term growth. But in face of farcical political turmoil and impending elections in a typical Sri Lankan voter environment, the island's Finance Ministers are constantly hard-pressed balancing welfare with prudency.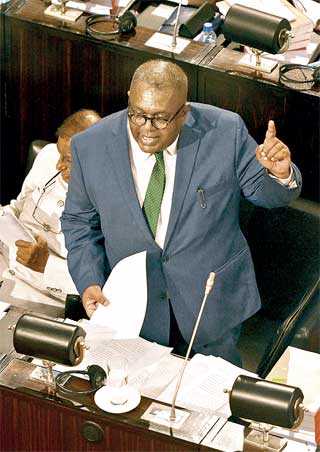 Finance Minister Mangala Samaraweera speaks during 2019 Budget presentation in Parliament on 5 March
As detailed in the myriad of post-budget forums, the 2019 fiscal policy plan focuses on addressing four key growth constraints, namely; lack of skills and education, enhancing agricultural productivity, improving women's participation in the labour force and development finance for SMEs. It is refreshing that the Government is seeking active participation from the private sector to address almost all these aspects, with the 'engine of growth' called upon to initiate training programs to foster the necessary skills and resources for industries, which would then be supported with Government interventions. The private sector has also been engaged to provide better linkages to farmers or agricultural communities to infuse improved crop planning procedure and provide a marketplace for produce.

Successive government budgets have paid lip service for greater power to and collaboration with the private sector with little or no results to show. Almost every developed market showcases effective public-private partnership in key sectors such as health, transportation, sanitation and even communication – with the UK and Singapore standing out. The Government must move to strengthen these sectors and forge collaborations with dynamic but stringent rules. It is essential to strike an effective balance, so that we curb the emergence of a disparaging culture such as our private buses and three-wheelers that run riot at every corner. Private sector participation is paramount, but it must be measured.

Also, the Government must move to keep a tighter lid on its own fold to safeguard the revenue it aims to earn through the budget. For instance, the treasury hopes to rake in up to Rs. 370 billion with the excise increase on alcohol, cigarettes and other identified goods. Accordingly, the price of a regular cigarette has gone up by Rs. 10 to over Rs. 65, which is unprecedented. My gardener who usually smokes five fags a day says he has now reduced it to three because of price pressure. The Government earned over Rs. 110 billion from the tobacco industry last year, and it must be careful that it does not slay a goose that lays a golden egg.

Furthermore, it needs to come down hard on errant institutions that impede its revenue and governance expectations. Just over a week ago, The Sunday Times reported that the Vavuniya Pradeshiya Sabha had banned the sale of cigarettes in that area from this month. The implementation of a similar proposal in another Pradeshiya Sabha again in Vavuniya (confusing as it is) in October last year had resulted in an 80% drop in cigarette sales in the area according to Health Inspectors. A number of questions arise from this matter, primary being do the Pradeshiya Sabhas have authority to conjure up and implement regulations over and above what is mandated by the Central Government? Don't such actions hamper the revenue target set out by the Central Government, and should not the Government act swiftly to prevent the occurrence of such unsolicited acts by institutions under its own purview? Surely no institution or individual of any office can halt the sale of any lawful product or service. Pradeshiya Sabhas are overcrowded, coarse, chaotic and wasteful institutions that serve no purpose and drain public funds. Do away with them!

The Government states that female labour force participation is low as 30%, but this could be misrepresented due to the lack of coverage on the informal sector. The Daily FT recently quoted a report which stated that over 8,000 families island wide, primarily women, were engaged in the beedi industry rolling up to 1,000 sticks to earn Rs. 800 a day – this amounts to over Rs. 6.4 million daily. This is a significant number; possibly higher, and unaccounted as they do not figure in any formal process of record keeping. The Government must enhance mechanisms to regulate and control such informal sectors, spanning from tourism, manufacturing to agriculture. Whilst instances such as above could factor in the recorded low participation of women in the workforce, the Government's measures to enhance child and day care facilities, share maternity costs and consider flexible working hours for women must be lauded to help improve efficiency.

The Finance Ministry says that it has disbursed over Rs. 60 million in loans under the 'Enterprise Sri Lanka' program since last year, to give wing to small and medium businesses. A great deal of emphasis was also laid on the program this year which will provide great impetus to entrepreneurship and enriching life. However, it would be prudent to combine these facilities to an independent monitoring and consultancy program to ensure that these funds are invested in a systematic and productive fashion.

Local financial institutions have for long lamented the consumption habits of Sri Lankans, and for too long have we allowed development finance to be squandered on personal vanity. In the same vein, it is prudent to restrict the import of vehicles to the country for the purpose of balancing our foreign currency outflows, in addition to controlling traffic and wastage. Further restrictions are plausible.

Though this will no doubt serve as unpopular opinion, a practical analysis would easily demonstrate the balance of payments crisis exacerbated by vehicle imports. Despite the limits imposed on the issuance of Government Permits to civil servants to control this crisis, reports indicate that this could be reversed as a form of political carrots. We can only hope that prudence will prevail over politics – though this has seldom been the practice.
(The writer is an attorney-at-law and serves as a regulatory affairs consultant to leading agronomic institutions in Sri Lanka and Australia with over three decades of experience. He can be reached at [email protected])