By Palitha de Silva

Though I do not agree with Sarath De Alwis most of the time, his article in the Daily FT highlights the tragedy of Ranil's style of governance. I hope with all the bashing he got and getting from the public at least at 68 years of age, the man has finally learnt a lesson. He cannot play with the lives of Sri Lankan people.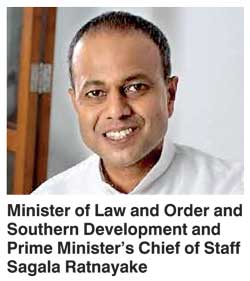 The President is the Head of State; if a brat like Sagala Ratnayake – a virtual non-entity to politics with no political heritage other than his closeness to Ranil Wickremesinghe – can shun the Head of State, it shows the poor quality of these two people.

Sagala Ratnayake is still relatively young and putting his entire political career on Ranil Wickremesinghe is foolish and stupid. Sagala is no fool; when Ranil Wickremesinghe was challenged by Karu Jayasuriya and Sajith Premadasa, he flirted secretly with them. He was on the side of leadership change.

After President Sirisena became the common candidate Sagala Ratnayake was not seen or heard until the Sobitha Thera led coalition came into power. He immediately became Ranil Wickremesinghe's champion. Given that, it is very difficult to understand his mindset.

Ranil Wickremesinghe cannot win only on the minority votes, he needs at least 45% of the 70% of the Sinhala voters. After the bond debacle and the impasse with the failed constitution, it will never be easy to get even 40%. So he needs a large coalition. If he thinks he can do a deal with Rajapaksa, he will only have himself to blame; if he cannot work with a mild-mannered man like Sirisena, how can he work with a Rajapaksa who has tasted absolute power and is a political animal?

The majority of the young people, 26% of the voting base, don't care if Ranil Wickremesinghe went to Royal or his uncle was President or that Sagala and Ranil are friends. They want action and results. Ranil Wickremesinghe was reborn because of the President.

Sagala Ratnayake would have been sweeping his garden in Deniyaya if not for Sirisena. So it will be good for Sagala to take stock of the situation and do what is good for the country and understand that the police is not his private property. Moreover, politics can play dirty games and overturn a political future overnight.