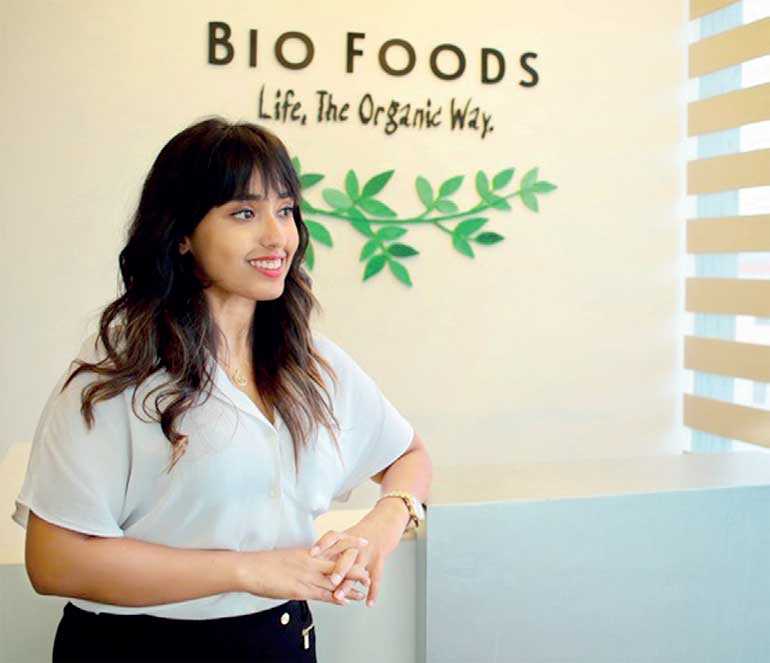 Chief Marketing Officer Madusha Ranaweera
---
Bio Foods Ltd., during its 26 years of operation, has set new trends for the local agriculture industry, starting out as a completely organic and fair trade business. Today, the company is one of the world leaders in bio dynamic, organic and fair-trade agriculture. The Chief Marketing Officer Madusha Ranaweera says improved employee engagement across the board and supportive polices have contributed immensely in taking the company to new heights. In the following exclusive interview, Ranaweera speaks about gender inequality in Sri Lanka, female representation in the company's workforce, International Women's Day and more. Following are excerpts:
By Ishan Sheriffdeen

Q: Tell us about the beginnings of your company?

Bio Foods Ltd. was founded in 1993 by my father, Dr. Sarath Ranaweera, who is the Chairman of the company. We started with producing tea, and now we are also into spices, herbs and coconuts. We were the world's first certified organic, bio dynamic and fair trade spice exporter.


Q: What are your specific tasks and responsibilities in the company?

Currently I am responsible for the export operations, but specially the marketing side of things, including branding. I'm also the chief designer for the company, and provide HR consultation.


Q: What are the areas you enjoy most at Bio Foods?

I mostly enjoy the designing aspect (e.g. package design), company policy making (using only biodegradable packing material, gender equality policy making), etc.


Q: Who is your biggest influence?

There are many; my dad, mom, husband and sister. These people are heroes in different aspects of my life.


Q: Why was a female selected as Bio Food's brand ambassador?

We had a long and arduous search to find a person who genuinely understands what our company was trying to do. Otara genuinely understood our company's concept. She is a strong, independent woman; an eco-warrior, a person who practices what she preaches, very health-conscious and spreads awareness. She is a perfect fit.


Q: What are the special attributes of working women?

Women are better in emotional intelligence. It's not because men are stupid. It's because men are taught from childhood not to exhibit or investigate many emotions. In a workplace, it is easier to manage conflicts, and create a harmonious atmosphere when there are more women. They are usually also more determined – maybe because they unconsciously feel the need to prove themselves.


Q: How much emphasis does your company give on employing females?

We have a very strong female presence in our labour force: Over 60% are women. There was no gender-based discrimination as to who could do the work, from the very beginning.


Q: What do you think are the main challenges of working women in Sri Lanka?

There is a gender-based stereotype that women are supposed to do certain things (e.g., raise a family), and not good at doing certain things (e.g., lead negotiations), and this might have reduced their significance in the workforce.

Our company is working on changing that perspective by supporting the women through leadership training programs to make them understand that they can aim higher.

Currently, increasing rates of female employment alone has brought interesting challenges concerning how both men and women alter their traditional, stereotyped roles are. This situation is common where both the husband and wife are employed. Sometimes women might feel guilty for doing a job, leaving kids at home, and this might hold them back from doing a job. But we are in a climate of positive change. At Bio Foods, we are trying to help both men and women re-evaluate how they think about their potential and how they treat each other based on gender.


Q: To what extent is gender inequality visible in Sri Lanka?

It's very visible. Besides the insecurity prevalent when walking in the streets or travelling in public transport, women also face intra-family violence, fewer employment opportunities, earn lower salaries, etc., the list goes on. Inequality is not just visible in actions, it is also visible in attitude. For instance, the stereotypes about female drivers, their ability to work together, their temperaments, ability to do STEM subjects – women are often thought of in a negative light, even though there is no scientific basis for any of this.


Q: What's your view on women's representation in Government and in other key institutions such as the judiciary in Sri Lanka at present?

There is clearly under representation. I don't know if it's even considered an issue. I don't think a senior set of privileged males are the best at grasping the nuances of the problems that an average woman might face in comparison to a man.


Q: What should be done to correct this situation?

I think this is a question with a multifaceted answer. When people get more educated and more exposed to other parts of the world (e.g., social media and internet), they learn how to identify and better address problems. I think this is why the younger generations are calling for change. Occasions like International Women's Day are helpful as landmarks perhaps, to show each other what we have accomplished in this field already, and what needs to be done. Markers are important to keep track of what we do.


Q: If you had the power to make a decision tomorrow that would contribute to greater gender equality in Sri Lanka, what would it be?

I would probably do what Iceland is currently doing. They are basically teaching empathy to kids from preschool. If you teach empathy, respect comes naturally. Men and women both need to have a better understanding of what each other face. It can foster equal consideration, and I think that's the core of gender equality.


Q: Do you think it's important to have International Women's Day?

Yes. Some people say every day should be/is women's day. But the reality is, we don't spend 364 days of the year thinking about women or their challenges, etc. It's good to have a day dedicated to be mindful of what is going on in the goings-on of over half of the world's population.


Q: Any programs lined-up by your company to mark this special day?

Yes. It will be more like a Women's Week within the company. We will be bringing our female staff down to a country club like setup and create an environment that will basically be only about them. All the women will be organised into support groups, so that they can discuss issues at the workplace, things that needs change. There will also be a leadership training campaign, time to relax and have fun. We also have some programs planned for the men as well, because so much of empowering women is by producing better men.

This will be followed by a whole week of visiting each and every factory location by myself and the HR team, to meet the women working there and let them know they are supported, and educate them about their rights.


Q: What message would you like to leave on International Women's Day?

Both men and women should come together as a society to empower a group that historically has been suppressed. Respect, and empathy between men and women are crucial in this endeavour, and I think is the key to a happier, safer society in general.