Following are excerpts of a presentation made by Minister of State for Foreign Affairs – Bangladesh Md. Shahriar Alam at the 4th Indian Ocean Conference in Malé on 4 September
For ages, Bangladesh has been a maritime nation. With around 700 long coastlines, traversed by over 200 rivers and 29 coastal islands and an even gradient to the coastal shelf, Bangladesh people have dynamic engagements with blue waters.

With contemporary focus on the blue sphere, Bangladesh is engaging in an open-ended manner in articulating an objective narrative on blue economy. Indeed, focussing on the Bay of Bengal, to begin with. So, how to distinguish Bangladesh's broad approach to the Indian Ocean?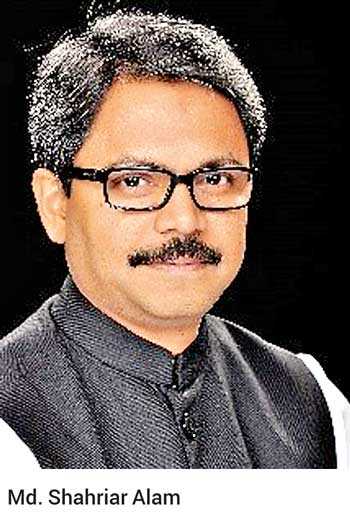 As a fast-growing economy, Bangladesh foremost believes in stabilising the Indian Ocean in entirety, not merely in terms of securitisation. Viewing the ocean as a space of strategic competition may not essentially bring about crucial amity and stability in the Indian Ocean countries. Given all the diversity that exist across the littorals, getting peace – harmony – stability – pluralism right across our societies and communities has to be the august enterprise, individually as well as collectively. It ought to be about affirming our belief and consolidating the civilisational chords centring the Indian Ocean and the adjoining seas and bays.

For centuries, our ocean has been nourishing economic, social and cultural connects between and among two billion people around this vast oceanic space. Within the vast blue-sphere, the smaller seas and bays bear distinct identity and features. This distinction needs careful appreciation. As Indian Oceanic routes become busier, slightest political – social – cultural turbulence in one littoral State may create disruptions transcending its shores. Increasing movement of trade in goods and services only warrants much greater interactions through dynamic narratives across our peoples. Therefore, our narratives and thoughts need to be understood beyond the facts that Indian Ocean carries half of global container shipments or, one-third of the global bulk cargo traffic or, two-third of global shipments.

Bangladesh is both an Indian Ocean as also a Bay of Bengal littoral State. It's not a dual identity, rather one that complements. Within an aspirational Vision 2041 i.e. of developing Bangladesh, Prime Minister Sheikh Hasina situates blue economy as a cornerstone for accomplishing sustainable development. As all the littorals strives to grow collectively, each of the littorals ought to ensure that development and prosperity in the Indian Ocean region and the adjoining seas and bays is based on mutual trust and respect and with an appreciation of equality of interests.

Yes, it is just logical that countries will compete with each other in respective development journey, but not undermining others' growth prospect or discounting others' circumstances. No country should falter on securing these key principles. Else, attainment of collective security and sustainable development in wider India Ocean region could be at risk. This appreciation in full can help us secure 'shared prosperity' through 'shared responsibility', as our leaders unequivocally signed to in adopting the universal Agenda 2030 for Sustainable Development.

The Indian Ocean littorals constitute over 40 developing countries, sharing 40% global population. We offer a vast market, with fast emerging middle and affluent class. Ours is the region that will continue to grow fastest out of all other regions at least for the next one decade. So, it would be important for us to plough the benefits out of economic cooperation. Our rising prosperity or wealth need to reach the bottom.

In addressing some of the critical commons, over the decades, Indian Ocean has seen emergence of several creatively crafted regional and sub-regional cooperative frameworks e.g. BIMSTEC, BBIN, GMS. In some of these, discussion afoot about concluding Bilateral or Regional FTAs as well. Some of these regional/sub-regional organisations are engaged in advancing result-oriented trade creation, increasingly focussed on services. However, results have been mixed.

In many instances, in key areas like Trade – Transport – Energy connectivity, countries are yet to materialise low-hanging fruits or, roll out cross-border projects. With modest share successes in our part of the world, Bangladesh believes that the Indian Ocean region ought to creatively engage in regional economic cooperation and integration. We can benefit engaging on practical, collaborative initiatives in agriculture, education, health, hospitality, higher learning, digital technology, SMEs, for instance. Our engagements are expected to catalyse development of regional or sub-regional value chains as well.

In dealing with many of the challenges or tapping opportunities, robust engagement on technology and innovation hold promise. In countries like India, courtesy creative ideation and Fourth Industrial Revolution (4IR) knowledge – applications, individuals are solving many endemic problems for communities. In dealing with climate change impacts, for instance, Bangladesh Prime Minister Sheikh Hasina has been vigorously asking for collaboration sharing life-saving technologies (e.g. in agriculture, health, water) than financing. Moving beyond the conventional menu of cooperation, Indian Ocean community therefore has much to demonstrate on learning – technology – innovation front.

A key challenge is to unlock maritime connectivity across the Indian Ocean and all its bays and seas in every possible way. It is indeed an opportunity. Bangladesh, for instance, is vigorously pursuing Coastal Shipping Agreements with close-by littorals. We already have one with India. The one with Sri Lanka is nearing finalisation. We look forward to materialising the BIMSTEC Coastal Shipping Agreement. We foresee that criss-crossing shipping connectivity premised on business principles should unlock opportunities across Bay of Bengal for movement of goods and people, development of supply chains and create new regional political and economic dynamics. More than just connecting our ports and growth centres, it should be to contribute to the desirable narrative for the region. We all are unanimous about ensuring maritime safety and security and rule of law in blue waters. Yet, addressing an issue is often fraught with unease and lack of trust. Bangladesh, for instance, peacefully delimited maritime boundary with her neighbours i.e. India and Myanmar years back. We realised that resolving such intricate issues and consequently engaging on exploring potential in maritime resources within blue economy require wisdom and creative appreciation of issues beyond the horizon. Resolution of certain issues may often require us to look at a given issue as much as through the prism of political sovereignty as also beyond wider national interests.

There is also the need to strengthen maritime cooperative security architecture based on collective security and shared responsibility across the Indo-Pacific region. So far, we all stand up to 'zero tolerance' against terrorism and violent extremism. But, the Indian Ocean remains prone to a range of non-conventional security threats e.g. maritime piracy, armed robbery, maritime terrorism, human trafficking, trafficking of arms and narcotics. To counteract, all need to initiate appropriate national actions to combat all trans-national security challenges across the Indian Ocean, including those posed by non-state actors.

A comprehensive security architecture in Indian Ocean region calls for mutual cooperation, collaboration and seamless interaction among various public and private institutions and also on intelligence front. This should provide for political and strategic framework to effectively and comprehensively address maritime security challenges through improved cross-sectoral cooperation within and across civilian and military authorities.

Of late, the Indian Ocean region is seriously challenged by over-exploitation of her oceanic wealth. In the Bay of Bengal, for instance, there is little mapping and observation of oceanic health. Our bay is one of the most unmapped in the world while reached by one seventh of global population. Sizeable part of the bay is threatened by over-fishing. We hear of significant dumping of toxic liquid and solid wastes, plastics in the bay. That is particularly rampant beyond our EEZs.

Recently, a vast 'dead zone' as large as 60,000 square kilometres has been traced in the Bay of Bengal with little trace of life. While adverse effects of climate change in the bay is yet unmapped fully, rising ocean acidification is a reality. Not to speak of rising intensity and incidence of severe weather conditions originating in the bay. All these are certain to risk livelihoods of vast majority of our artisanal fishermen and population along the coasts.

Our actions have to go well beyond creating maritime domain awareness. As much as in the Bay of Bengal, every country has to concretely engage on all the seas and bays in the Indian Ocean to conserve our common wealth. This is so much evident when we see all kinds of climate change impacts so much evident in countries like Bangladesh, Sri Lanka or Maldives.

Time is more than ripe for every Indian Ocean littoral to act – in addressing the challenges, in consolidating our strengths, in conserving our wealth, in reaching out to the others. As modest as we may, we need to move on engaging in project-oriented co-operation. Engaging in modest menu of people-people cooperation to develop shared interests, wider networks and reap mutually beneficial results should also merit consideration. In that journey, the interests – needs – circumstances of the countries with distinct disadvantages or, lesser endowment also need to be kept in view.

The Indian Ocean Region has enough of knowledge – expertise – endowments to re-connect or, connect our peoples – communities – countries. It is time that we make the choices and engage.