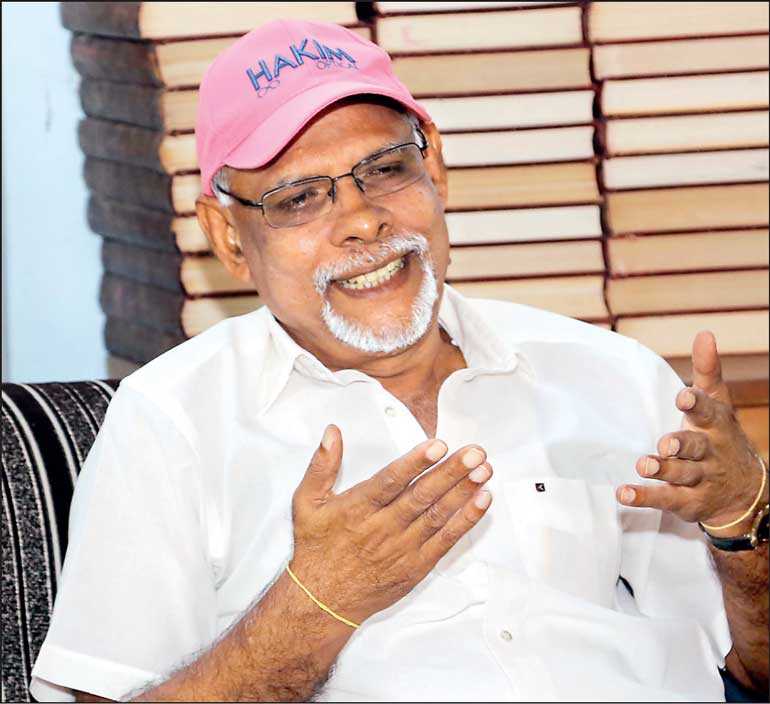 Kumaran Pathmanathan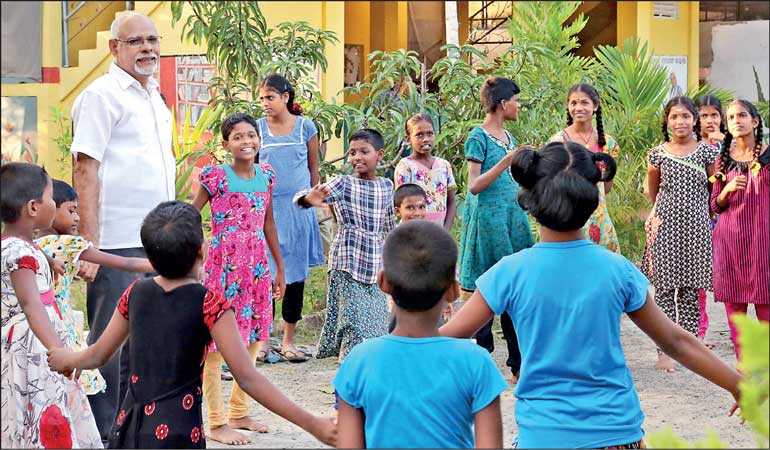 Kumaran Pathmanathan with kids at the Sencholai Orphanage in Kilinochchi
---
Says diaspora attempts to revamp LTTE futile with no people's support
Opines President Rajapaksa is 'right leader with a vision for the country'
Notes post-war progress came to a standstill after the sudden political change in 2015
Invites diaspora to invest in children
Says military is treated like 'part of the family' in North; people want them to ensure their safety
---
By a Special Correspondent
---
The now-defunct LTTE's arms procurer Kumaran Pathmanathan, known as 'KP', has urged the Tamil diaspora to be cautious about raising and donating funds to disrupt normalcy in Sri Lanka or revamp the LTTE, because such causes would be futile under President Gotabaya Rajapaksa's Government.

"He has a comprehensive security structure and a vision to protect the country from any future threats, whether it is terrorism or extremism," he said, adding that the pro-LTTE diaspora was funding unemployed youth for their own survival overseas.

"If you are genuinely concerned about Tamils in the North and East, use the funds to support them instead of misguiding helpless young people to carry out minor explosions to disrupt normalcy," he stressed.

Pathmanathan, who is still under protective custody and lives in Kilinochchi looking after war-affected children, discussed the diaspora's attempts to revamp the LTTE, the current political situation in the Northern Province, the people's grievances, the need for new political leadership in the North, and the need to resolve the issue of alleged war crimes issues through domestic mechanisms, in an exclusive interview with the Daily FT.

Commenting on the present political situation in the North, he said Tamil politicians, who were still misleading Tamils, especially the youth, could not play 'Tamil Nadu politics' in Sri Lanka any more.

"I believe that outside interference into a domestic conflict is unnecessary and pointless. Like Lee Kuan Yew who built Singapore and Nelson Mandela of South Africa, Gotabaya Rajapaksa will bring a new Sri Lanka," the former LTTE weapons chief said.

Following are excerpts of the interview:
Q: Several minor attempts at disrupting normal life, allegedly carried out by pro-LTTE individuals, have been reported in the recent months. Do you suspect certain Tamil diaspora groups of being behind such incidents?
The youth or the majority of ex-LTTE cadres in the North and East do not want to get involved in these attempts, as they now want to lead peaceful lives after suffering in a useless cause throughout their lives. Some of them, due to poverty and lack of job opportunities, get trapped in such attempts fuelled by the pro-LTTE diaspora. These incidents help members of the Tamil diaspora to get their stay overseas legalised. They want to show their governments that returning to Sri Lanka is risky, because violence still occurs in the North.

But these attempts are futile, since there is no energy and also a lack of popular support for these attempts. I want to stress that the youth and other people need more job opportunities to keep them away from such attempts to misguide them. This is one major area the Government should seriously look into.

On the other hand, there is no space under President Rajapaksa for an LTTE revival, because he has designed a well-organised security structure to protect the country from any future threats.
Q: If you claim that their motive is to keep the LTTE ideology alive, what would be your message to them?
Their attempts are not fruitful. These efforts are merely aimed at their own survival in their respective countries. This is a business for them. The Tamils who still support and propagate the LTTE ideology are leading luxury lives overseas. This is not a secret.

Without disruptions in Sri Lanka, they have no chance to remain in Europe. They sell the plight of the innocent Tamils in the North and East for their survival. People living in those countries have no knowledge about ground realities in the North and East. So they are carried away emotionally to raise funds and donate their hard-earned money.

Therefore, my message to them, if they really want to see upliftment of people's lives in the North and East, would be to donate their hard-earned money through proper channels. They could also donate to support children and young people affected by the war.

In my personal capacity, I have tried to explain to some of them that the era led by Prabhakaran and Pottu Amman is no more. It is impossible to formulate another armed struggle in this country. Pursuing such an ideology is a waste of time.

I also told the Tamil diaspora that it would be more productive if they could focus their concern on helping war-affected children to have a good education, creating more employment opportunities for the youth, and to increase welfare and livelihood programs for the people of the North and East in order to support them to stand on their own feet.

Thinking of another armed struggle is futile, especially when the people do not support such a cause.




Q: Last year, Sri Lanka faced a new threat – extremism. How do you see this new threat that shattered the hard-earned peace in the country?
We do not have to worry about it. As long as President Gotabaya Rajapaksa holds office, he will ensure the country's security, and he will ensure such carnage will not happen again in the country. Extremism or terrorism, he will make sure Sri Lankans in the motherland will not be harmed. Trust in him.
Q: Why do you have such confidence in him? Is it because he saved your life?
Yes, I strongly believe in him. I have confidence that he will deliver and meet people's aspirations. I have met him from time to time, and he always talked about his desire to build our Motherland. He is the right leader for the country.

He is the right person that has been elected to the correct office. Our President Rajapaksa is a gift to our Motherland. When compared with other political leaders, he is the only leader that could develop this country, as he has a vision for the country's future and our younger generation.

Misleading notions about him are being spread by politicians who fear him. However, I urged our people not to be carried away with such accounts, as he is a leader for all communities of Sri Lanka.

We should not overlook the opportunity of standing together with him. He loves this country deeply. We should trust in him to lead us into a new era of development, which will uplift the lives of our people.
Q: Political analysts say that the North needs new political leadership. Would you agree that more youth should enter into politics?
Southern people brought a change in its political landscape by selecting different political leaders. Similarly, we expect a vast change in the North as well. For decades, Tamil people have been misled by the same group of politicians in the North. They have done nothing for the people.

I strongly believe there is a huge void for new Tamil political leadership in the North and East. It is not easy to mislead people in these regions now, because they are well-versed in political games. It is high time for our Tamil politicians to be aware that 'Tamil Nadu politics' that they still practice will no longer be successful in Sri Lanka.
Q: Over the last decade, the United Nations has continually urged for a probe into alleged war crimes in Sri Lanka. Do you believe in an international probe into these allegations?
From time to time, they try to bring the same set of allegations in different shapes, as the geopolitical landscape changes. War crimes allegations are levelled against not only Sri Lanka but also other nations, even those that were engaged in the world wars. Therefore such allegations, after a war is ended, are not a new trend.

I want to stress that Sri Lanka can solve any issue domestically. The misunderstanding and mistrust is within our own ethnic groups, and not internationally. I believe that outside interference in a domestic conflict is unnecessary and pointless.
Q: Northern politicians continuously urge the reduction of the military presence in the province. What is your comment?
The civil-military relationship is excellent in the North. The military has become a part of their families now. Only the politicians, who want issues for their political gain, ask to reduce the military in the North. However, ordinary people want the military to be there for their safety.

I also believe that the military needs to remain there for some years, until people get more jobs, new political leadership, and development.
Q: If you recall your past, where you were a member of the 1970's youth uprising...
I had the opportunity to get involved in politics in the 1970s at the early stages of the Tamil youth uprising in the Northern and Eastern Provinces. Our political leaders were very keen on mobilising youth and taking the advantage of the unrest.

Vellupillai Prabhakaran, along with Thangadurai and Kuttumani, whom the youth saw as leaders, had started violence in the North. When I first met him, I was a university student, and he introduced me to Thangadurai and Kuttumani. I started supporting them.
Q: In one of your earlier interviews you said that you had wanted to become a Police officer to serve the country?
Yes, when I was doing my Advanced Level, my ambition was to become a Police Inspector as I was very keen in athletics. I forwarded an application, but unexpectedly I changed my intention as I wanted to enter into the Government administrative sector. But eventually I ended up fleeing to India.
Q: Why did you want to join the Police?
My intention was to serve the country. The Police force is similar to the military. Actually, some of the siblings in my family were also in the military at that time, and I saw them in uniforms, which also influenced me to wear a uniform one day.
Q: Why did you change your stance?
In the North and East, the political situation at that time was very emotional, due to the unrest among the youth.
Q: What do you mean by 'emotional'?
Since Tamil politicians had motivated the youth, they were compelled to trust them. We attended their political meetings, and found they were speaking on very emotional things. They would speak and elaborate about Tamil Eelam. By motivating the youth emotionally, those Tamil politicians gradually tapped the hearts and minds of the Northern youth, and eventually motivated them to take part in the armed struggle.

It was the same era that the JVP leader Rohana Wijeweera was engaged in his struggle. As youth, we did not have the means to question the preaching by Tamil politicians. We blindly believed and trusted in them.
Q: Why did you, who wanted to serve the country, flee the country?
I went to Madurai in India with Ponnamaan and three other friends. I left India as Prabhakaran wanted me to handle his procurement and trade in India.

We conducted procurement and trade on a small scale in a house, and subsequently settled in Madras, India. Then we were informed that a few incidents had happened in Sri Lanka, and for the first time Prabhakaran had requested us to send some communication equipment through Singapore. He wanted me to meet a few Tamils and diaspora working in Singapore, and I was able to send the equipment which he wanted.

Gradually, he introduced me to all the other contact points in Europe, to expand the LTTE network. I was able to engage in LTTE's procurement for over 25 years. After 2003, I urged Prabhakaran to pursue a political solution, because the world order had drastically changed following the 9/11 attacks. I could not carry on the procurement process as we had for over two-decades.

I also felt that our supporters and members overseas were fed up with the restrictions we faced after the 9/11 attack.

In the meantime, I also observed former President Mahinda Rajapaksa's Government with the former Defence Secretary Rajapaksa was becoming popular among people. The administration was confident. Unlike previous Governments, they obstructed the LTTE's supply chains as an initial step, which was the first sign of the LTTE's downfall.
Q: Did you see that the LTTE was in a losing battle?
Yes, I felt that there was no point in continuing the LTTE's armed struggle anymore. Therefore, the LTTE needed a plan to change but failed.
Q: If your intention was to stop the battle, what was your next plan?
We should have opted for a political solution. I maintained a good rapport with late Anton Balasingham, and convinced him to pursue a political solution. But eventually I felt that they thought I had a change in my thinking, and was trying to move away from the LTTE's ideology. However, those who were around Prabhakaran started misleading him. They should have thought of the new global trend.
Q: Were you aware that the LTTE was conscripting young children to fight in the battle and what was your communication to Prabhakaran about this?
From 2003 to 2008, I maintained a very remote communication with Prabhakaran. I was not in the LTTE's military wing, but I told him not to recruit children.
Q: 11 years since the end of the war, what are your comments about the situation in the North?
Five years after ending the war, it was very positive, and the North was under a rapid development. Former President Mahinda Rajapaksa together with former Defence Secretary Rajapaksa had implemented a comprehensive rehabilitation program to reintegrate over 12,500 ex-LTTE cadres and provided over 5,000 jobs for them with many other opportunities.

But, unfortunately that progress came to a standstill with the sudden regime change, which dragged Northerners back to a difficult situation. There was no development, and many people migrated overseas to survive. Under the leadership of President Gotabaya Rajapaksa, we again foresee new opportunities and a future for a better country.
Q: Can you describe your impression about former Defence Secretary Rajapaksa, whom you met after you landed in Sri Lanka, and as the country's President now?
When I was in Malaysia, I saw him as a very tough military person. I thought he would hang me. At the airport, I thought that it was the last few minutes in my life.

When I was taken to see him, I saw a charming Buddha statue behind him. That gave me some kind of solace. Defence Secretary Rajapaksa welcomed me and shook my hand. After a one hour chat, seeing the way he welcomed me, I felt I was in safe hands.

As Sri Lanka's President, he will definitely bring significant changes to the country. For example, like Lee Kuan Yew who built Singapore and Nelson Mandela of South Africa, he will bring about a new Sri Lanka. Countries had prominent leaders from time to time who led those countries to golden eras. I strongly believe President Rajapaksa will develop the country on par with Singapore.
Q: What were your initial thoughts about the military officers who were assigned to look after your protection?
I looked at them suspiciously, as I had fears, but gradually they built a good relationship with me and treated me well. When those young officers returned from leave, they used to bring me home-made sweets. We developed mutual trust and we are now a family.
Q: How do you see the present political situation in the North?
Our Tamil politicians had a good bond with some political parties for their own benefit and survival. But people suffer continuously while Tamil politicians are misleading Tamils for their own gains. Innocent Tamils are affected badly due to severe economic constraints. Those politicians have neglected their duty and their responsibility. I do not believe that those politicians can fool and mislead people in the North for much longer because they have been exposed for their dubious stances.
Q: You have fought in an armed struggle that lasted for three decades. What do you think of the grievances of Tamils?
The Tamils in the North and East aspire to have sound economic and educational development, and opportunities for employment irrespective of ethnic differences. Poverty alleviation is their main concern while seeking more job opportunities. They have high hopes for President Rajapaksa, who has introduced a fresh political culture. With educated new politicians in the North and South, we hope people in the North and East will have more opportunities economically and educationally in the future.
Q: When you look back, would you regret your life?
Yes, I have regret. I am 64 years old and I feel I lost almost 40 years on an unworthy cause. At least now I am leading a happy life thanks to President Rajapaksa, who directed me to engage in this noble work of looking after helpless children. When we were young, we thought it was possible to change things. As young people therefore, we joined the LTTE, thinking the cause was a possible one. But as I told you, after the 9/11 attack, I wanted a political solution instead of a battle. I feel very sorry for the things that happened. Everyone is suffering now because we failed to change our stance.
Q: Some years back, you formed the Sencholai Orphanage in Kilinochchi. What is the progress of this children's home for girls now?
When I was arrested 10 years ago, the former Defence Secretary Gotabaya Rajapaksa asked me about my future plans. After the war ended in 2009, war-affected children remained in the Wanni with no security or prospects for the future. I revealed my plans to help those children and also requested his support. Then he offered me an opportunity to establish and run the children's home in Kilinochchi.

For the last eight years I have been living in Kilinochchi, looking after children. We take care of war-affected children, who come from poverty-stricken families. We ensure their security, as most of these children come from single parent families. They have lost their fathers or mothers during the war, and mostly the single parent – the mother – was unable to care for them due to poverty. The girls especially are vulnerable with a lack of security in their homes, because parents do odd jobs to survive. The parents are also worried about their education. At the moment, we have four children's homes – Sencholai Orphanage in Kilinochchi, Baraththi Children's Home in Mullaitivu, Andrew Children's Home in Mullaitivu, and Sencholai Boys Home in Kilinochchi. There are over 300 children in these four homes, where they have facilities for extracurricular activities. Some children have excelled at national level games in karate, boxing, football etc.

This initiative supported by the former Defence Secretary has been able to secure the future of over 1,000 children, who have walked out to the society as confident adults, during the last six years.

Some of them have pursued their higher education and some are employed outside Kilinochchi. I am happy to say that some are self-employed and doing well. We support these children, who have completed their higher education, until they are able to find employment.

Those who opted to work with us after completing their higher education have been given the opportunity to work in our projects related to child development. In the Sencholai home, we take care of all the needs of these children, and our main priority is to expand education opportunities for them. I have plans to start an English medium school with international education standards for them.

We need more funds in future. I am requesting interested parties – locally and abroad – to extend their support for this noble cause, without wasting their hard-earned money on futile projects like revamping the LTTE.