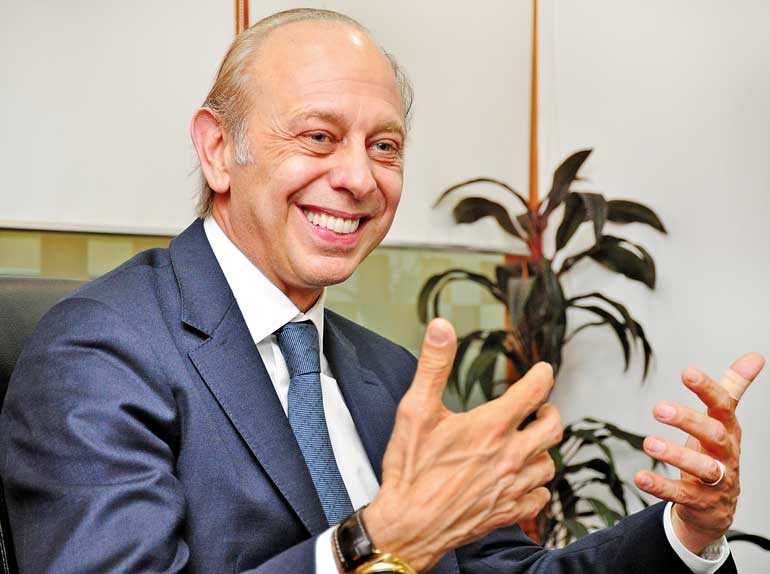 Global financial services leader Allianz's Asia Pacific Regional CEO George Sartorel recently paid a brief visit to engage with its employees to map out the way forward in creating a world-class insurance company here in Sri Lanka.

Allianz acquired a 100% stake of Janashakthi General Insurance Ltd. in February, making Allianz Insurance Lanka one of Sri Lanka's largest general insurers, with a market share of 20%.

Sartorel, who is responsible for the core growth region of Allianz Group, has a track record of successfully managing and superseding given targets. Under his leadership, Allianz has accelerated its growth strategy in Asia Pacific, while also leading the industry in embracing digital innovations to drive stronger engagement with its 18 million customers in the region.

During his short visit, Sartorel took time off to speak

to Daily FT and share insights on how the company intends to execute a smooth transition, integrate working cultures, stabilise the firm and introduce new products and services coupled with digital innovation.

Following are excerpts of the interview:
By Charumini de Silva

Q: What is the aim of your visit to Sri Lanka?

A: The purpose of my visit this time was to spend a lot of time with the staff, starting from the senior management team, all the way down. On Tuesday night (8) we had a very big event organised for 1,200 sales force members of both companies together to understand each other. The aim of the gathering was to team up the employees, make them feel equally treated and rewarded to build a new company together which is better than both companies.

Thereafter, we had a management dialogue with both senior management teams together, so that they have a chance to ask any question that they want. Therefore, the purpose was to really give access to me, as the Regional Manager, and allow them to ask all the difficult questions and raise concerns they have and also to describe to them what we are trying to achieve and why we invested in Sri Lanka.


Q: Allianz acquiring a 100% stake of Janashakthi General Insurance was the biggest-ever deal in the local insurance business. What were the key factors that drove Allianz to do so?

A: There were a couple of key factors. The first one was that we had the right management in place. Allianz Lanka performed outstandingly under the leadership of its Managing Director Surekha Alles and in fact it is our best performing company in the region — in terms of growth, market share growth, operating profit, combined ratio by far, year after year after year.

So, we have a management team; that has a track record, that can execute and that can implement. We also have a very attractive market that has a very young average age, which is growing by double digits. We are investing in growth in Asia. This is one of the reasons why we sold South Korea, and we invested in markets such as Sri Lanka, Indonesia and Thailand.

The other reason was that, Janashakthi was respected for its performance for a long time. Therefore, to be able to bring those two teams together and create a company with about 20% market share in Sri Lanka, for me was a very exciting idea. I see the opportunities and I am confident of building a world-class business here in Sri Lanka; in fact, that is the challenge I gave to the management team.

To grow this business, we are bringing in all of the assets of Allianz globally, including digital assets, products, services, relationships and partnerships to the team. Sri Lanka is a growth engine. We had the right team performance from our own team, we highly respect the Janashakthi team and bringing these together we create a formidable insurance company and a world-class organisation right here.

To give a very specific example, under Surekha's leadership, in Sri Lanka we are building the core general insurance platform for the region. We are not building P and C (Property and Casualty) platform for Sri Lanka, but we are building a P and C platform for all of Asia. We are going to set up a centre of excellence right here in Sri Lanka, to look after that platform for the whole region. This is the faith we have in the capabilities. There will be a lot of innovation and young energy. I am very positive of the future of this company.



Q: What's Allianz's perspective about Sri Lanka's insurance landscape? And how satisfied are you all with the regulations?

A: I am quite optimistic about Sri Lanka's insurance landscape. There is enormous growth potential. I also think, in some ways, the market regulations are more sophisticated compared to many other countries. There are more free-market dynamics going on in here than in many other economies, which enable us to compete on technical excellence, product excellence, customer excellence. However, in a heavily regulated market, it is very difficult to compete on these factors; because everybody is the same.

I think the prospects are really super for Sri Lanka. Also, with very low penetration levels, I think there is huge growth potential in life insurance business. Again, the regulations are well-constructed, they are very thoughtful. There is right amount of regulation, control and freedom to innovate on product and pricing is commendable.


Q: Could you give details as to how you plan to expand your services in Sri Lanka in bringing the two companies together?

A: Well, right now we have to focus on the integration and make sure that everybody is engaged and involved in that process. In terms of details, I guess that's why I rely on my management team in Sri Lanka to tell me what it is they want to do with the business. We have a great opportunity to bring in a lot of different products and services into Sri Lanka. In this transition process, the first step is to integrate and stabilise to ensure that everything is working smoothly. As more investments are made in digital technology, we will introduce other products and services into Sri Lanka.


Q: What are the major challenges you face in integrating the two working cultures?

A: I have been doing this throughout my whole 40-year career and I have travelled all around the world with Allianz; basically building very big insurance companies from Turkey to Italy and now to Asia. The challenges are always the same, they are all people and emotion challenges. It is more to do with addressing people's fears of the future or what their role will be in the future or how things are going to change. This is the key reason why we insist on spending so much time on communication, and that's why I am here — to really help people understand how we make the transition from here today.

The fantastic fact about Sri Lanka is that it is a growth market, not like a matured market. In this market, we bring two companies together, we invest in digital technology and we invest in growth. All things being equal, we get the growth, and then we don't have to increase the expense load so much, which leads to a better performance. I think we are in a very good position in Asia, we can actually push growth. So this synergy becomes more about growth and customer acquisition.


Q: What are the key focus areas in going forward and where do you see opportunities?

A: The focus right now is integrating the two companies, maintaining our service to customers, partners and agents. Further down the track, we look at factors such as how we re-brand the company, rollout a different face in Sri Lanka with Allianz branding and invest in other services and products. The focus pretty much at this point is to get these done and get it done properly, while maintaining our services.


Q: You just mentioned that plans are underway to rebrand, could you shed more light on that?

A: I am afraid I will not be able to go into details at this point of time. We know that we have to rebrand at some point, but we are not going to do it in the immediate future; we will with time. I have done a lot of these things in the past in markets like Turkey, Australia and Italy. You need to do this in a step-by-step process. You need to give people time to adjust. I will allow the management team to give their recommendations and we will decide on it. There is no hurry.


Q: What new products can the market expect from Allianz Lanka going forward?

A: We will start to introduce new products as the management team agrees on the new strategy going forward. I will rely on the management team to give recommendations on the products and time to enter and introduce new market segment and products. Again, we have all these products and services around the world.

You can imagine things like identity theft insurance, cyber security insurance and nursing service for pregnant mothers as a part of their health policy. But, first we will focus on getting the integration and services done right, stabilise the business and then introduce all of these new products. All I can say right now is, watch the space, because we are going to introduce some really interesting products in the near future.


Q: How has Allianz embraced technology and innovation to be more responsive to the evolving market/customer?

A: We are probably recognised as the most digital insurance company in Asia. We already have over 30 digital partners. In Indonesia we partnered with Uber and we issued 212 million policies via smartphones in the last year. We are building a regional digital architecture and the work that Surekha's team doing on the core platform is part of that.

We are building regional API (application programming interfaces) architecture. We have a team of data scientists in Singapore that are building artificial intelligence (AI) algorithms, machine learning algorithms and system management.

In Asia, we are very much building the future model for insurance and I believe Asia is where we build it. The company and I personally are very much engaged in the digital revolution. In Italy, I transformed that company to digital and it became the most successful and profitable insurance company in the world. There are more new things we can bring to the table.


Q: Sri Lanka has a very low insurance penetration level compared to the region. What is your game plan to address it?

A: It is part of the evolution process. You need the economy to grow, which is going to happen. We also address this by what we call the financial inclusion — by providing products and services that people can afford, even if they have a low income. We really believe in financial inclusion and that's why we build these platforms and get into to digital partnerships. It allows them to get some basic protection, learn about insurance and factor that into their family risk management thinking. This way, they can get some simple protection and we can provide simple services down to people that normally don't get access to insurance.


Q: What are the segments you plan to invest in the future?

A: We are definitely going to invest on the digital platform and people as well. Digital platform it is part of the regional architecture. In terms of people, we do have a lot of programs in the region, particularly for Millennials, for functional experts, for finance experts and for client experts; because after all, insurance is people's business. Even though you digitalise the processes, at the end it needs smart people to actually run a very profitable and high performing insurance companies.


Q: How is Allianz Lanka going to differentiate from other insurance companies in Sri Lanka?

A: Today, we are two companies coming together and in the near future you will see the company differentiating in a number of ways. Firstly, it is going to be completely customer-centric in that we build what people need and what they can afford — we have a lots of great experience in this. Secondly, the digital architecture, which allows us to provide a great customer experience. Thirdly, in providing a better value proposition for our partners and agents, whom we have put on a digital agency platform that will increase their sales efficiency as well as their income.

Pix by Lasantha Kumara