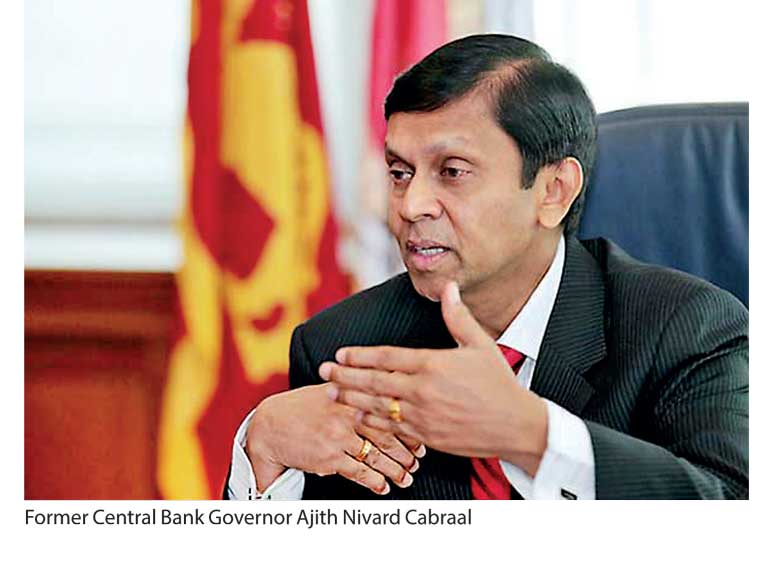 By T. Mallawatantri

I refer to Janitha Devapriya's letter on the above subject (Daily FT 31 August) and the very interesting points he highlighted in respect of the Central Bank's investments in Greek bonds in response to the statement issued by former Governor. Devapriya also mentioned about Ajith Nivard Cabraal's direct or indirect involvement in the hedging deals on petroleum imports which resulted in losses to the country running to over Rs. 10 billion.

The former Governor in his statement said: "When the Central Bank invested in the Greek bonds, the international credit rating of Greece was BB+ which was three notches higher than Sri Lanka's current rating of B+ (negative). Accordingly, If any criticism is levelled by any person with regard to the Central Bank's investment in Greek bonds, those persons would also need to acknowledge that an investment today in the Sri Lankan Government Securities (namely, Treasury bills, Treasury bonds, development bonds, and international sovereign bonds), poses a much higher credit risk than that faced by investors who invested in Greek bonds in April 2011."

This is a treacherous comment undermining the reputation of Sri Lanka, especially coming from a former Central Bank Governor because, Sri Lanka with all its debt burdens and other economic difficulties, never defaulted on interest payments or installments on principal repayments on borrowings so far unlike some other countries.

Furthermore, he quoted international credit rating agencies (Greek bonds – BB+) when it suited him but one would recall that on 25 December 2011 he said: "Fitch Ratings' claim of Sri Lanka being among the highest-risk financial systems should be disregarded." His sanctimonious declarations are nothing but duplicitous.

Governor Cabraal's infrugal activity was not confined to the matters mentioned. He was quite lavish when spending Central Bank's funds, especially on unrelated matters.

Take for instance the Central Bank enlisting the services of lobbying firms in Washington DC USA and paying huge sums to improve the perceptions of the US Government and key officials of the Mahinda Rajapaksa, which were at the lowest ebb. Cabraal shrewdly involved the Central Bank as the preferred channel for such payments because its accounts do not go before Parliament. The Central Bank had allegedly paid $ 6.5 million or Rs. 975 million to Imaad Zubeiri, a known influence peddler in the US circles, through an intermediary front company called WR Group.

The Central Bank made similar payments bypassing even the External Affairs Ministry to other lobbying firms in the US, some of which were Cranford Johnson Robinson $ 225,000 or Rs. 25 million, Emmanuel N. Emprass (legal fees) $ 397,000 or Rs. 44 million and Steven Hedges $ 72,556 or Rs. 8 million [at the then rate of exchange] (source: Sunday Times Sunday, 13 September 2015).

The list is too long to quote. The payments were not made in a proper legal framework in terms of Foreign Agents Registration Act (FARA) and the Federal Reserve initiated inquiries to look into these mysterious payments and the Sri Lankan Embassy narrowly escaped getting into hot water.

The Auditor General first raised concerns in 2012 after noticing that the CBSL had advanced money to these firms when it should have been routed through other channels. But this observation was omitted in that year's final report. According to what was reported in the Sunday Times article, the Central Bank's income statement for 2014 places accumulated costs for advertising, consultancy, communication, advisory and professional fees at Rs. 2,050,619,000 or more than Rs. 2 billion. In 2014 alone, Rs. 1,396,223,000 — nearly Rs. 1.4 billion — was spent.

The regulator neither defended nor justified the figures. This was observed by a former Deputy Governor of the CBSL. The sums are not itemised. Obviously, most of this expense would have been on account of lobbying in Washington and other lavish spending, with no benefit to the country. Neither Rajapaksa nor the country gained any esteem out of this expensive lobbying.

He did not stop at that. When he was appointed co-chair of the committee that undertook the lobbying effort to bid for the 2018 Commonwealth Games to Sri Lanka, that is Hambantota, he led a huge contingent to go to St. Kitts and Nevis on 11 November 2011 in the Caribbean, on a SriLankan Airlines aircraft chartered for the purpose. He was accompanied by MP Namal Rajapaksa and some kith and kin of the Rajapaksa family plus friends and cronies.

Fortunately Sri Lanka lost to Gold Coast Australia (43 to 27 votes) or otherwise, we would have had to spend about Rs. 265 billion to get the venue and logistics ready and obviously, Sri Lanka would have had to borrow billions of dollars from 'international shylocks'. Let us thank the Commonwealth Games Federation for sparing us the huge burden which would have had to be carried for generations to come.

The cost of this lobbying effort, where Governor Cabraal and MP Namal Rajapaksa did the 'train dance' usually practiced by children, to the amusement of the gathering at the hotel in St. Kitts where the Sri Lankans stayed and the good time they had with expensive liquor and gourmet food, is not known and who footed the bill also is hidden. However the way Cabraal went about with his lavish spending, one cannot be blamed if he suspects that the Central Bank may have paid the bills, of course at people's expense!