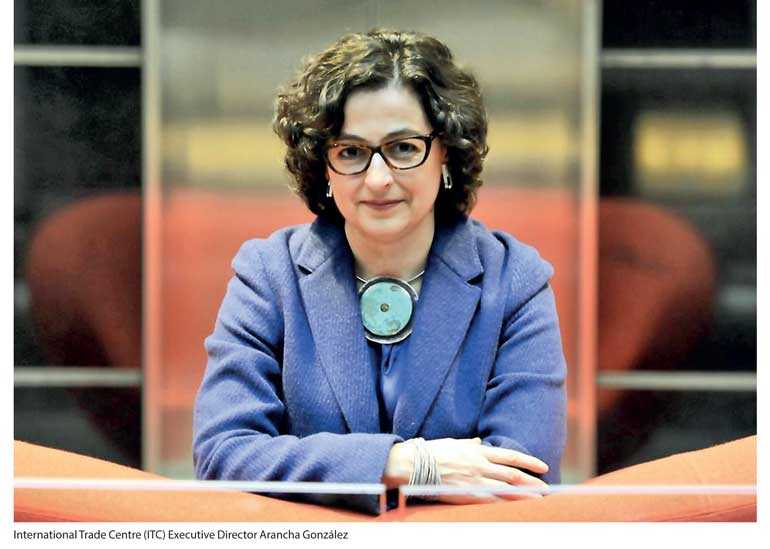 By Charumini De Silva
International Trade Centre (ITC) Executive Director Arancha González believes Sri Lanka could bleep back into the trade screens of the world by investing on its people and accelerating the implementation of key economic reforms that will foster inclusive growth.

Gonzalez was in Colombo last week to launch the landmark five-year National Export Strategy (NES), which was a central component of the 'EU-Sri Lanka Trade-Related Assistance: Increasing SMEs' trade competitiveness in regional and EU markets' project, implemented by the ITC in collaboration with UNIDO and funded by the European Union (EU).

She was highly optimistic that Sri Lanka was moving in the right direction to leapfrog and become more competitive in the international trade. Below are experts of the interview:
Q: Could you explain the role of ITC?
A: ITC is an agency of the United Nations (UN) and the World Trade Organisation (WTO). Our mandate is to support small and medium enterprises (SMEs) in developing countries, get them stronger through international trade, create more jobs, collaborate more to generate growth at home while participating at international trade. This is why we are passionate to work in Sri Lanka, which is precisely trying to support more exports for 98% of the economy of SME businesses.
Q: What is the position of SMEs in the global economic arena?
A: In any country anywhere in the world from America to China to Sri Lanka; more than 98% of businesses are SMEs or micro, small and medium enterprises (MSMEs). They contribute to more than 70% of employment in any country, but the problem is that not in all countries do they contribute equally to global growth. In some countries their contribution is relatively low, as many of these SMEs are in the informal sector because they are less competitive and they have a lot more difficulties in participating in international trade; but if we help them export, they can become more competitive. Exporting and becoming competitive is important because then they can employ better quality people and pay better wages to them. What we need to do is foster the competitiveness of the SMEs through international trade, so that they can contribute more to better quality national growth. Hence, we at ITC are passionate about improving the SMEs and MSMEs.
Q: How can you explain the status of the MSMEs performance in Sri Lanka and what more needs to be done to help them?
A: The bulk of business in Sri Lanka are in MSMEs, but they are still weak compared to their true potential. For example, they have a huge potential in agriculture; but too many of them are doing livelihood agriculture; instead they could be doing processed agriculture products. Too many of them are in the informal sector, they should be in the formal sector. There are too many of micro and small businesses, they could be medium. Accordingly, there is a big amount of small businesses that wants to become stronger and wants to thrive in international markets, but for that they have to become more competitive.

What we ITC are trying to do is support the Government through the NES and help them become more competitive. It is more about helping them at more local value addition, as I said processing more at home. In order to do so, we need innovation, access to credit, entrepreneurship and cultivate a culture of processing in the country. This island-nation is endowed with incredible richness in agriculture. I met with producers of fruits and vegetable in this county and they are extremely capable of penetrating foreign markets because they have very good quality products.

Nevertheless, they need to make sure that they up their game and become better in niche markets. Sri Lanka is a small nation and it cannot play in the league of big bulk products, it has to be more on the higher value added, higher quality, smaller volumes, particularly in niche markets where they can fit into higher revenues for their products. This is what I have seen in fruits and vegetables industry, electric and electronic components, IT services, boat building, and wellness tourism – the potential is here. What we need to do is to take decisive efforts with the public and private sector by joining hands to improve the competitiveness of this country.

Cut red tape, liberalise certain services, which will be essential for smooth function of international trade, help businesses get better intelligence, ensure credit flows at affordable rates for the MSMEs particularly to those who are at the base of the pyramid, open market opportunities and ensure they can use this opportunity to generate more growth in the island.
Q: How can they face the modern day challenges?
A: Well...some countries are having the temptation to take trade protectionist measures and close their markets. This 'disease' is spreading throughout the world including some major economies also. Our economies today are extremely interdependent and we trade because we are better off by trading what we are good at and buying what we are less good at – that is why international trade is win-win. It is important to understand that you have to be competitive and it is a constant game.

Trying to take trade protectionist measures in my view is the wrong avenue to become competitive, because trade protectionism doesn't protect. If I protect myself against you, you will protect yourself against me and the two of us will be worst-off. This is what we see between the US and China, Europe, China and America. It is like tit for tat – I poke you in the eye and you poke me in the eye and we both end up being blind. I think it is much more intelligent to take action against unfair trade.

If there is unfair trade there are procedures, rules at international level to fight against unfair trade, but if it is about fair trade then you have to up your game and be more competitive. In a world where technology is becoming the name of the game, you need to make sure all your men and women are properly skilled and they are skilled today for a job tomorrow. We have to be anticipating, we have to invest in becoming more competitive rather than shutting ourselves from international competitiveness which will only make us 'boring'.
Q: Sri Lanka announced on a blue-green economy, in your perspective how important is that vision to the country's progress?
A: I think blue-green economy basically outlines let's go sustainable and let's exploit better natural resources. Sri Lanka cannot produce huge bulk volumes like China or America or Vietnam. Sri Lanka's game is on value adding. The green economy is about value adding, it is about your products getting a brand for respecting the environment, for being organic, for being sensitive to climate change and for being more respectful of sustainability considerations. In many foreign markets, they are willing to pay a little extra if what they get is more value proposition. The Blue economy is about leveraging better oceans, with a huge source of economic growth particularly for Sri Lanka.
Q: In that scenario that you explained, how does Sri Lanka's strategic location help the economy?
A: Sri Lanka is incredibly well positioned and that is why particularly in history this country had a very special role in the trade corridors of east to west and north to south. You have a big presence in the radar of the international trade, but during a certain period you just happened to drop off the radar and the question remains as to how we are going to put Sri Lanka back on the radar of international trade.

Your location needs to be leveraged in the digital economy, e-commerce as today's 13% of trading goods globally are traded online. Sri Lanka is uniquely positioned between a huge market called China and India, therefore leveraging on this position in the international trade routes will matter more and more for the future, as South-South trade is part of international trade that is growing faster and will be essential. I visited the Port of Colombo and I have seen with my own eyes the potential this country has to be a hub that connects the fastest growing part of the world in terms of trade called Asia. Of course, for that it is important to have a regulatory regime that favours, hub activities for Sri Lanka. Hence, part of the work that ITC is doing here is focused on logistics and making sure that the country gets the regulation of logistics right to be the hub that connects this enormously growing region called Asia.
Q: Considering the initiatives that have been launched by the authorities, do you think Sri Lanka is on the correct path?
A: This world is full of sceptics, but I am not sceptic. Therefore, my view today is that Sri Lanka is on the right track. The country is going in the right direction, it probably needs to accelerate the pace, because the world around Sri Lanka is moving very fast. During the past 30 years, Sri Lanka's growth was very slow and lost a lot to other countries. It is now time that the country become stronger at home, open up to the rest of the world and invest in its citizens who end of the day are Sri Lanka's largest asset.
Q: The Government is paying more attention to develop rural economy with its newest initiative of 'Gamperaliya'. As an economist, how important is this kind of a grass-root level projects?
A: It is enormously important because the largest pockets of poverty and untapped potential are in the rural areas. These are the people that have suffered most in the past three decades, it matters a lot for the future because these are the people who grow food, take care of the environment, ensure that our landscape is preserved, and this island is very well known. Also as a high-quality tourist destination its landscape and wildlife requires the people to take care of these resources.

These rural communities are the guardians of sustainability and we need to care about these people who are at the base of the pyramid, where the largest untapped potential in Sri Lanka is. In the event, the rural community does not find an answer to their lives, doesn't earn a decent income; there is a risk of them migrating into urban areas. Thus, a big effort needs to be taken, not to bring these people to the urban areas, but to bring the urban areas to these people. To help them get a decent income from where they are, to move from livelihood agriculture to agro-processing and to empower them in bringing in the best of their abilities.
Q: What's your advice for Sri Lanka to avoid the middle income trap?
A: The biggest and the best recipe is to invest in your people. In the past you learn a skill and you can live on this skill for the rest of your life. However, in today's context, we are likely to change our job at least five, if not 10 times. We will have to rescale five to 10 times in our work life. On the other hand, if we invest in people and help them to constantly rescale then they will be able to effectively contribute to the progress of the economy. They will make sure that the society as a whole moves and escapes the trap of remaining in that limbo which sometimes the middle-income brings with it. Therefore, investing in people's education, creativity, ingenuity, innovation and skills building in my view will allow Sri Lanka succeed as an economy of the 21st century.
Q: What are the sectors we have to pay more attention to during this process?
A: There are many sectors that are very promising, but it probably needs to be boosted a little bit. This is what we have tried to do with the NES. We have looked at sectors that have a promise of being able to thrive in international trade, but need a bit of assistance. We know that boat building and electronic component manufacturing has a promising future, more traditional sectors like spices or agro processed products have the promise to access the niche markets that bring higher returns to the rural communities.

We know that the services economy such as IT sector and the wellness tourism offer Sri Lanka to do more value addition in niche sectors. A normal tourist spends only $175, but a tourist coming to the wellness sector pays up to $300 to $350 per day – that's where Sri Lanka can thrive, not by producing and providing low paid, low cost products but rather higher value, lower volume, quality products and services. It is a good way to thrive for a small island economy like Sri Lanka in the 21st century.
Q: Apart from the NES, what are the other initiatives ITC is engaged in doing with Sri Lanka?
A: Well…Sri Lanka is also working in another sector that we are very passionate about because it has to be inclusive economic growth for this island. We are supporting women entrepreneurs to thrive in international trade. Women make up to more than 50% of Sri Lanka and if you look at the businesses they are less present on the businesses and looking at those businesses participating in international trade, the presence of women is even smaller. Businesses that participate in trade are more competitive and they pay better wages and get better returns. We want women to be in that category also, so that we can leverage the presence of more women into the economy for more inclusive growth. The ITC's flagship initiative for women, 'She Trades' is connecting more women to international trade. The response we are having in Sri Lanka is phenomenal, which tells us that there is a space to help more women empowered economically. By law women have equal participation and equal rights, but in the reality of the economy; they are still under performing.
Q: What's your message to Sri Lankans?
A: Accelerate, accelerate and accelerate! Speed up because the world around you is accelerating at a faster pace. If you want to be in the top of the game in the world of tomorrow, it requires greater efforts today. It is a national endeavour and if everybody participates in this endeavour with the same spirit in mind, we are very passionate about helping this national endeavour. Then I am sure we will see Sri Lanka bleep back into the trade screens of the world.