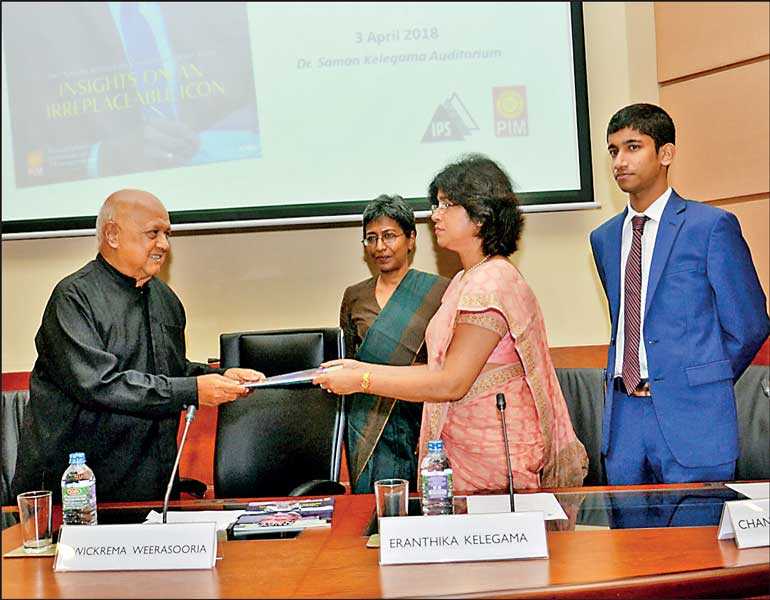 ---
By Institute of Policy Studies of Sri Lanka (IPS)
We are profoundly saddened at the death of Dr. Wickrema Weerasooria, Chairman of the Endowment Trust of the Institute of Policy Studies of Sri Lanka (IPS). Dr. Weerasooria passed away on 4 December.

There are many reasons why Dr. Weerasooria will be remembered as a giant in legal and business studies, providing his expertise as a Senior Consultant at the Postgraduate Institute of Management (PIM) and as Sri Lanka's Insurance Ombudsman at the time of his demise, amongst an array of other positions held during a long and distinguished career in the academia, government and private sector.

For us at the IPS, Dr. Weerasooria became a familiar figure from 2013 as the Chairman of our Endowment Trust. IPS' then Executive Director, the late Dr. Saman Kelegama nominated and appointed Dr. Weerasooria to this key post to obtain his expertise and advice to better manage and steerthe Institute towards greater financial sustainability. In this role, Dr. Weerasooria proved to be exceptionally generous to the IPS with both his time and advice.

We witnessed first-hand Dr. Weerasooria's razor sharp intellect and attention to detail, and the commitment and professionalism he brought to carry out his responsibilities. But as detailed and demanding as he was in administering the Endowment Trust matters, he was equally concerned about the welfare of IPS' staff, our research efforts and progress, and the challenges we face as an organisation.

It was Dr. Weerasooria's obvious genuine interest in all aspects of IPS that we were so fortunate to benefit from when he extended his unconditional support to us in the aftermath of the unfortunate, and entirely unexpected, demise of Dr. Kelegama in June 2017.

Not only was his encouragement and support instrumental in helping IPS steer through the most difficult of times, but he also provided advice and practical help to Dr. Kelegama's immediate family, demonstrating his fine qualities as a true friend to those who won his trust and respect.

In the months that followed, Dr. Weerasooria initiated and worked tirelessly to produce and release a commemorative issue of the PIM's Professional Manager magazine dedicated in honour of Dr. Kelegama as well as delivering special radio talks on him at the Sri Lanka Broadcasting Corporation.

Dr. Weerasooria worked tirelessly to ensure the sustainability of IPS. Aside from his role as a Trustee, he was always ready to provide advice and perspective on any issue. With his vast expertise, he knew how organisations should work in order to be effective and impactful. At IPS, we benefitted greatly from this wealth of knowledge and experience. We will miss his guidance, his passion to pass on learning,and his presence by our side.