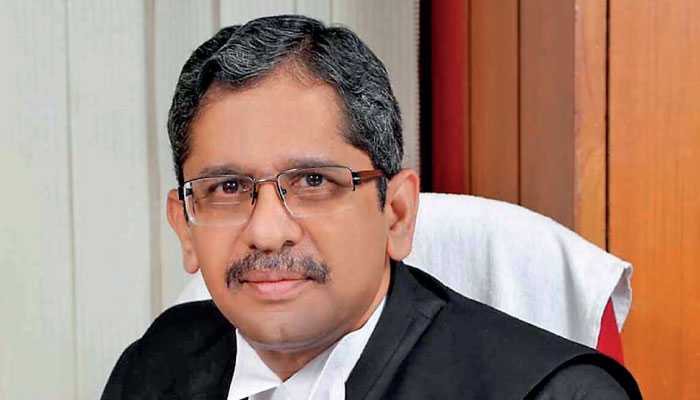 Chief Justice N.V. Ramana
---
By Vinod K. Jacob
---
A seminal event for the higher judiciary in India occurred on 24 April with the elevation of Shri Justice Nuthalapati Venkata Ramana, Judge of the Supreme Court as the 48th Chief Justice of India.

According to a notification issued by the Department of Justice, Ministry of Law and Justice earlier in April, this appointment was made by the President of India, in exercise of the powers conferred by clause (2) of Article 124 of the Constitution of India, which ensures that he would serve in this capacity till he attains the age of 65 years. Having been born on 27 August 1957 and given the terms of the Constitution of India, Chief Justice N.V. Ramana would retire on 26 August 2022 and hence have the unique distinction of presiding over the apex court when the country completes 75 years of independence (on 15 August 2022).

The second noteworthy element is that Chief Justice N.V. Ramana is a first-generation lawyer, having agricultural background, and hails from Ponnavaram Village, Krishna District in Andhra Pradesh. He enrolled as an Advocate on 10 February 1983 and practiced in the High Court of Andhra Pradesh, Central and Andhra Pradesh Administrative Tribunals and the Supreme Court of India in Civil, Criminal, Constitutional, Labour, Service and Election matters.

He has specialised in Constitutional, Criminal, Service and Inter-State River laws. On the judicial side, Chief Justice N.V. Ramana was appointed as a permanent Judge of the Andhra Pradesh High Court on 27 June 2000. He functioned as Acting Chief Justice of Andhra Pradesh High Court from 10 March 2013 to 20 May 2013. He was elevated as the Chief Justice of Delhi High Court with effect from 2 September 2013 and as a Judge, Supreme Court of India on 17 February 2014.

Thirdly, the landmark judgments of the apex court in which Chief Justice N.V. Ramana has been a part of reflect an erudite and independent judicial mind with immense respect for the democratic ethos of the country and society. Indian media have referred in particular to Anuradha Bhasin v/s Union of India (2020) wherein the Supreme Court ruled that an undefined restriction of internet services would be illegal and that orders for internet shutdown must satisfy the tests of necessity and proportionality; Central Public Information Officer v/s Subhash Chandra Agarwal (2019) wherein a five judge Constitution Bench held that the office of the Chief Justice of India comes under the purview of the Right to Information; Kirti vs. Oriental Insurance Company Ltd. (2021) in which it was observed that the conception that housemakers do not 'work' or that they do not add economic value to the household is a problematic idea that has persisted for many years and must be overcome; and Laxmi Singh and others vs Rekha Singh and others (2020) during the course of which it was emphasised that the principle of secrecy of ballots is an important postulate of constitutional democracy whose aim is the achievement of this goal.

It goes without saying that the elevation of a new Chief Justice is a moment as much for satisfaction as it is for sombre reflection, because that is the nature of the institution itself. India's democratic traditions have benefited from the contributions of an upright and independent judiciary. In similar manner fearless judges have, through their judgments and conduct, nurtured the development of a democratic and compassionate society.

On balance it is fair to conclude that the evolution of justice and its administration in India are representative of an advanced principal legal system and the Chief Justice of the Supreme Court always plays a pivotal role in ensuring its healthy growth. I join my 1.3 billion fellow Indians in wishing Chief Justice N.V. Ramana a very successful and enriching tenure.
---
(The writer is the Deputy High Commissioner of India to Sri Lanka since September 2019. Views are personal.)
---