By Chamodi Gunawardana

The Young Journalists Association of Sri Lanka yesterday condemned the 'unethical behaviour' demonstrated by the Higher Education Minister Lakshman Kiriella who insulted a journalist from the Ada national newspaper, during a phone interview.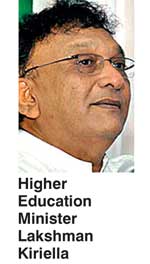 Minister Kiriella had insulted and scolded Amith Maduranga, a Journalist of Ada when Maduranga was requesting Kiriella's comments regarding a letter issued by the Education Ministry requesting to appoint an individual as a temporary lecturer for the Kelaniya University.

In that phone conversation the minister had used foul language and insulted Maduranga as well as all journalists.

Issuing a statement the Journalist association claimed it strongly condemned this kind of behaviour from the country's Education Minister. It pointed out that the journalist had called Kiriella in order to obtain his comment in order to carry a balanced story regarding the alleged letter issued, instead of publishing a biased story.

The association stressed that the Government should take immediate disciplinary action against Kiriella if it really cared about the media freedom as it claimed.