Minister of City Planning and Water Supply Rauff Hakeem met with a delegation of World Bank Officials yesterday at the Ministry Auditorium and held discussions with regards to the World Bank Funded Water Supply and Sanitation Improvement Projects in Sri Lanka.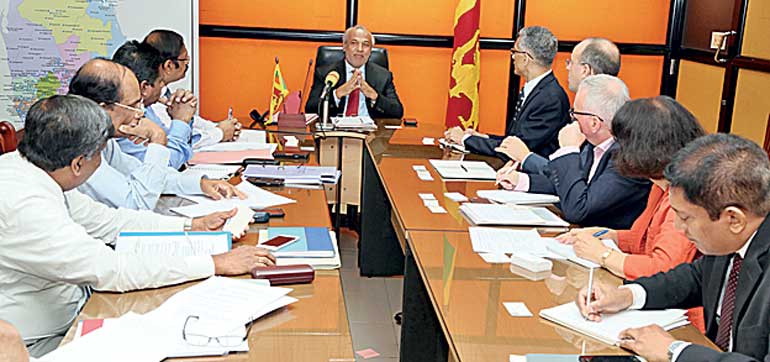 Ulrich Schmitt – Program Leader, Sustainability and Resilience (on behalf of the Country Director – Francoise Clottes), Parameswaran Iyer – Practice Manager South Aisa, Global Water Practice, Lain Menzies – Senior Water and Sanitation Specialist and Task Team Leader, Shiden Hadian – Senior Infrastructure Economist and Co-Task Team Leader, and Samantha Wjesundara – Water and Sanitation Specialist Consultant participated representing the World Bank side.

B.M.U.D. Basnayake – Secretary, Ministry of City Planning and Water Supply, L. Mangalika – Additional Secretary (Technical) Rahmath Munsoor – Coordinating Secretary to the Minister, Eng. K. A. Ansar Chairman NWS&DB, Eng. Ranjith Balasooriya – GM – NWS&DB, M.I.A. Lathiff, Acting DG – Department of NCWS and N.U.K. Ranathunge – Project Director – WSSIP participated.