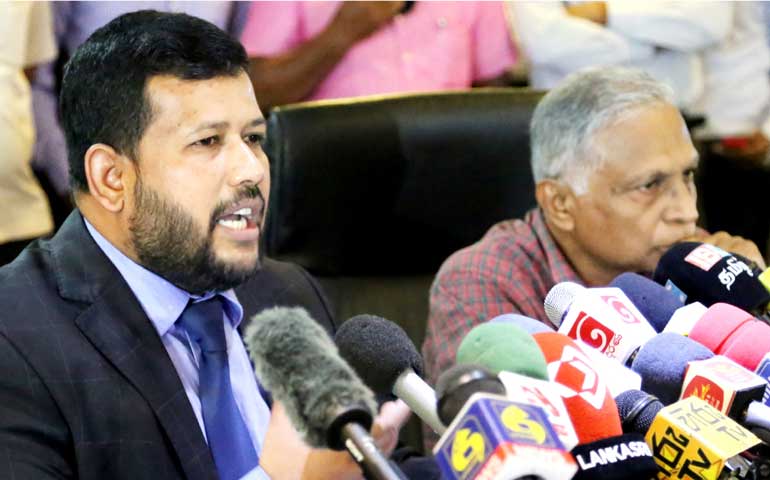 Minister of Industry and Commerce Rishad Bathiudeen addresses a special press briefing on 23 December in Colombo.
Minister of Industry and Commerce Rishad Bathiudeen has vowed to quit politics if allegations against him with regard to the Wilpattu National Park are proven to be true. Bathiudeen, who has been accused of clearing land at the Wilpattu National Park to resettle Muslim communities, said the allegations against him were tantamount to character assassination and charged that the motives of those individuals, who had been slandering him on the public stage and through the media, were purely political.

"Assassinate me if you will but not my character. These statements made through the media and social media hurt me a lot due to the kind of Character Assassination of me," the Minister said speaking at a media briefing to address the recent allegations, against which he had lodged a police complaint on 19 December. "I became a refugee at age 18 due to LTTE's eviction of my community. My Muslim IDP community is of priority for me above all. I am even ready to sacrifice my life for the betterment of them. If these allegations are proved correct, I vouch today that I will end my political journey and career and quit politics."

Bathiudeen, who expressed his disappointment at the conduct of Ven. Ananda Sagara Thero, also challenged the Ven. Thero to a TV debate so as to put an end to the allegations made against him and his community.


Minister Bathiudeen's statement is reproduced here in full:

"On or around 19 December 2015 it was brought to my notice with video that a Protest March took place from Viharamaha Devi Park to Nelumpokuna and had been claimed to have organized by an organization called Green Liberals of Sri Lanka. With utter dismay, I was shocked to see the placards displayed with abusive words used against me and what was more shocking was that a few people had spoken out at the end the procession completely racially motivated against me and my community. It was evident from the expressions made it had nothing to with environmental protection but a part of the display of a politically motivated racial campaign. I was made aware that many participants who were gathered there did not realize the real motivation behind the protest which they later denounced the malicious ambitions of the organizers. It was indeed in the pretext of save Wilpattu, the resettlement of the Northern People particularly Muslim refugees returning and resettled were targeted, and claimed that they are resettled inside Wilpattu sanctuary by deforesting.

It was evident that unfortunately my community and I were subjected to unfounded untrue claims and attempted instigated hate against us among the Sinhala brethren. Though this was politically motivated racial conspiracy targeting me, our politics and my community, these contemporary attempts against me my community had been there in the past few months. I had indeed with one of the participants Sajeewa Chamikara an environmentalist had even debated the whole Wilpattu claims live on Hiru TV Balaya Program on this issues and elsewhere but is knowingly still claiming Musali is part of Wilpattu.


Character Assassination

I was taken by surprise by an astonishing claim by a participant and or organizer of this protest namely Ven Ananda Sagara Thero who uttered to media during the media coverage that "Rishad does Drugs Business" and issued a challenge to deny as well. These claims of hate and conspiracy are beyond any truth whatsoever and hurt me a lot due to the kind of Character Assassination of me. I immediately, with my Attorney Rushdhie Habeeb went to Cinnamon Garden Police Station and lodged a Complaint on the same day despite the budget commitments that day, against this to investigate immediately about the plot and the claims on 'drugs business' that they know and to report them to court.

My fellow Parliamentarians Hon. Ameer Ali, Hon. Navavi, Hon. Mahroof, Hon.Ishak also visited and lodged complaints against the racism and hate against the their community. I have also instructed my Attorneys to send letters of demand to the organizers of the hate campaign including Ven Ananda Sagara Thero for immediate apology and payment of damages individually amounting to a Rupees One Thousand Million. My community is again being driven to a fear psychosis with these claims which they know to be false with racial motivations. We would take actions by all legal and moral means to reveal truth and bring those to the book."