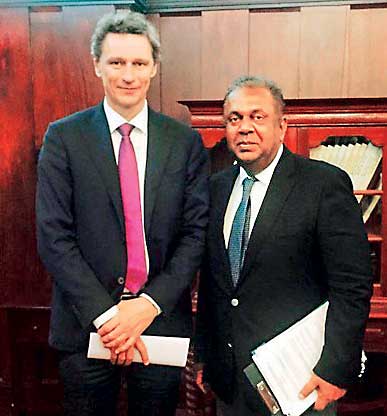 State Secretary of Norway Tore Hattrem called on Foreign Minister Mangala Samaraweera at the Foreign Ministry. At the meeting, Tore Hattrem informed the Foreign Minister that Norway would provide flood relief assistance to Sri Lanka amounting to $ 600,000 through UNICEF.

Foreign Minister Samaraweera briefed the State Secretary on the latest developments in Sri Lanka including the ongoing reconciliation process and constitutional drafting processes and Sri Lanka's socio-economic development. The prospects for cooperation with Norway, in the areas of solar power, gas and oil, fisheries development, and foreign direct investment were also discussed. The visit of the Norwegian State Secretary would pave the way for further strengthening of the close and friendly relations that the two countries have shared over the years.

The State Secretary is scheduled to participate in a business reception with around 100 participants on 1 June, where he would interact with leading members of the Sri Lanka business sector and provide an overview of Norway's priorities and areas of cooperation that would be beneficial to both countries.