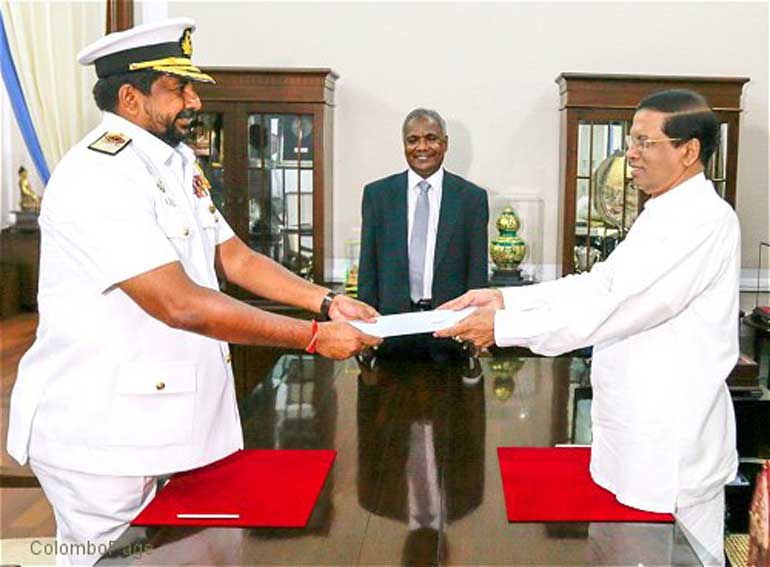 Chief of Staff of the Sri Lanka Navy, Vice Admiral Ravindra C. Wijegunaratne has been appointed as the Navy's new Commander. He received his appointment letter from President Maithripala Sirisena yesterday at the President's Office.

Vice Admiral Wijegunaratne will be the 20th Navy Commander of Sri Lanka. He succeeds outgoing Navy Commander Admiral Jayantha Perera.

Prior to being appointed Commander, he served as the Chief of Staff of the Sri Lanka Navy and had served as the Director General Coast Guard, Commander of four of the five Naval Commands of the Navy which are the Eastern, Northern, Western and Southern Naval Commands.

Vice Admiral Wijegunaratne joined the Navy on 1 November 1980. He is a past student of Royal College, Colombo.
Commander of Sri Lanka Navy promoted to rank of Admiral
The President and Commander-in-Chief of the Armed Forces Maithripala Sirisena has promoted Commander of the Sri Lanka Navy, Vice Admiral Jayantha Perera to the rank of Admiral with effect from 9 July, the Navy announced.

Admiral Jayantha Perera assumed duties as the 19th Navy Commander on 1 July 2014.

According to the Navy, Admiral Jayantha Perera has been decorated with Rana Wickrama Padakkama for gallantry and awarded with many other medals that include Vishista Seva Vibhushanaya and Utthama Seva Padakkama.

Successive Commanders of the Navy have issued him with 'Letters of Commendation' for his exceptional execution of duties and achievements in numerous fields.