The USS New Orleans (LPD 18) with embarked 13th Marine Expeditionary Unit (MEU) will arrive in Sri Lanka for a port visit on 24 July. The ship and embarked MEU are in Sri Lanka to increase bilateral ties with the Sri Lankan Navy and provide US support and training for humanitarian assistance and disaster relief.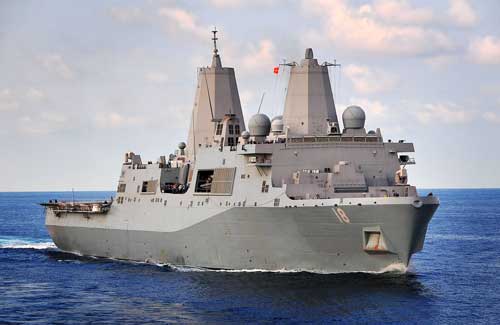 "The 21st century is in many ways the Indo-Pacific century, and Sri Lanka is well-positioned to take advantage of its strategic location," said US Ambassador Atul Keshap. "The United States looks forward to working with the Sri Lanka Navy as a key force for maritime security and stability."

Approximately 200 sailors from the Sri Lanka Navy will participate in the two-day humanitarian assistance and disaster relief training, led by members of 13th MEU and experts from the United States Agency for International Development (USAID).

"We look forward to exchanging best practices with our Sri Lankan partners," said Major John Arnold, commander of the 13th MEU forces on the USS New Orleans. "Opportunities to exchange expertise on humanitarian assistance and disaster relief help us understand how to best integrate with our regional partners during crisis response."

Along with members of the US Embassy, the Sailors and Marines will also take time out of their shore leave to visit local health clinics and schools in Colombo and provide free health screenings. In addition, the ship will donate more than 600 books to a school library.

The USS New Orleans is operating in the US Pacific Command area of operations as part of a seven-month deployment to the Middle East and Southeast Asia. Its crew and embarked Marines are also looking forward to experiencing Sri Lanka's vibrant culture and engaging with its people during their visit.

This is the second US Navy ship to visit Sri Lanka in the past four months, following the visit of the US 7th Fleet flagship USS Blue Ridge in March.