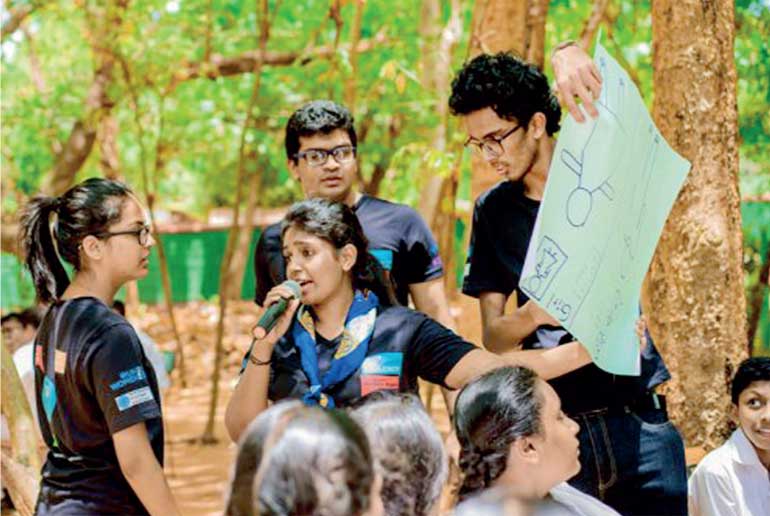 Washington, DC: Chamathya Fernando, a youth leader from Sri Lanka, was recognised by the United States Department of State as a Global Emerging Young Leader at a ceremony on Thursday in Washington, DC.

Acting Assistant Secretary of State for Educational and Cultural Affairs Mark Taplin presented the awards to 10 honourees including Chamathya at the annual Emerging Young Leaders Award.

The Emerging Young Leaders Award program recognises 10 youth (ages 18-25) from around the world for their courage in resolving conflict, promoting security, and creating economic opportunity in challenging environments.

The awardees will visit the United States for an intensive three-week program designed to recognise and support their efforts to enact positive societal transformation.

Chamathya Fernando, an undergraduate of University of Sri Jayewardenepura, was recognised for her work on empowering women and girls against gender based violence. She coordinates the 'Stop the Violence' Campaign of Sri Lanka Girls Guide Association (SLGGA) and is a National Trainer for 'Voices against Violence' an educational curriculum co-developed by the World Association of Girl Guides and Girl Scouts (WAGGGS) and UN Women.

In 2016, Chamathya was chosen as the Girl Champion from the Asia Pacific Region for the WAGGGS's #TeamGirl Campaign for her work under the UN's development goal for Gender Equality and Empowerment of Women and Girls. She represented Sri Lanka and WAGGGS as a Youth Delegate at the UN Commission on the Status of Women held in New York.

The awardees will also participate in Global Youth Service Day events, where they will share in the value of community service. They will attend meetings with US Government officials and Non-Governmental Organisations.

They will then travel to cities across the United States to participate in professional meetings and engage with their American counterparts. The young leaders will reconvene in Washington, D.C. to share project plans and examine ways they can collaborate and build on their experiences.

The Emerging Young Leaders exchange program will continue in their home communities with mentoring and support through a virtual exchange. Upon their return home, the awardees will be eligible to apply for individual grants to support their work.