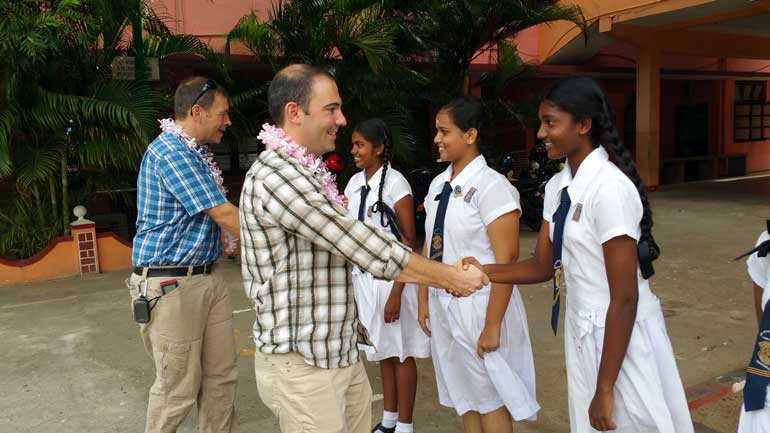 US Army Corps of Engineer South Asia Program Director Mike MacMillan (left) and a team from the US Embassy congratulate winners of national-level physical training competition from Sri Shanmuga Hindu Ladies College in Trincomalee.The team travelled to the east and south to identify disaster-prone areas for potential infrastructure assistance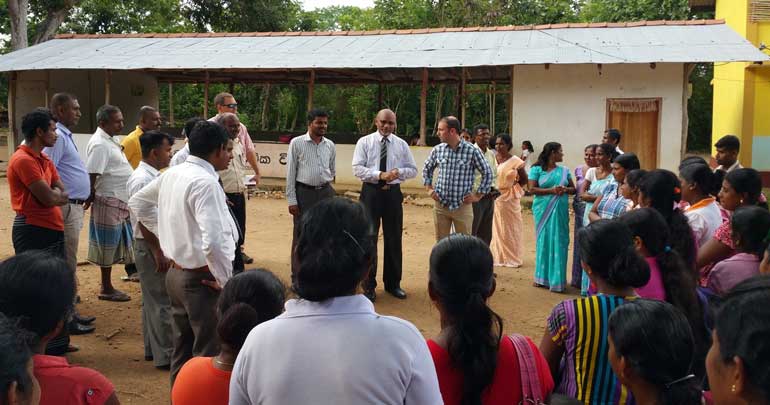 At SumanasaraVidyalaya in Ampara, the US delegation and Eastern Provincial Education DirectorM.T.A. Nisamspeak to parents and teachers about US-Sri Lankan partnerships to improve the school infrastructure and learning environment for students
Members of the US Embassy and the US Army Corps of Engineers recently travelled to the south and east to survey schools and medical facilities in disaster-prone areas to identify potential infrastructure assistance.

The team visited schools from the Tamil, Muslim and Sinhalese communities across the Eastern Province, as well as schools and medical care facilities in Hambantota.The Embassy also consulted with Minister of Housing and Construction Sajith Premadasa during the visit to the south.

"As strong partners with Sri Lanka, the US Embassy is working all over the country to make sure that people can have access to temporary shelter and medical facilities, especially for those displaced by natural disasters or conflict," said US Ambassador AtulKeshap.

Since 2011 the United States has already completed construction of approximately $12.7 million (Rs. 1.78 billion) in schools and healthcare facilities in the north and east.The United States also recently committed an additional $3.3 million (Rs. 464 million) to the Eastern Province to develop education infrastructure, with another $1 million for schools in the Sampur region.This trip was to determine priority locations for additional facilities planned for the south, east and north.